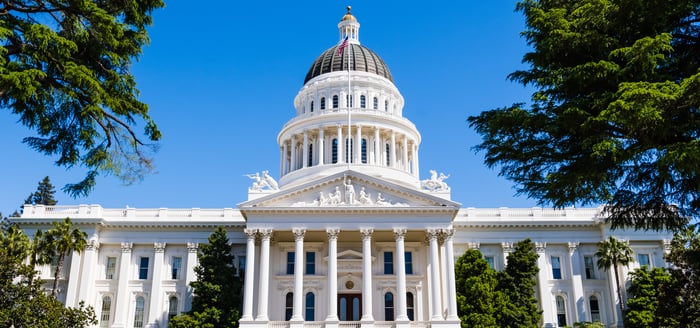 By Keith Schneringer
Proposition 65 – What Is It?
Proposition 65, otherwise known as the "Safe Drinking Water and Toxic Enforcement Act of 1986" and frequently referred to as "Prop 65," is legislation which was passed in 1986 to address the growing concerns of California voters to potential exposures to toxic chemicals in their drinking water and day-to-day life.
This legislation requires the State of California to publish and update annually a list of chemicals known to cause cancer, birth defects or other reproductive harm – and since first being published in 1987 with 30 chemicals, this list has grown to include over 900 chemicals with its most recent update.
According to the website set up to offer information to the public regarding this legislation, "Prop 65 requires businesses to provide warnings to Californians about significant exposures to chemicals that cause cancer, birth defects or other reproductive harm. These chemicals can be in the products that Californians purchase, in their homes or workplaces, or that are released into the environment. By requiring that this information be provided, Proposition 65 enables Californians to make informed decisions about their exposures to these chemicals."
One of the most visible results of Prop 65 which is familiar to residents and frequent visitors to the State of California is the ubiquitous sign posted at most commercial buildings stating "WARNING: Chemicals known to the State of California to cause cancer, birth defects or other reproductive harm may be present on these premises."
Proposition 65 – The New Rules
New Office of Health Hazard Assessment regulations were adopted in August 2016, and are scheduled to take effect at the end of August 2018. These new rules mandate that specific warning language be added to labels or signage if a product, building or work area contains one or more of the over 900 specifically listed chemical compounds which have been identified to be carcinogens or reproductive toxins.
Previously, consumer and workplace products which contain these substances have been labelled with a simple statement (such as the one referenced earlier in this article) which warns a product's user and/or building occupants or visitors that chemicals on the premises are known to cause cancer, birth defects or other reproductive harm. Now the new warnings will include more specificity, and will say that a product "can expose you to" a specific Proposition 65 chemical rather than more generally saying that the product "contains a chemical" (not specified) that is known to cause cancer or reproductive harm. New warnings will also include:
The name of at least one listed chemical that prompted the warning.
The Internet address for OEHHA's new Proposition 65 warnings website, www.p65warnings.ca.gov, which includes additional information on the health effects of listed chemicals and ways to reduce or eliminate exposure to them.
A triangular yellow warning symbol.
The following is an example of such a label addition that meets the new requirements:

In addition to providing updated information on product labels, it is possible that a building would need to update signage to communicate the possibility of potential exposure to Proposition 65 chemicals in the workplace in more detail, depending on the chemicals and actual level of exposure present.
However, not all buildings are required to comply with Proposition 65 provisions – and exceptions have been made for the following buildings and situations (please note that additional details about these exceptions are available on the CA Attorney General Proposition 65 website):
All Governmental Agencies and Water Utilities
Businesses with nine or fewer employees
Exposures which pose no significant risk of cancer
Exposures which will produce no observable reproductive effect at 1,000 times the level in question
Exposures to listed chemicals which occur naturally in foods
Discharges that don't result in a "significant amount" of the listed chemical entering into any source of drinking water
Proposition 65 – What is WAXIE Doing?
WAXIE has been working with each of its vendors and manufacturing partners to make sure that product labels are up-to-date and compliant so that any products which contain a chemical on the Proposition 65 list and is shipped to WAXIE for receipt after August 30, 2018 will have new labels with associated Proposition 65 warning language.
This effort has involved the assistance of a third-party consulting firm which evaluated all of the cleaning chemicals in WAXIE's inventory, and identified any products which contained one or more of the chemical compounds on the Proposition 65 list.
WAXIE has subsequently worked with each vendor and manufacturing partner to either:
Reformulate the product so that it no longer contains a Proposition 65 ingredient
Update product label and Safety Date Sheet (SDS) to include the new Proposition 65 warning language
Since there will be some products which were in the WAXIE Inventory Centers prior to August 30, 2018, it is entirely possible and very likely that some products may be shipped to customers after August 30 which do not have the new revised labels. Please be aware that this circumstance is expected and permissible, and that as pre-existing inventories are depleted, new products will have the updated labels.
It is also instructional to note that of the thousands of chemicals which WAXIE sells, there are only approximately 30 products which now contain an ingredient identified on the Proposition 65 list. And please note that each of these chemicals is considered safe for workers and building occupants when used as directed.
Proposition 65 – What Should I Do?
If you are a customer of WAXIE, please work with your WAXIE Account Consultant to identify if any of the cleaning chemicals being purchased are one of the items on the list. There may be an opportunity to consider if there is an alternate product which does not carry a Proposition 65 warning which could suit your needs. In some cases, there will not be a viable alternative since the active ingredients in some products are similar across presently available manufacturers. Please note that WAXIE is continually on the lookout for safer and more effective chemistries.
It is also helpful to note that most businesses (including WAXIE) will act in an overabundance of caution to provide warnings on their products if there is any possibility, no matter how slight, that use of the product could provide potential exposure to a chemical which could cause cancer, birth defects or reproductive harm.
Articles in both Popular Science and Business Insider point out that the typical Californian is surrounded by many potential Proposition 65 chemicals on a daily basis, and that it is important to note the amount of dosage is an important consideration in determining the actual likelihood of toxic exposure which could lead to long term harm. It has been much publicized that an ingredient in coffee called acrylamide is on the Proposition 65 list, and there is an informational webpage on the OEHHA website with additional information about this topic for reference. After much discussion with the coffee industry, it has been ruled that coffee will not have to be identified as containing a Proposition 65 chemical after all – however acrylamide remains on the Proposition 65 list.
According to the CA Attorney General Proposition 65 FAQ website, "a Proposition 65 warning informs a consumer that s/he is being exposed to carcinogens or reproductive toxins that exceed certain threshold levels. This is not the same as a regulatory decision that a product is 'safe' or 'unsafe.' A consumer can seek information about the actual levels of exposure from the business that produces the product or causes the exposure in order to decide whether to accept, avoid, or take measures to mitigate the exposure risk." In other words, just because a Proposition 65 ingredient is present in a product or facility, it doesn't mean that the product is unsafe – it means that care should be taken when using the product. This thoughtful approach of always being informed and careful is advisable when using any chemical, whether it contains a Proposition 65 ingredient or not.
Please know that WAXIE will continue to do its best to provide information to its customers regarding the ongoing safe use of its cleaning products – and will continue to monitor and comply with legislation and regulations related to the industry as they are enacted.
As always, thank you very much for providing WAXIE the opportunity to serve your cleaning chemical needs – and thank you for your ongoing trust and patronage.

---
Keith Schneringer is WAXIE's Director of Channel Marketing + Sustainability. He is a LEED AP O+M and CIMS-GB ISSA Certification Expert who has been a consultant on a variety of LEED and CIMS-GB projects, and has presented to audiences at USGBC, BOMA, IFMA and CHESC events (among others). He enjoys learning and sharing information on topics related to sustainability and green cleaning and can be found on Twitter @kschneringer.
READ MORE: