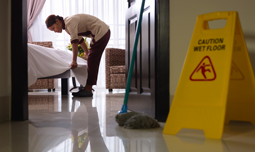 Using WAXIE Bug Off II - Part of an Integrated Pest Management Approach
In treating for bed bugs, the first thing to know is you are not just treating the mattress and box spring – you are treating the entire room. Nothing should be removed from the infested areas without first being treated and/or double bagged. Repeated treatments may be required.
Secondly, training and educating your staff and cleaning crew is vitally important. A well informed staff is your first line of defense both in the prevention and the management (if an infestation is discovered) of bed bugs in your facility. Create and keep checklists with the cleaning carts that consist of pictures of what to look for and a series of instructions listing what one should do once bed bugs are found in a room. Establish a communication protocol so that supervisors and other staff are informed of the problem and what steps have been taken in the removal process.
Read More
Topics: maintenance, program, WAXIE Bug Off II, integrated pest management, mattresses, furniture, vacuuming, housekeeping, staff, linens, bed bugs, treatment