Cleans, disinfects, and deodorizes in a single step. A
t the stated disinfection dilution rate, this product exhibits effective disinfectant activity against the organisms: Pseudomonas aeruginosa PRD-10, Escherichia coli, Klebsiella pneumoniae, Salmonella (schottmuelleri) enterica, Salmonella (choleraesuis) enterica, Brevibacterium ammoniagenes, Streptococcus faecalis, Shigella dysenteriae, Staphylococcus aureus, Enterobactererogenes and meets all requirements for hospital use. At the disinfectant dilution rate, this product is also fungicidal against the pathogenic fungi, Trichophyton mentagrophytes. This product, when used on environmental, inanimate, hard surfaces at the disinfectant dilution rate, exhibits effective virucidal activity against HIV-1, Influenza A2, Parainfluenza Type 1 (Sendai), Canine Distemper, Feline Pneumonitis, Vaccinia virus, Herpes Simplex Type 1, Hepatitis B Virus (HBV), Hepatitis C Virus (HCV). This product has demonstrated effectiveness against Influenza A virus and is expected to inactivate all Influenza A viruses including Pandemic 2009 H1N1 Influenza A virus. Fresh lemon fragrance. EPA registration #1839-93-14994. Designed specifically for hospitals, nursing homes, and other institutions. pH neutral cleaner-deodorizer-disinfectant-fungicide.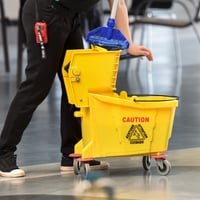 For bucket fill: one 0.5-ounce packet per gallon of water; one 0.2-ounce packet or two per 52-ounces of water.
For bottle fill: one 3.5-gram packet makes a quart. Add two 0.2-ounce packets or two 3.5-gram packets per WAXIE Fast Glide Mopping System tank and fill with warm water.
BUCKET FILL
#172010 tb/cs 2-90/0.5 oz/cs
#172012 drum 400/0.5 oz
#172009 tb/cs 2-125/0.2 oz/cs
BOTTLE FILL
#172014 tb/cs 4-125/3.5 g/pk
ACCESSORIES
#770505 dz/cs 15/cs Red Microfiber Terry Cloth
#890050 each 32 oz Plastic Bottle
#890040 each Trigger Sprayer
#651810 each WAXIE Fast Glide Mopping System
#651815 ea/cs 12/cs Replacement Blue Microfiber Pads for WAXIE Fast Glide
Fast Glide
Designed for area where bucket-and-wringer mopping is not feasible. Complete self-contained system makes routine maintenance of hard froors quick and easy. Large 52 OZ solution tank with handle push-buttonallows up to 7,000 square feet to be cleaned. New technology microfiber pad actually lifts dirt off the floor and stores it until it is laundered out. Complete system includes one blue microfiber pad.