WAXIE Sanitary Supply is a company rich in family history, strong in company values, and rooted in industry commitment.
WAXIE is a story of success, of three generations achieving the American dream, and the result of hard work and dedication. WAXIE prides itself on the legacies of its founders, and in the loyalty, hard work and steadfastness of its employees.
The Wax family history begins in the early 1900's, when Isaac and wife Sadie, immigrated to the United States from Russia. Soon after settling in Utah, Isaac Wax opened several merchant supply stores in the Salt Lake Valley.
The Wax family was known for going above and beyond to care for their customers, and many people in the Utah communities still tell stories of their extraordinary customer service. Sons Harry and Morris would take this dedicated spirit into their own adult lives and that's where our story begins.
THE GENESIS OF AN AMERICAN COMPANY
Drawn to serve their country during World War II, both Wax brothers joined the military. Harry joined the Navy in 1943 as a Seabee, the U.S. Navy's construction force that built landing facilities, airfields and other structures in combat areas. He served for two years and was discharged in San Diego.
Morris, the younger brother, joined the U.S. Army in 1941 and served for three years with the Tank Corps. He was stationed in France and Germany, during which he even served as a military governor for several months in Germany.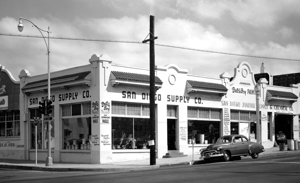 In 1945, Harry purchased a small business in his new hometown, San Diego Janitor Supply and Chemical Company.
Then in January 1946, Morris moved to San Diego to join Harry in the new venture. "At first, I wondered what Harry had done," joked Morris. "The company had very little business, a handful of employees, and one truck with no low gear and a four-foot truck bed!"
In a one-room, storefront office with a handful of employees, the Wax brothers built a stable base of customers using an approach to business ingrained from childhood focusing on the customer's needs, an approach that still resonates today in the WAXIE culture.
However, acquiring supplies right after the war was difficult. Paper products, like tissue and towels, were hard to come by. The company survived by selling the basics – brooms, mops, floor wax and cleaners.
Harry and Morris' hard work paid off and the company quickly developed a reputation for being the very best at providing sanitary supplies to the local communities — a familiar story in the Wax family history.
From its humble start, the company soon began to grow rapidly. Stated Morris, "A company's growth is a reflection of the person who runs it. Harry and I were aggressive and willing to go after business."
In 1948, the Wax brothers needed extra space and the company expanded to occupy the entire building at 10th Avenue and B Street in downtown San Diego. Despite their different styles, the Wax brothers made a great team and continued to steadily grow their business; in 1954, San Diego Janitor Supply was officially incorporated as WAXIE's Enterprises, bringing with its new name a distinctive trademark.
---
"At first, I wondered what Harry had done," joked Morris. "The company had very little business, a handful of employees, and one truck with no low gear and a four-foot truck bed!"
---
In 1957 they had outgrown their building again and moved into a much bigger facility at the corner of 1st Avenue and G Street, downtown San Diego, and their single delivery truck burgeoned, over time, into an impressive fleet of five.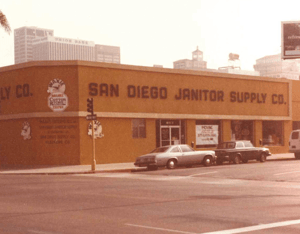 "We have always wanted to expand and grow," said Morris. "When you look to the future, you're thinking about new customers which maintains our focus on providing excellent customer service."
Indeed, in the 1950's and 1960's, the company grew by establishing a stable customer base throughout San Diego County. The Wax's divided the county into five territories (Downtown, East County, South Bay, Beaches, and Coast) which were served by its "impressive" fleet of five delivery trucks. Today the firm's fleet consists of more than 110 delivery trucks, tractor trailers and service vehicles.
Then in 1962 WAXIE expanded outside of San Diego by acquiring the Kleen-Line Corporation with warehouses in Santa Ana and San Bernardino. This acquisition extended WAXIE's service territory to now include all of Southern California.
With the next generation of family business leaders in mind, Harry and Morris began their process of including Morris' sons Charles and David, in the family business.
On July 30th, 1971, 26 years after starting WAXIE, Harry Wax retired and handed the reins to younger brother Morris.
REDEFINING THE JAN/SAN INDUSTRY
Morris saw his brother's retirement as a new beginning, an opportunity to preserve a family legacy by setting a high standard not only for WAXIE, but for an entire industry.
In just a few short years, Morris' vision began taking shape with the construction of three state-of-the-art facilities — unheard of in the industry at that time.
---
"When you look to the future, you're thinking about new customers which maintains our focus on providing excellent customer service."
---
As the company continued to grow during the 1970s, an important internal shift was underway. In 1973, Morris' oldest son Charles Wax officially joined the WAXIE team. No stranger to the business, Charles continued to learn under his father's watchful eye. Morris believed that a person had to start at the bottom and work their way up, and his own sons were no exception.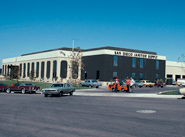 In 1977, the company purchased property in a new development in Kearny Mesa. A year later, when the company moved its headquarters from downtown to its current address on Ruffin Road, WAXIE's building was one of the few in the east Kearny Mesa area. In 1979, the company expanded into two new and very different markets when sales offices were opened in Los Angeles and El Centro, California.
"You have to be a visionary," stated Morris Wax. "You have to know when to gamble and when to stop. Most importantly, you have to be quick to react. Much of our growth came about because we are a flexible organization that could react quickly to the ever changing market."
With Charles on board, Morris continued to become an industry leader by expanding and building the business. For the first time in WAXIE history, the long-standing San Diego-based company ventured across state lines in 1984 with the purchase of the Lovinger Company, located in Salt Lake City Utah — a homecoming for Morris and the Wax family.
The Lovinger merger turned out to be a wise investment and in three short years, WAXIE built a new facility in Salt Lake City to accommodate their growing business.
Sharing his father's innate business sense, Charles recognized a smart opportunity in 1986 for growth in the Arizona marketplace. WAXIE established a start-up operation in Phoenix, Arizona as well as another branch office in Palm Springs, California. His foresight would not only prove to be profitable, but foreshadowed the leader Charles would become. He was named President that same year. "I have grown up with the company," says Charles. "We don't plan on changing things that work. We need to stay responsive to our customers' needs and focus on the future. And we are willing to continuously invest in the future – in our people and our facilities, and new innovative products and technology." The close of the decade saw the opening of branches in Las Vegas, Nevada (1988) and Tucson, Arizona (1989).
In 1989, Morris put his final mark on the industry with the construction of WAXIE's flagship facility in Santa Ana, California — a distribution facility unlike any other in the industry.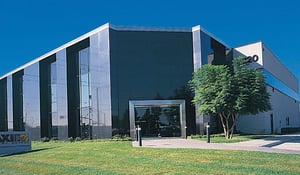 Morris Wax had great influence on the redefining of the JAN/SAN industry by his drive to set the standards high. In a small circle of industry greats, Morris stands out as a visionary, a businessman committed to serving the customer, a leader who raised the standards for others to follow, a man high in integrity, and a philanthropist who never stopped giving back. A bronze plaque in his likeness can be found at the USO in downtown San Diego, recognizing him for his generosity and commitment to providing a "home away from home" for the men and women who serve in our armed forces.
From their humble beginnings in Southern Utah, Morris and his older brother Harry left an indelible mark on the sanitary supply industry. Amongst their many legacies, they will always be remembered as the founding fathers of WAXIE.
AN INDUSTRY LEADER
With the infrastructure of the industry's best facilities in place, and veteran leadership to help steer the course, Charles looked to the future with great optimism. But to get there, his company needed to invest in something besides buildings.
In 1989 WAXIE invested in a computer system that would transform the way business was done, allowing the company to customize its technology to suit the ever-changing needs of the business. This upgrade would sustain WAXIE for the next 15 years.
While employee training has always been of paramount importance to the company and key to their success, technology created the need to catapult an already-strong training program to a new level.
Despite a sluggish economy in the '90s, WAXIE roared into the new decade by building a new 45,000 square foot facility in Tempe, Arizona. Another strategic move was made in 1994 when WAXIE joined Network Services, a group of independent distributors assembled to support national account coverage.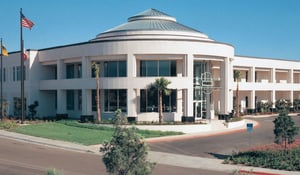 In 1995, the company broke ground on a new 58,000 square foot addition for corporate and San Diego regional offices along with warehouse space. Completed in 1996 WAXIE's San Diego headquarters boasted more than 100,000 square feet. This would become the "signature architecture" for future WAXIE facilities.
Morris, who passed away in 1996, expressed the sentiment of the entire WAXIE family when he said, "It's been marvelous to watch the growth of our company. It has exceeded all of my expectations." Although the Morris Wax chapter ends here, the legacy he left behind continued.
That same year WAXIE entered yet another market, venturing north to the San Francisco Bay Area opening a facility in Hayward. WAXIE would then go on to build two new state-of-the-art facilities before the close of the decade, supporting exponential growth in Las Vegas, Nevada, and in Salt Lake City, Utah.
WAXIE forged into the new millennium as a faster, leaner, more productive company with a desire to continue expanding its borders, if the right opportunity came along. Denver, Colorado became the next right spot, and in 2000, WAXIE entered the market.
As technology developed and became more robust, the age of the internet and e-mail was becoming more prominent in business; WAXIE prepared for the next wave of technological investment— this time in the warehouse.
In 2002 WAXIE expanded into the St. George, Utah market. And, after six years in Hayward, California, WAXIE constructed a 60,000 square foot facility using narrow-aisle technology, a layout that results in a gain of upwards of 50% more rack space in the same footprint. In 2003, WAXIE moved its San Bernardino operation to Ontario, CA into a new "flagship" facility of over 130,000 square foot, also with narrow aisles and with enough land to double the size of the facility as business demands grew.
With the industry's finest facilities in place and employee training a constant, WAXIE prepared for yet another computer upgrade. In 2004, the company incorporated a new enterprising system that would not only provide more customization, speed, and improved efficiency for the customers and WAXIE, it facilitated emerging technologies to totally integrate every aspect of the business.
WAXIE's involvement on the board of directors of Network Services and increased capabilities allowed WAXIE's Corporate Accounts team to thrive, taking customer service to new heights, and earning them Network Services Member of the Year honors for multiple years.
In 2005, WAXIE expanded into the Pacific Northwest by leasing a small facility in Portland, Oregon. A few years later, in 2008, WAXIE purchased Asplund Supply, Inc. with locations in Seattle, Washington, as well as Anchorage, Fairbanks and Kenai, Alaska; WAXIE's footprint was now firmly planted in the western United States.
After seven years in the Denver market, WAXIE purchased Midwest Chemical and Supply in 2007, the first acquisition since the Lovinger Company in Salt Lake City in 1984.
As President, Charles continued to look ahead as the business expanded, and with the counsel of his trusted leadership team, moved WAXIE forward into the future.
In addition to technological advances, recent trends include going "GREEN," with products that not only have a low impact on the environment, but keep the worker's health in mind.
Meanwhile, WAXIE continued to expand and upgrade its presence in other markets, including Salt Lake City and metropolitan Phoenix, where both its divisions received LEED® Silver Certification for superior design, construction and operation of green buildings.
WAXIE's service for customers in the West was augmented in 2010 with the purchase of 5 Star Sanitary Products with facilities in Colorado Springs and Pueblo, Colorado. The company's commitment to green operations was deepened in 2012 with conversion of many of its delivery trucks to natural gas, and in 2013 with the conversion of several warehouses to solar energy. In 2014, WAXIE earned "Energy Star" certification from the Environmental Protection Agency for superior energy efficiency.
In 2013, Charles Wax stepped up to Chairman and CEO of WAXIE Sanitary Supply, naming Jeff Roberts as the growing company's President and Chief Operating Officer. Keeping up with modern computer technology, WAXIE in 2014 brought online an advanced ordering and account management system to better anticipate customer needs.
In January of 2015, WAXIE celebrated its 70th year in business on board the USS Midway. Mike Midas, Vice President General Manager, served on the Midway as the admiral's assistance in 1987 when he and the ship were both on active duty. Mike led WAXIE personnel and key suppliers through a fabulous tour adding firsthand experience as he describe the ships role in defending our country.

On March 20, 2015, an early morning electrical fire destroyed WAXIE's facility in Idaho Falls. "The most important thing," commented Charles Wax, after learning about the fire, "was that no one was hurt in the fire."
WAXIE serviced Idaho Falls from their Salt Lake City operation until a new facility was found. On June 3rd of the same year, WAXIE moved into a brand new facility. "I think this unfortunate accident really showed the resiliency and can-do attitude of the WAXIE people," Charles said.
A FUTURE WITH WAXIE
WAXIE is still family-owned after 75 years, and they continue to invest in the business and their people. The company has garnered several awards in the last few years acknowledging workplace culture and dedication to delivering unparalleled service and expertise in the industry, such as: 2015 Network Services Business Development, 2015 San Diego Union Top Workplace, 2016 Orange County Business Journal Top Workplace, 2017 Orange County Business Journal Large Family-Owned Business of the Year, and the 2017 Network Services Member of the Year.
Today the company employs over 1000 people. "That's a lot of families to be a part of," said Charles. "I am humbled by the dedication and commitment of our employees. We have over 50 individuals who have worked here over 30 years and over one-hundred with 20 plus years."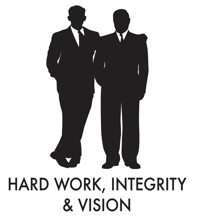 With an eye on growth and expansion, WAXIE is poised to move into new markets while strengthening their position in current cities and states. "We will grow by being the best in the industry at servicing the customer, efficiently managing our supply chain, developing quality products, embracing innovation, all contributing to a cleaner, healthier, greener, and safer workplace environment."