Take your cleaning to the next level!
Now, you can complement—and complete—your surface cleaning efforts by eliminating odors, viruses, germs, allergens and dust where they lurk. In the air. So don't mask odors—ELIMINATE THEM ALTOGETHER and make for easier cleaning.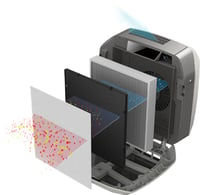 With the AeraMax Professional line of commercial-grade air purifiers, you'll experience next level cleaning, effectively and efficiently providing a safer, healthier environment for your occupants. That's because these workhorse air purifiers REMOVE up to 99.97 percent of airborne pollutants—like odors and germs—from indoor spaces. They use a comprehensive hospital-like four-stage filtration system that traps odors, bacteria, germs and other harmful pollutants like volatile organic compounds, providing cleaned, fresh air. In fact, these purifiers are the only solution proven in independent testing to capture the airborne flu virus.
Remember: air fresheners only mask odors. Once they dissipate, the odor still lingers. But with AeraMax Professional air purifiers, you'll be removing odors—and health hazards—from places like bathrooms, gyms, meeting spaces, lobbies and more. You'll be able to see the air purifiers working with our PureView™ technology, which displays the PM2.5 particle counts going in and the clean air coming out.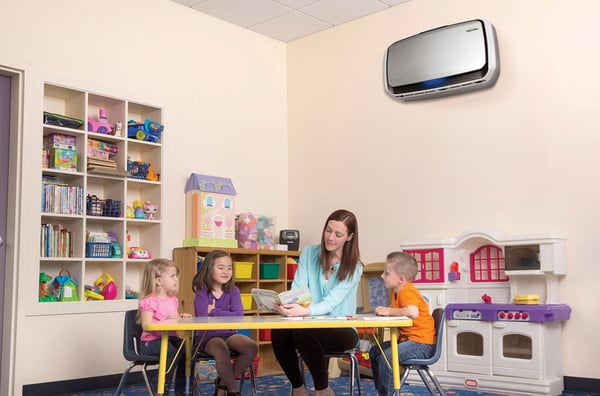 Our units employ patented EnviroSmart™ Technology that senses sound, motion and odors in a room, automatically adjusting to optimize performance. That way, the units work when they have to...conserving energy and maximizing operations. It's truly "set it and forget it," with the units working tirelessly in the background to improve the lives and health of occupants.
We've got AeraMax Professional units designed for virtually any room:
AeraMax Pro AM 3 PC PureView Professional Air Purifier cleans spaces of 300 to 700 square feet
WAXIE #57AMX9573001

AeraMax Pro AM 3S PC PureView Professional Air Purifier unit for rooms up to 700 square feet
WAXIE #57AMX9573201

AeraMax Pro AM 4 PC PureView Professional Air Purifier cleans spaces of 600 to 1400
WAXIE #57AMX9573101

Product Literature: