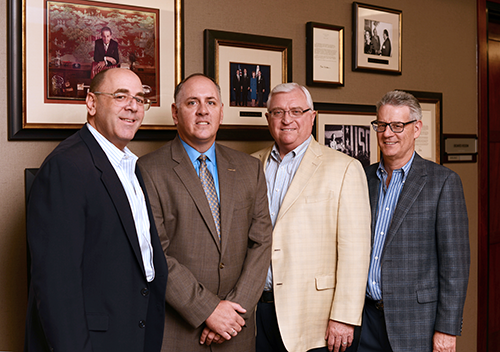 From left to right: Jeff Roberts, President & COO; Eric Frei, General Manager, Mesa, AZ; Clint Hunter, Executive Vice President, Intermountain; Charles Wax, Chairman & CEO
FOR IMMEDIATE RELEASE

SAN DIEGO, CA -- WAXIE Sanitary Supply, America's largest independently-owned distributor of sanitary maintenance supplies, is pleased to announce the promotion of Regional Sales Manager, Eric Frei of WAXIE's Mesa, Arizona regional inventory center to General Manager.

Eric began his WAXIE career as a Sanitary Maintenance Consultant at WAXIE's Tempe, AZ branch in 1996 and was promoted to Sales Manager in 1999. Eric was promoted to Regional Sales Manager of WAXIE Arizona in December 2005.
Known for his product and industry knowledge, a winning track record, and team building abilities, Eric brings a high level of enthusiasm and professionalism that will translate into positive results for the WAXIE Arizona locations.

Effective immediately, Eric will be responsible for the sales and operations of WAXIE's LEED Certified Silver facility in Mesa, AZ and the sales and operations of the Tucson location as well.

"It's a good time to be involved with the WAXIE organization," said Clint Hunter, Executive Vice President of WAXIE Sanitary Supply, "Our business is strong and opportunities to grow and prosper are available. We are proud of the work Eric has done for us and excited about this new challenge for him."


Read More
Topics: Mesa, general manager, press release