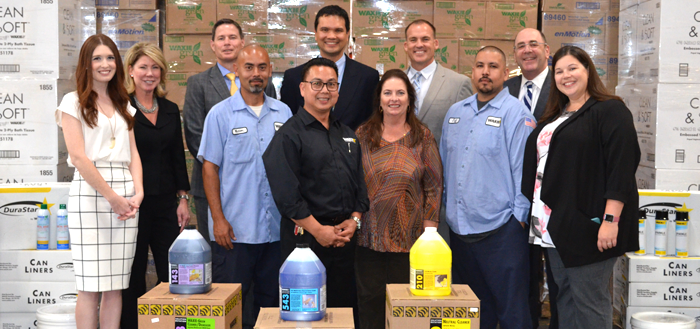 Above: Front Row – Victor Paez, Day Warehouse Lead; Gary Perez, Operations Manager; Gail Topalian, Customer Service Lead; Jeff Campos, Night Warehouse Lead; and Desiree Bonilla, Customer Service Manager. Back Row – Elise Drilling, HR Generalist; Alice Sawaya, Vice President & General Manager of WAXIE Santa Ana; John Torgerson, Sales Manager; Erik Chantarapan, Sales Manager; Michael Gould, Regional Sales Manager; and Jeff Roberts, Chief Operating Officer.
FOR IMMEDIATE RELEASE
SANTA ANA, CA – WAXIE's Santa Ana branch is honored to announce that it has been named one of the "Best Places to Work" by the Orange County Business Journal.
Hundreds of companies within the Orange County area were nominated. The award and the results were determined by evaluating several factors, which included an anonymous employee survey. All WAXIE Santa Ana employees were invited to participate in the voluntary survey that included questions about company culture, values, leadership and work environment. 40% participation was required for consideration and WAXIE Santa Ana's employees far exceeded that participation level at 78%.
Santa Ana employees praised WAXIE for the family atmosphere, open communication, the feeling that their work was appreciated and the company's unwavering commitment to its customers.
"I believe that Tony Hsieh, CEO of Zappos said it best: 'When you get the company culture right, everything else will follow'," said Alice Sawaya, Vice President and General Manager of the WAXIE Santa Ana branch. "How does WAXIE get the culture right? We have faith in our people. We nurture them and allow them to grow. We employ the best and brightest, and place them in a creative environment encouraging innovation and best practices. Santa Ana employees are empowered individuals who are passionate about our business and industry."
The San Diego Union-Tribune Names WAXIE Sanitary Supply A Winner of the San Diego Metro Area 2015 Top Workplaces Award
View the Union Tribune Article Here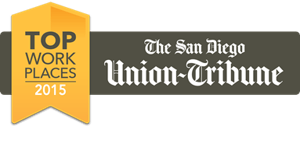 What a year 2015 has been so far! As you know, we have been celebrating our 70th Anniversary all year long with each of you, our customers and our suppliers. It has been exciting to celebrate this milestone and to reminisce together about all of the changes we have all been a part of during this special anniversary.
We want to share more exciting news with you today. WAXIE Sanitary Supply has been named by the San Diego Union-Tribune as One of the Top Workplaces to work in the San Diego Metro Area! On Sunday, November 8th, The San Diego Union-Tribune is publishing "The San Diego Union-Tribune Top Workplaces" – a list of the best places to work in the San Diego Metro area. I am delighted to let you know that WAXIE has been nominated! On Sunday, you will be able to see us named in a special section of The San Diego Union-Tribune.
The evaluation for the Top Workplaces program is based upon feedback from an employee survey that many of you completed a few months ago. We had 148 responses to the survey, so thank you all for taking the time to respond.
45 companies have been selected for the Top Workplaces award. We are honored to have been selected for the award, particularly as the judges were you, our employees!
We are extremely proud of this recognition and want to thank you for making WAXIE such a special place to be a part of. Our employees are our most valuable resources and you prove this every day and with every interaction you have with our customers. What makes us different from our competition is your passion, drive, commitment and willingness to serve others.
Congratulations to you for this recognition for without you, there is no WAXIE Sanitary Supply. We hope you read and enjoy the article in the San Diego Union-Tribune this Sunday and share it with your family and friends.
Best Regards,
Charles Wax, David Wax and Jeff Roberts