WASTE WATER TREATMENT

Sewage collection and treatment is the process of collecting and removing contaminants from waste water and household sewage, both runoff (effluents), domestic, commercial and institutional. It includes physical, chemical, and biological processes to remove physical, chemical and biological contaminants. The objective is to produce an environmentally safe fluid waste stream (or treated effluent) and a solid waste (or treated sludge) suitable for disposal or reuse (usually as farm fertilizer). Microorganisms play a vital role in both sewage treatment and maintenance of the collection system.

WAXIE MicroDrain Cleaner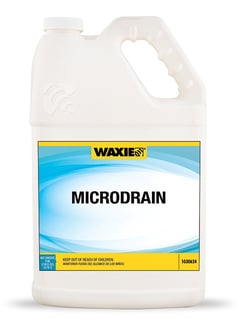 Municipal/Industrial Strength Bioactive Drain Cleaner and Maintainer
WAXIE MicroDrain Cleaner is a highly concentrated consortium of microbes concentrated to 1.3 trillion units per gallon. Reduces or eliminates Hydrogen Sulfide production. Fragrance free. Dilution based on application.

Recommended for use in:
• Municipal lift stations
• Grease lines
• City sewage
• Waste water treatment plants
• Sewage ejector
#1030624 gl/cs 4/cs
#1030625 5 gl pail
#1030622 15 gl drum
SEWER EJECTOR TREATMENT PROCESS

WAXIE Drainzyme HD Drain Maintainer

Professional Strength, Bioactive Drain Maintainer
WAXIE Drainzyme HD Drain Maintainer is a liquid drain maintainer designed to keep household, office and general purpose drain lines free flowing and odor free. Contains seven strains of beneficial microbes concentrated to 220 billion units per gallon. Fragrance free. Dilution based on application.

Note: Not recommended for commercial kitchen grease lines
(see WAXIE Microdrain Cleaner).

Recommended for use in:
• Septic systems
• Drain lines
• Odor abatement
#1030837 qt/cs 12/cs
#1030834 gl/cs 4/cs
#1030832 5 gl pail
Pro-Watch
Microprocessor Based Chemical Dispensing System
For Grease Traps, Drains & Odor Control
This easy-to-use system stores up to 20 dispensing events per day, programmable by day, minutes or seconds. With the addition of the Misting Kit, Pro-Watch becomes an advanced chemical spray system designed to spray deodorizing or sanitizing mist in a variety of applications such as trash compactors, roll-a-way garbage bins and other trash depositories.
Pro-Watch 510TMS Electric Misting Unit (for wet wells & lift stations)
#1030326
Pro-Watch II Battery Drip Unit (for grease traps & drain lines) #1030327
Pro-Watch 510XT Pumping System #578120