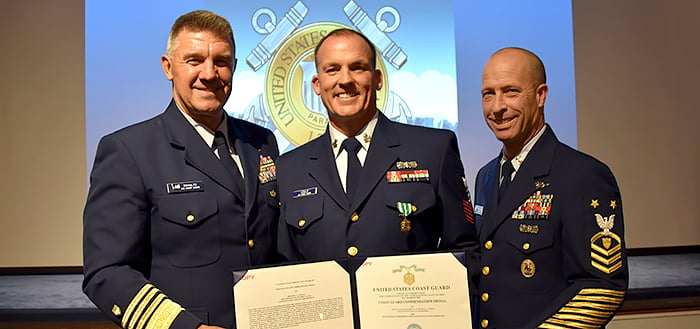 Petty Officer Michael Gould (center) receiving the 2018 Coast Guard Enlisted Person of the Year Award and Coast Guard Commendation Medal with Admiral Karl Schultz, Commandant of the United States Coast Guard (left) and Master Chief Petty Officer of the United States Coast Guard Reserves George Williamson (right).
By: Briana Smith | May 29, 2019
WAXIE has great respect and a long history of supporting those in the U.S. military dating back to our founders Morris Wax and Harry Wax who served in the U.S. Army & U.S. Navy respectively.
So you can imagine how excited we were when it was announced that one of our employees, who was deployed with the Coast Guard at the time, earned the recognition of Coast Guard's 2018 Enlisted Person of the Year Reserve Component (REPOY) soon after being presented with the Q4 2018 JTF (Joint Task Force – Guantanamo Bay, Cuba) Enlisted Professional of the Quarter award.
WAXIE Santa Ana's Regional Sales Manager Michael Gould spent six years in the U.S. Navy after graduating high school. Mike began his career at WAXIE in 2003 but said that he always had a "flag shaped hole in his heart" since separating from the military the first go-around and wanted to continue serving his country so he joined the U.S. Coast Guard as a reservist in 2012.
Read More
Topics: company news