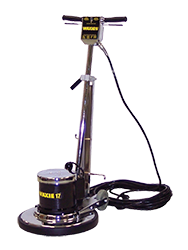 WAXIE 17" 1-HP Floor Machine
The WAXIE 17" 1-HP Floor Machine operates at 175-RPM. 1-HP, 66-frame motor features a straight line planetary gear system, assuring efficient transfer of power from the motor to the brush. The WAXIE 17" floor machine is shipped in two pieces. The handle and base can be easily assembled in minutes by sliding the two halves together and installing five bolts. The handle assembly has a convenient storage peg for the pad driver or brush assembly. Ideal for schools, hospitals and office buildings for stripping, spray buffing, polishing and bonnet cleaning.
Click here to view more floor machines.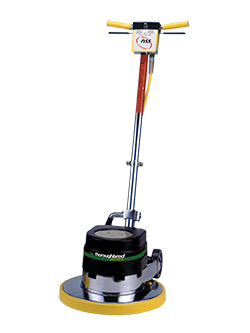 NSS Thoroughbred 20" 1.5-HP 175-RPM Floor Machine with Pad Driver
1.5-HP floor machine is great for contract cleaning. Precision balance for maximum cleaning efficiency and reduced operator fatigue lets you polish, spray buff, scrub, spin clean or rotary scrub carpets with one machine. Includes pad driver. See specifications table for details.
Click here to view more floor machines.
Advance FM800™ Orbital Floor Machine

The FM800 offers operators powerful orbital scrubbing technology in a floor machine. The FM800 is the ideal orbital floor machine for reaching small areas and detail work that larger auto scrubbers may not be able to reach. Orbital scrubbing technology is ideal for the chemical-free removal of floor finish in preparation for re-finishing. The FM800 cleans at 1,725 ¼" orbits per minute. With a totally enclosed motor, and lower speed, the FM800 runs at 58 dBA, which is ideal for cleaning in noise sensitive areas. An optional solution tank will feed cleaning solution directly to the pad.
Click here to view more floor machines.
Windsor Storm™ Series Floor Machines

The Windsor Storm comes in a variety of sizes from 13" to 20" with a 1-HP motor or 1.5-HP motor on certain models. Easy-to-use fully adjustable handle height system with easy cord release. Large 5" non-marking wheels for easy transport. The built in mechanical safety interlock to prevent accidental start-ups. Built in circuit breaker to protect motor. It has a rugged cast aluminum base and switch housing with non-marking bumper to protect the machine and facility. Heavy duty steel triple planetary gearbox for smoother operation and longer life. High torque, 66 frame induction motor for trouble free operation. Dual capacitor for high efficiency operation. Additional features include a high mounted handle lock/height adjustment, heavy duty construction, non-marking PVC bumper, dual main switch levers and thumb activated safety interlock.
Click here to view more floor machines.