FOR Solutions
What about food scraps?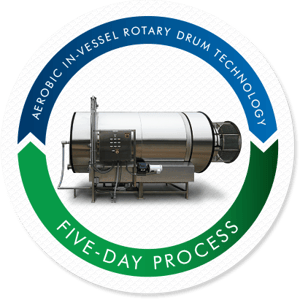 The management of uneaten, discarded food is the last frontier in recycling. Many states and municipalities are passing legislation banning food scraps from the solid waste stream. WAXIE's partner FOR Solutions offers a state-of-the-art, patented, aerobic in-vessel rotary drum technology which transforms those discarded food scraps, as well as all organics, into nutrient-dense compost in just FIVE days. This transformation is accomplished with:
Virtually no odor
No pests, insects or rodents
An energy efficient process
Aesthetically pleasing design
No additional inoculants or heat
Localized processing of discarded food scraps saves on disposal costs while advancing an institution's sustainability initiatives. This innovation in on-site management of food scraps had the potential to be truly revolutionary. Please download information about the system here, and contact your WAXIE Account Consultant to learn more.
WAXIE would like to partner with you to help you reach your waste diversion goals.