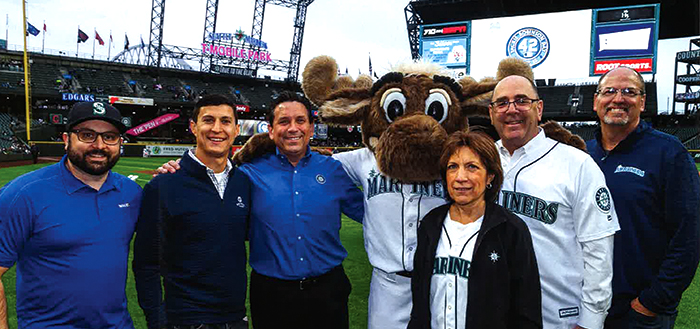 Pictured from left: Paul Trimberger, Seattle Sales Manager, WAXIE Sanitary Supply; Brian Work, Sales Manager, APC; Paul Rebner, Account Consultant, WAXIE Sanitary Supply; The Mariner Moose; Lydia Work, President & Owner of SustainOne/APC; Jeff Roberts, President & COO, WAXIE Sanitary Supply; and Rick Jones, Seattle General Manager, WAXIE Sanitary Supply. Photo courtesy of the Seattle Mariners.

Hard Work and Exceptional Dedication Displayed by Diverse Suppliers
FOR IMMEDIATE RELEASE
NEWS PROVIDED BY: WAXIE Sanitary Supply
May 6, 2019
SEATTLE, WA, May 6, 2019 – On Monday, April 15, 2019, the Seattle Mariners recognized Lydia Work and her company SustainOne, along with Paul Rebner of WAXIE Sanitary Supply for their combined support of the Seattle Mariners and Major League Baseball's Supplier Diversity Program.
The Seattle Mariners have established diversity goals that align with the Supplier Diversity Program of Major League Baseball (MLB) in their purchasing practices. SustainOne is a Woman-Owned Small Business as well as a Minority-Owned Business that partnered with WAXIE to help the Mariners exceed their goals.
Read More
Topics: press release, company news