AutoFlush accessories are an important part of any touch-free restroom program. WAXIE offers several options so that you can find the best option for your facility.
AutoFlush Clamp – Toilet or Urinal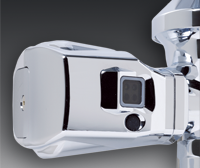 Automates most toilet or urinal valves, right- or left-handed units, without removing the handle, turning off water supply or needing special tools. Slide unit over existing handle, secure two mounting screws, install four C batteries (included) and replace cover. Features touch-free operation with angled sensor that allows for detection even with toilet seat raised, courtesy flush, and cam gears for trouble-free operation. ADA compliant and offers a 3-year warranty against defects in parts and workmanship.
AutoFlush Cleamp - Toilet or Urinal
#633206 each

Replacement Batteries
C Batteries 12/ea (#791219 carton)

Zurn E-Z Flush
Installs in minutes on a commode or urinal. Provides increased sanitation, water savings and labor reduction. Angled sensor flushes with toilet seat up, has three second detection delay to eliminate false flushes and a courtesy flush button. Chrome finish, impact resistant. Three plus years battery life, includes Sensor retrofit kit, installation tools and four C alkaline batteries.

Zurn E-Z Flush
#633300 each

Replacement Batteries
C Batteries 12/ea (#791219 carton)
AutoFlush and AutoClean Systems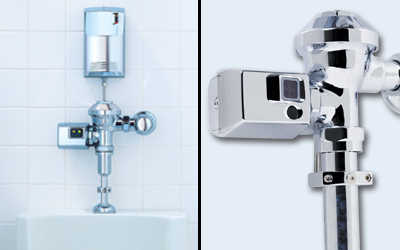 AutoFlush automatic, touch-free flushing systems for toilets & urinals keep fixtures flushed & presentable leaving washrooms looking and smelling clean. Smart Object Infrared Technology manages flushing automation preventing unwanted flushes. AutoFlush for toilet has a courtesy flush button on the front of the unit allowing fixture to be easily flushed manually when needed. AutoFlush Urinal and Toilet Systems easily install in just minutes with no water shut-off required (installation tools included) to retrofit existing washroom fixture to an automated system. Four C alkaline batteries (included) have a long battery life, 3+years or up to 100,000 flushes. Both systems work in conjunction with an AutoClean unit and Purinel Ultra Concentrated Cleaner to give continuous cleaning and scale prevention. The AutoClean Service Starter Kits include a programmable dispenser (for 30, 45 or 60 days of cleaning), mounting hardware, two D alkaline batteries (for one year or more of operation), connection kit and stainless steel connection tube. They dispense convenient, easy-to-change, concentrated Purinel for round-the-clock elimination of odors at the source to ensure that urinals and toilets are always clean, odor free and presentable, providing greater hygiene for your restrooms and extended staff cleaning cycles. AutoFlush and AutoClean dispensers have a chrome-colored finish.


AutoFlush Systems
AutoClean Service Starter Kits

Purinel Refills

Replacement Batteries