WAXIE Select™
No-Touch Roll Towel System
Premium Quality Paper in a High-Capacity Roll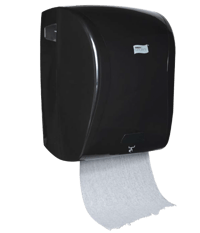 Touch-free dispensers are an important part of maintaining a healthy restroom experience and essential in combatting the spread of germs. As a facility manager, it's vital to maintain a clean and healthy building environment using premium products, uninterrupted stock levels, and labor saving solutions that include IOT smart technology.
How can you accomplish this?
With the WAXIE Select Electronic No-Touch Towel Dispenser–a high capacity, sleek, and durably designed roll towel dispenser with quiet operation. The single most important feature is the capacity for much longer towel rolls, which lowers maintenance and improves user experience. The towel length and delay are adjustable, and the auto transfer stub rolls all help to minimize waste. It also has a high-efficiency motor for longer battery life and a Low Battery Light Indicator along with an emergency Push Paddle that assures you will never be out of service. Restrooms make the single greatest impact on your customers, guests and staff, and this dispenser has all of the quality features that you have come to expect from WAXIE, in an attractively designed shell.
WAXIE Select Foam Handwash Dispensing Systems
Add a touch of class to your facility with refreshing, spa-quality foam soap formulations that people love and a new modern and sleek design. These new dispensing systems are built for reliability and high performance, and whether you choose manual, traditional touch-free or our new touch-free system powered by energy that's right on the refill (a coin cell battery that's integrated into each refill), your maintenance team will appreciate the advanced features that make maintenance a breeze.
Pair it with PURELL®
Providing PURELL Hand Sanitizer in manual or touch-free dispensers is a convenient, easy way to give guests, customers, and employees access to the hand sanitizing products they know and trust. There's a solution for every facility, from gel or foam hand sanitizer, green-certified formulations, and more, so you can keep your business running smoothly with less maintenance.