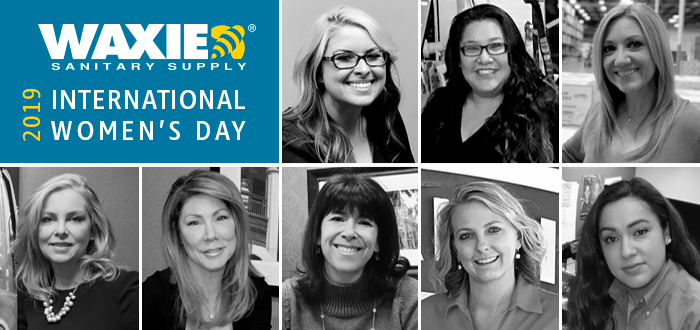 Some of the amazing women who work at WAXIE Sanitary Supply: Clockwise from the top – Tiffany Pierce, Delia Vida, Ann Williams, Christine Martinez, Rosey Kerchal, Kristi Parnell, Alice Sawaya & Laura Hibbard.
March 8, 2019
On this International Women's Day, we wanted to recognize all of the amazing ladies who work hard to keep their environments safe & healthy — healthcare custodial environmental services (EVS) staff preventing HAIs, restaurant staff keeping us safe from foodborne illnesses, housekeepers tidying up hotel guest rooms, and custodians in schools & offices — these women are making it happen.
We also wanted to honor some of the women at WAXIE who play a pivotal role in providing solutions, support & encouragement for all our customers and fellow co-workers. We are so lucky to have such exceptional people working for us across all of our branches and appreciate the work that they do. WAXIE wouldn't be the 'Experts In Clean' without everyone's contributions from Delia picking orders on the warehouse night crew to Kristi utilizing new technology to improve payroll & benefits for all employees. The wonderful women at WAXIE are getting stuff done!

Read More