Low Maintenance Floor Care Solutions

Floor care is one of the most time-consuming and challenging tasks that custodial teams are faced with, especially in areas that receive a lot of wear and tear from foot traffic on a daily basis.
Whether you are a building service contractor, an in-house custodial department or a professional cleaning company, developing a solid floor care program with the right type of products for your flooring material is essential.
Floors are often overlooked and as facilities begin the reopening process it's worthwhile to check the state of your floors. If they are in rough condition, taking the time to refinish them can prepare your facility to open at full capacity and welcome back the influx of customers as the amount of in person activity increases.
An investment in your facility flooring will keep your business on solid ground!
The Challenges of Maintaining Your Floors
One of the biggest headaches for cleaning and maintaining VCT and terrazzo floors is removing old semi-permanent urethane coatings and other conventional co-polymer finishes efficiently and effectively from your flooring surface. This process is labor intensive and demands a substantial chunk of time, so minimizing the need to do this maintenance will save you on money and time in the long run.
Another frequent problem is alcohol hand sanitizer, which can cause a lot of damage depending on your floor finish. WAXIE's Diamond Guard TZ Catalyzed Mop-on Urethane Floor Finish is unique in that it is both alcohol and Bedadine® resistant, so it's ideal for operating rooms in hospitals and can be applied with a flat mop instead of a roller.
Advantages of Urethane Floor Finishes
There are many types of floor finishes that can be used on synthetic floors, but urethane-based floor finishes are one of the most resilient available and reduce the need to completely strip and refinish your floors to once a year as long as you keep up with basic maintenance.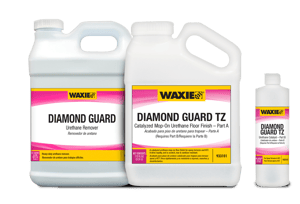 Benefits of Urethane Floor Finishes:
Easier to maintain through daily & interim cleaning procedures
More durable and resistant to scratches
High quality level of appearance
Long-lasting
Provide cost & labor savings (due to less maintenance needed)
For Long-Lasting Floor Care Results
WAXIE Diamond Guard Urethane Remover | 322200
For urethane and acrylic finish removal on all floors
Formulated to specifically remove catalyzed urethane finishes and mixes 1:1 with water and is applied with a roller cover. It's rapid strip time of 30-60 minutes works by breaking and lifting a urethane finishes bond and sealer from the flooring surface. No need for heavy-duty stripping pads required. The product can remove up to 100 coats of acrylic floor finish, is fragrance-free and dye-free.
WAXIE Diamond Guard Urethane Remover Product Use Guidelines
Urethane Removal: One gallon can remove100-200 square feet
Acrylic Removal: One gallon can remove 100-2400 square feet
Features:
Will not damage VCT flooring
Rapid strip-out time — 30-60 minutes
Breaks and lifts urethane bond and sealer from floor
Zero VOC's, per Consumer Goods Regulations
NON-CORROSIVE; pH of less than 11.0
DOT Non-Regulated = Lower freight costs
Will not 'dry-out' like typical floor strippers
Will not yellow the surface
Residue easily cleaned with WAXIE's Diamond Klenz Neutral Cleaner mixed with water at proper dilution
Fragrance- and dye-free
Low odor
WAXIE Diamond Guard TZ Catalyzed Mop-on Urethane Floor Finish | 933101
For VCT and terrazzo
Perfect for hard floors like VCT and terrazzo that require a floor finish that is as flexible as it is durable. This easy application mop-on finish requires a minimum of two coats with an option for three coats for added protection. The high solid urethane finish is fast drying, fast leveling, and resists streaking and lines. It is a non-yellowing, low odor finish with excellent scratch and mar resistance.
WAXIE Diamond Guard TZ Catalyzed Mop-on Urethane Floor Finish also resists alcohol hand sanitizer, Betadine® and mottling and hazing caused from burnishing.
Features:
Easy application – just mop-on
Available in one (1) gallon kits
Only two (2) coats; three (3) coats for added protection
Fast leveling – resists streaking and lines
Fast dry 20-40 minutes per coat
High solids urethane – 25%+ solids
High gloss with excellent gloss retention
Resists 'mottled/hazy' finish caused from burnishing
Fast diamond pad response – conditioning and reconditioning
Hand sanitizer resistant – no white spots
Betadine® stain resistant
Excellent scratch and mar resistance
Very flexible film formation – resists damage
Non-yellowing
Low odor
Coverage: 1200-1500 sq. ft./gallon (per coat)
Contact your local WAXIE Chemical Specialist or Account Consultant for more information on our WAXIE Diamond Guard Systems or to request a demonstration of these uniquely formulated products.