The CLEAN™ Management Console delivers powerful, real-time and historical information to any operations director, staff member, or stakeholder with a web-enabled device and authorized, secure access. With the ability to constantly access collection activity and station fullness levels, the CLEAN Management Console provides waste collection teams with the information required to better plan collection routes and pickups, and the visibility and accountability organizations need to effectively manage their resources.
The central element of the BigBelly Solar value proposition is dramatic reductions in operating costs without any reduction in service levels. The CLEAN Management Console provides the visibility and transparency to make sure that operations are planned and optimized to deliver on that capability. Each BigBelly Solar waste and recycling station uses wireless data technology to communicate station-level information to a network of servers in the BigBelly Solar Command Center. These servers process the information to present what you see in the Management Console: historical patterns, real time information, correlation with maps to visually depict information, and other useful operational data for purposes such as asset and personnel management. The ability to extract historical patterns, sorted by activity groupings (e.g., by collection route), enables users to gain powerful insights to drive decisions on more efficient resource utilization.
Customer-specific access is available through a password-protected Internet portal, enabling remote management of settings along with customized analysis and reporting capabilities and tools to support management decision making. The CLEAN Management Console has been specifically designed to be analytically powerful, but simple to understand and use as an essential part of the BigBelly Solar intelligent waste & recycling collection system.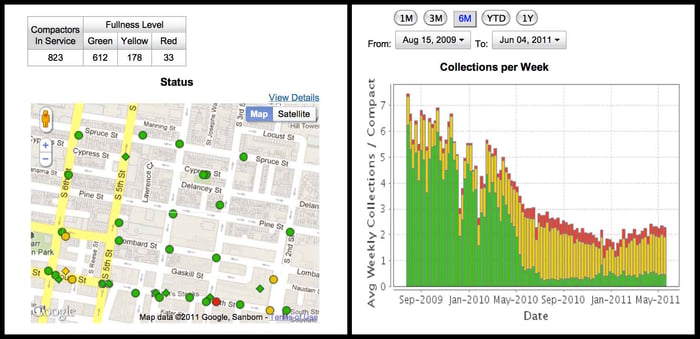 The CLEAN Management Console:
No wasted trips – pick up when ready
Intelligent routing & dispatch – save labor & fuel
Monitoring & maintenance – get to issues before the phone rings.
To login to CLEAN, click here