WAXIE-Green Cleaning Products
High-quality WAXIE-Green products incorporate the latest cleaning technology in order to deliver superior cleaning results, and include products that have been certified by third-party ecolabels. In addition to providing cleaning performance, WAXIE-Green cleaning chemicals are also formulated to reduce potential impacts on human health as well as the environment. WAXIE-Green products offer a compelling combination of performance, price, health and safety, along with an environmentally preferable profile.
Green Cleaning
Green cleaning can be defined as "effective cleaning that protects health without harming the environment."
The federal government first defined "green" and "environmentally preferred purchasing" as "…products and services that have a lesser or reduced effect on human health and the environment when compared with competing products and services that serve the same purpose" with Executive Order 13101 in 1998.
This executive order has subsequently been superseded since 2007 by Executive Order 13423, which places additional emphasis on issues of sustainability and also considers product life cycles.
A holistic approach to green cleaning will incorporate solutions that consider human health and environmental impacts in a way that thoughtfully addresses:
- products, equipment and tools
- processes and procedures
- commitment to continuous improvement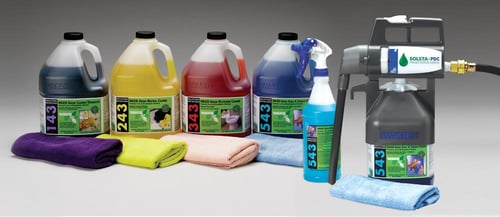 Click on Links below to download WAXIE Green Products Brochures
WAXIE GPS Brochure
WAXIE-Green Encapsulating Carpet Care System
WAXIE-Green Floor Care
WAXIE-Green Renew Cleaner and Maintainer
WAXIE-Green Microfiber
WAXIE-Green Paper Products
Clean Touch by WAXIE Foam Soap Systems
WAXIE-Green Hand Soaps
WAXIE Hand Hygiene Brochure
WAXIE Hand Hygiene Order Guide
Hospitality Choices Flyer
WAXIE-Green Eco-Mats
WAXIE-Green Can Liners