Did you know the standard disinfectant stops working after it dries? How many times can a surface be disinfected in one day?
Introducing: MONOFOIL® D Disinfectant & Antimicrobial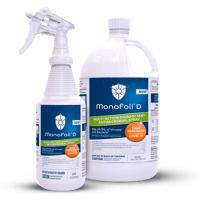 MonoFoil D is the only Dual-Action Disinfectant & Antimicrobial that is EPA approved to Kill SARS-CoV-2 in 3 minutes and continue to work after it dries.
What's in MonoFoil D Dual Action Technology?
MonoFoil D is a hospital-grade disinfectant that eliminates harmful microbes on contact. EPA approved to kill SARS-CoV-2 in 3 minutes.

Proprietary Si-Quat (3-(trihydroxysilyl) propolyldimethyloctadecyl ammonium chloride) antimicrobial technology provides bio-static shield for ongoing protection.

The positively charged molecular structure of MonoFoil D pulls microbes to the surfaces and punctures their cell walls, physically preventing microbe growth on treated surfaces. MonoFoil D is a mechanical kill, not a chemical kill making it a safe product for all surfaces, people and pets.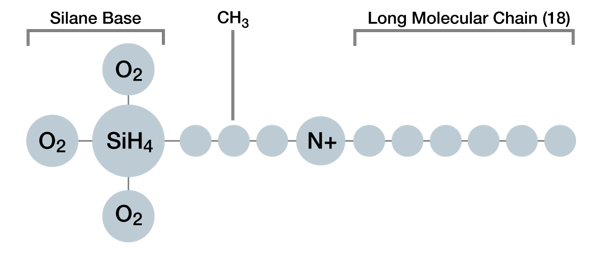 According to the EPA, an antimicrobial is a "substance or mixture of substances used to destroy or suppress the growth of harmful microorganisms such as bacteria, viruses or fungi on inanimate objects and surfaces."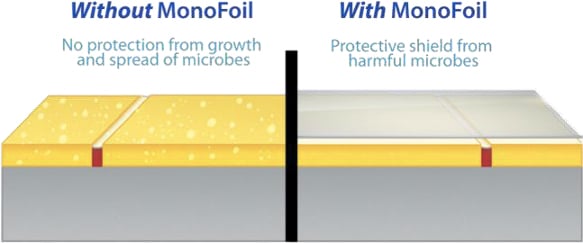 The fact of the matter is that disinfectants only kill microorganisms on contact, but as soon as they dry, and someone touches that light switch, doorknob or other surface, it's potentially immediately re-contaminated.
MonoFoil D's multi-action disinfectant antimicrobial can both kill bacteria & viruses as well as suppress their future growth, providing longer-lasting protection for families, essential workers, businesses and more.
Culture of Staphylococcus Aureus was re-introduced/swabbed on the sample dish on Day 1, Day 7, Day 14 and Day 28

Day 0
Day 1 - Treated w/ Monofoil-D
Day 28
Features and Benefits of MonoFoil D
EPA Registered & on List-N EPA #90856-4
Disinfectant and Antimicrobial
Kills Sars-CoV-2 in 3 minutes
HMIS Rating of 000
Non-Caustic
Lowest Toxicity Rating = Category IV
Contains no phosphates, alcohol or bleach
Leaves no harsh chemical odor
Removes odor
Inhibits mold/mildew
Effective on ALL surfaces
Continues to work after it dries
Product and Labor Cost Savings
Contact your WAXIE Account Consultant for additional information.