Personal Protective Equipment
The current Global COVID-19 outbreak has created an unprecedented demand for PPE products such as face masks, gloves, coveralls, gowns, goggles, and face shields.
Cleaning and disinfecting facilities results in opportunities for potential exposure to hazards – appropriate use of PPE will protect users against these health and safety risks, and create a healthier building environment. PPE products should be worn for non-cleaning in public and in buildings as well to prevent spreading of the virus.
WAXIE offers a wide variety of PPE items as well as disinfectants, cleaners and sanitizers to help meet your cleaning requirements.
Gloves
Safety Glasses, Goggles, and Face Shields
Face Masks and Respirators
Aprons, Gowns, Booties, and Apparel
Thermometers
Sneeze Guards
Social Distancing Signs
Gloves
WAXIE Shield offer a variety of disposable gloves designed for most applications from medical to food service, janitorial cleaning and more.
Whether you require Latex, Nitrile, Vinyl or Synthetic Vinyl we have the glove best suited for you. Choose from powder-free or powdered, and exam grade or lower cost general purpose grade gloves, available in the following sizes Small, Medium, Large and Extra-Large.
Nitrile Gloves
Nitrile gloves are made out of a synthetic rubber, and are an ideal alternative when latex allergies are of concern. Nitrile gloves are the superior glove when it comes to puncture resistance. Nitrile gloves have a high level of sensitivity and mold to your hand for a great fit.
Latex Gloves
Latex gloves are natural material, made out of rubber. Latex is a popular choice of protective glove for medical or industrial use. The primary reason people would choose an alternative to latex is because many people suffer from latex allergies. When allergy is not a concern, latex does have a slight advantage with comfort and dexterity over nitrile gloves.

Vinyl Gloves
Vinyl gloves are a popular choice for the food industry and situations where high levels of durability and protection are less of a priority. While vinyl may be less durable, it does offer a less expensive option. Vinyl gloves are latex free and are good for short term, low risk tasks.
Synthetic Vinyl
Synthetic Stretch Vinyl gloves offer a glove with similar characteristics to a latex gloves. Made of high quality stretch PVC polymer resin the Synthetic Stretch Vinyl Gloves offer a better flexible material than vinyl gloves which reduces hand fatigue during extended wear. The soft and solid fit of the gloves provides strength and durability that greatly reduces the chances of tearing. Ideal for hands that are sensitive to latex or donning powder
---
Re-usable/Washable Gloves
As demand has significantly increased for disposable gloves and other PPE, resulting in tightened supply and higher costs, reusable gloves may prove to be more available and economical in some situations.
Available in both Nitrile and Latex, flock lined reusable gloves provide increased durability and offer more comfort because the cotton lining is both warming as well as moisture wicking. This allows the gloves to be worn in comfort for extended periods of time. However, reusable gloves are designed for cleaning and industrial uses and should never be used for patient care; care should also be taken to ensure that they are cleaned between each use.
Even the best chemical resistant glove will break down after repeated chemical exposures. Before each use, gloves must be inspected for signs of chemical degradation such as swelling, cracking, shrinking or discoloration of the material. If detected, it means the glove material has undergone a physical change due to chemical contact and may no longer provide chemical protection. Also, during inspection, look for any signs of holes or punctures and remove the gloves from service if any are found.
For reusable gloves, between uses, hand wash with warm soapy water, rinse and let air dry. They should be inspected for holes, or tears before reusing.

---
Safety Glasses, Goggles, Face Shield
Eye diseases are often transmitted through the mucous membranes of the eye as a result of direct exposure to things like blood splashes, and droplets from coughing or sneezing or from touching the eyes with a contaminated finger or object. Eye diseases can result in minor reddening or soreness of the eye or in a life threatening disease such as HIV, hepatitis B virus, or avian influenza.
Employers can ensure engineering controls are used to reduce eye injuries and to protect against ocular infection exposures. Employers can also conduct a hazard assessment to determine the appropriate type of protective eyewear appropriate for a given task.
Visit CDC Website for More Information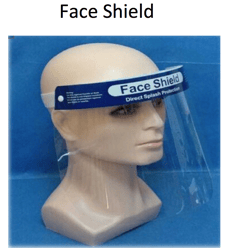 ---
Face Masks
N95 respirators and surgical masks are examples of personal protective equipment that are used to protect the wearer from airborne particles and from liquid contaminating the face.
An N95 respirator is a respiratory protective device designed to achieve a very close facial fit and very efficient filtration of airborne particles. Note that the edges of the respirator are designed to form a seal around the nose and mouth.
A surgical mask is a loose-fitting, disposable device that creates a physical barrier between the mouth and nose of the wearer and potential contaminants in the immediate environment. These are often referred to as face masks, although not all face masks are regulated as surgical masks. Note that the edges of the mask are not designed to form a seal around the nose and mouth.



Visit FDA Website for More information
---
Personal protective clothing is required where employees may be exposed to such hazards as toxic or corrosive chemicals, biological pathogens, etc. The protective clothing may take the form of gowns, aprons, coveralls, shoe covers and caps.

---

Thermometer
The non-contact infrared thermometer is designed for measuring body temperature, specifically for use on the forehead area. Requiring no skin contact, the thermometer works by collecting heat radiation emitting from the forehead. It's a more hygienic, reliable option for fever-checking compared to intrusive oral thermometers. Receive highly accurate measurements in seconds with the single click of a button. An integrated alarm sounds when raised body temperature is detected, making it easy to inform both user and individual of a potential fever.
---
Sneeze Guard
Protect employees and customers from COVID-19 and other virus exposures by providing a barrier for those who work with the public or near others. Our safety barriers provide physical separation to help maintain social distance and offer a durable, clear view and flexible design for a variety of uses.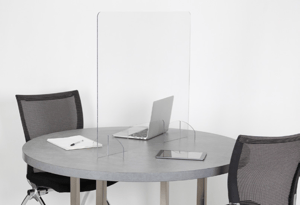 ---
Occupant Awareness Signs
As areas across the country begin to stabilize from the COVID-19 pandemic, organizations are starting to welcome building occupants back into their facilities. When considering the complexity and sensitivity of this endeavor, there are many aspects to consider – governmental guidance to incorporate, protocols to be reviewed and implemented, and final preparations to be made to ensure your facilities are as safe and ready as possible for people to return. WAXIE offers building occupant awareness signs to promote improved hand hygiene practices, safety and physical distancing practices.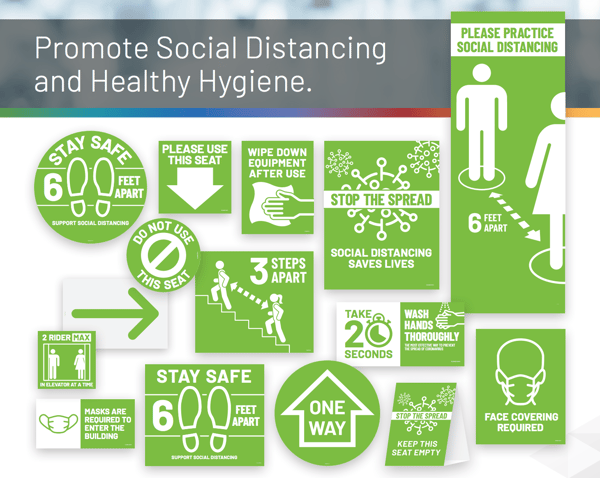 ---
Physical Distancing
TriVu® Safety Signs are now available with messages for businesses during the COVID-19 outbreak. Options include Curbside Pickup and Social Distancing (available with or without mask requirement). All cones have a height of 40 inches.