Guest Post By: James Arbogast, Vice President of Hygiene Sciences and Public Health Advancement, GOJO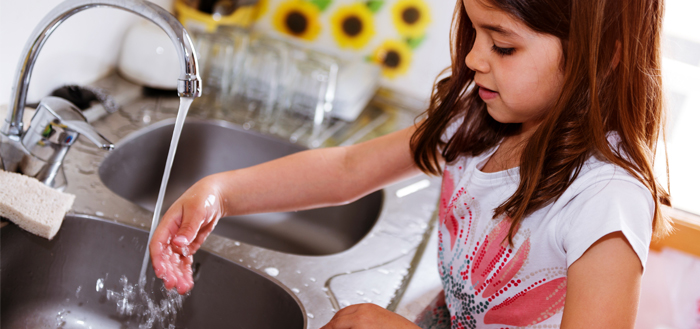 Handwashing Awareness Week is a week-long campaign to educate people on the importance of handwashing as a preventive measure to take to reduce the risk of getting ill.
The Importance of Good Hand Hygiene
It has been reported that more than 80% of illnesses can be transmitted by the hands. This means that no matter what you touch, microorganisms often stick to your hands. Then, you might touch your face, mouth, nose and eyes and are basically ingesting those germs and putting yourself at risk for illness or infection. This is why good hand hygiene is so important. In fact, hand hygiene is one of the most important preventive measures we can take to reduce the spread of illness-causing germs.
This video featuring GOJO Scientist Dave Macinga, Ph.D., discusses why good hand hygiene is so important.
Tips for Practicing Good Hand Hygiene
Knowing that hand hygiene is important is not simply enough. It is critical to use proper technique and know the key times to wash or sanitize hands.
For handwashing, the entire process should take at least 20 seconds. A good practice is to wet hands with water, apply enough soap to cover all hand surfaces, rub hands palm to palm and carefully scrub fingers, the back and front of hands and each thumb. Rinse hands with water and gently dry hands with a clean paper towel.
The hand sanitizing process should take about 15 seconds. Apply a palmful of alcohol-based hand sanitizer into your hands, covering all surfaces; rub the sanitizer into the palms of your hands, fingers, back and front of hands and thumbs. Continuing rubbing hands together until hands are dry.
And, finally it is always good to remember when to wash or sanitize your hands. According to the Centers for Disease Control and Prevention, these are the key times:
Before preparing food;
Before eating;
Before and after caring for someone that is sick or around someone that is ill;
After using the bathroom;
After sneezing or coughing; and
After touching anything that may be a transmission vector of infection causing germs, such as subway railings, grocery carts, diapers, raw food, animals and trash.
By incorporating these best practices into your daily routine, you can be sure that hand hygiene is practiced each and every day.
For more information and tips on hand hygiene during the winter germ season, go to www.gojo.com/coldandflu.
READ MORE ON HAND HYGIENE EDUCATION:
Hand Sanitizer Systems
Hand Washing Helps Prevent the Spread of Infectious Diseases
Paper Towels vs. Hand Dryers
The Bottom-Line Benefits of Hand Hygiene in the Workplace
The Healthy Schools Project* in Action at CA School for the Deaf
---

Author's Bio: James W. Arbogast, Ph.D. joined GOJO Industries, Inc. in 2002, and became the Vice President of Skin Care Science and Product Development in 2012 and today is the Vice President of Hygiene Science and Public Health Advancements. Dr. Arbogast entered the field of consumer product development after receiving his Ph.D. in Organic Chemistry from the University of California at Los Angeles in March of 1992. Prior to joining GOJO, he gained experience in the consumer products industry with companies including Clorox and Dial.
Dr. Arbogast has been directly involved in the formulation and national launch of hundreds of products in the laundry, air freshening, hair care, skin care, and hand hygiene markets. Under his leadership, the Skin Care Science team has conducted numerous field outcome studies with hand hygiene products to determine their real-world effect on skin condition and infection related rates, as well as microbiology, clinical studies, analytical chemistry, drug stability and new product development.
Dr. Arbogast has made presentations at major scientific conferences, and has authored multiple articles and patents. He has over 20 years of experience in consumer product development with more than the last 13 years focused on skin care. He resides in Bath, Ohio with his wife and three children.