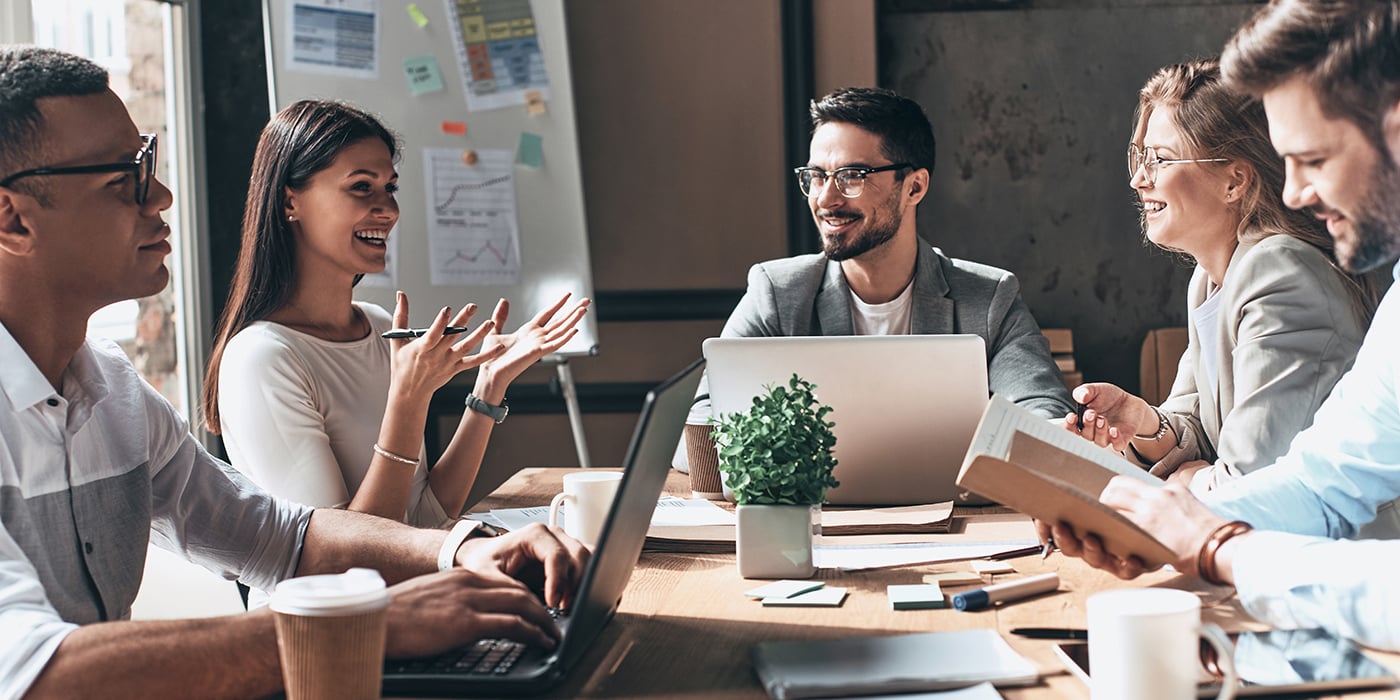 By: Briana Smith | June 11, 2021
Part three of an ongoing series guiding you on the path to creating a cleaner, healthier, greener and safer building for re-entry and beyond.

Much like basketball, devising a strategy and building upon your momentum is essential for a successful sustainability program. It's good to look at the overall process, make goals, and then take a look at the individual steps needed to get there.

In this blog series, we're breaking down the process of developing a sustainable building program into eight steps, as reflected in our WAXIE GPS® (Green Partner Support™) Program, which progresses from easier to adopt green cleaning procedures and techniques to higher level strategies and stewardship.
As mentioned in the previous two steps, Green Chemistry and Mechanization, waste reduction is one of the cornerstones in a holistic approach to sustainable facility management and it goes hand-in-hand with an efficient waste diversion and recycling program.
Per the EPA, who has been tracking the trends in the total generation of municipal solid waste (MSW), recycling and composting, the amount of waste generation has increased over the last 60 years from 2.68 pounds per person per day in 1960 to 4.9 pounds person per day in 2018. While recycling and composting rates have increased, from 6% of MSW in 1960 to 32% in 2018, we still have quite a way to go.
To combat both climate change and landfills from reaching capacity, many states, cities and municipalities have passed various waste diversion legislation to address long-term waste management, including composting requirements to reduce food waste (a staggering 40 million tons comprising 22% of the total MSW), as well as zero waste policies which reduce pollution, increase more sustainable resources and benefit the environment.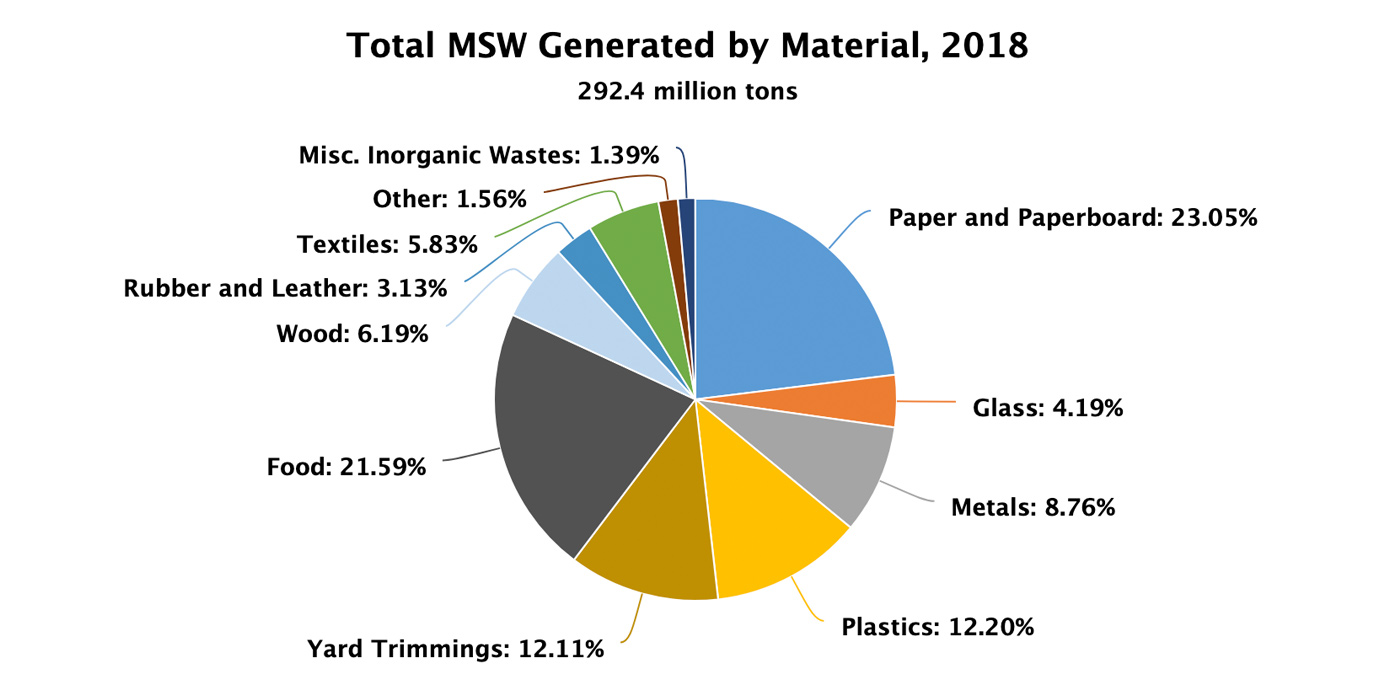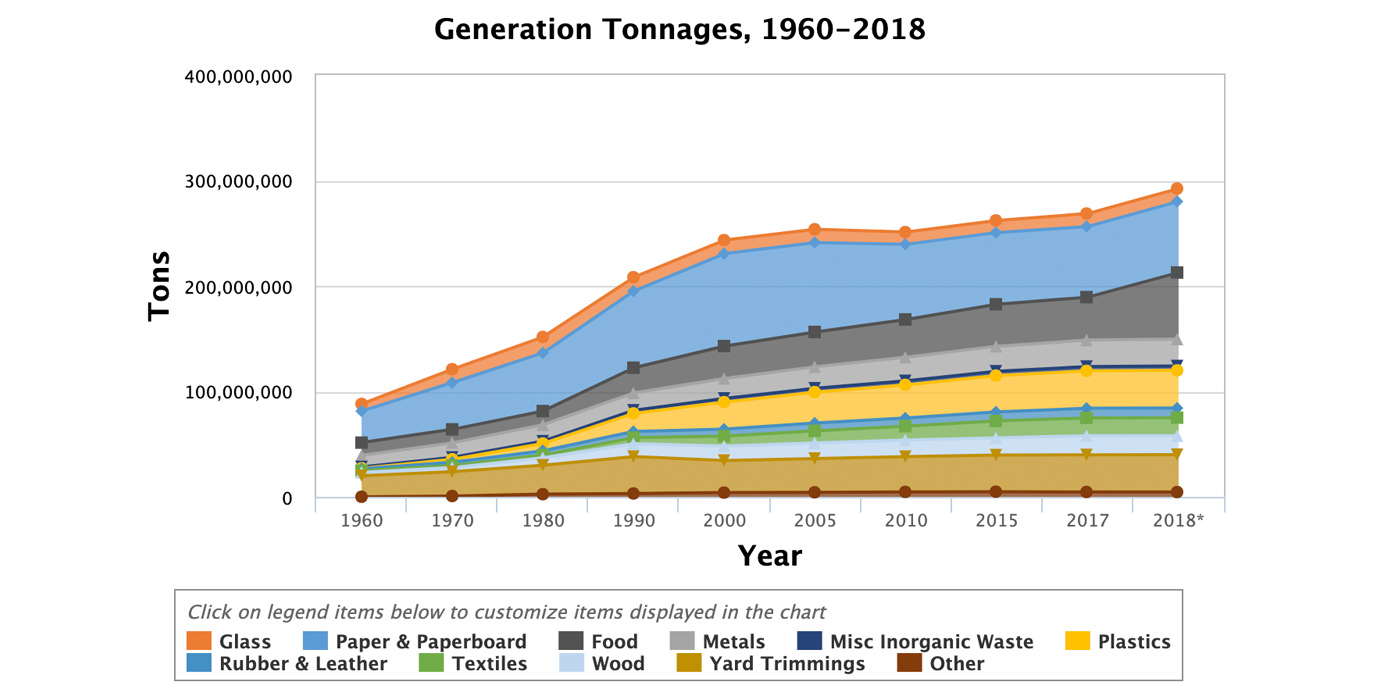 *MSW generation rose considerably from 2017 to 2018 mainly because EPA enhanced its food measurement methodology to more fully account for all the ways wasted food is managed throughout the food system.
Municipal Solid Waste Management: 1960-2018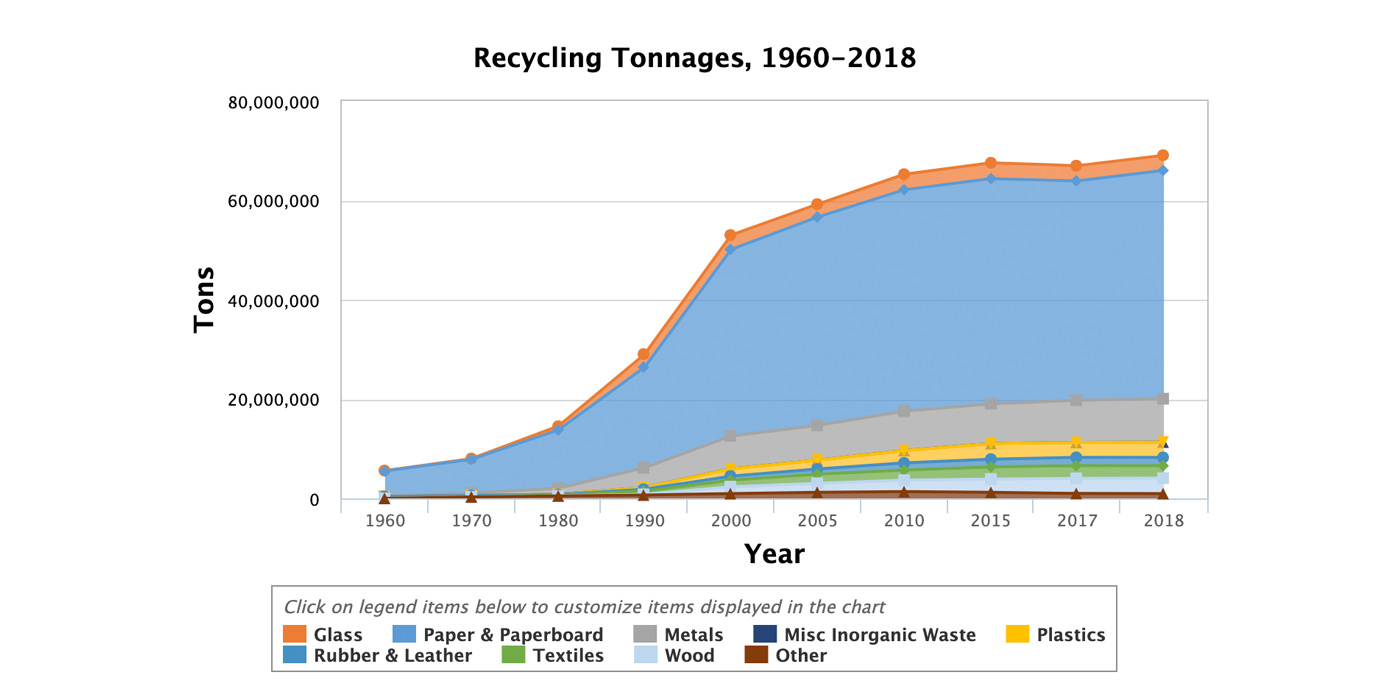 Less is More — It All Starts with Waste Reduction
Waste reduction begins with your initial purchases , so the less coming in your front doors the less you have going out. It's also the first component in the waste reduction hierarchy, which prioritizes waste management steps from optimal to least favorable.
Part of setting up a diversion program includes a waste audit, so you'll know precisely what you have and what targets you'll want to hit as you make your plans.
As we'll discuss in Step 5 — Consumables, researching products that have a more environmentally preferable profile can help minimize your overall waste footprint. Some aspects to look at are:
Packaging (ideally made of renewable resources such as bamboo or recycled materials using post-consumer waste, PET plastics, etc.)

Source reduction (decreased overall usage & waste)

Third-party ecolabel certification (FSC, Green Seal, EPA, etc.)




Many state and cooperative contracts for government agencies and other organizations even require the purchase of products with these qualifications.
Setting Up a Waste Diversion & Recycling Program
The next phase requires a little more legwork but taking the time to reassess opportunities for improvement within your current program can lead toward a greener future for your facility. Additionally, having a solid understanding of your needs and knowing exactly where you're at ultimately leads to accomplishing your goals.
A great place to start your journey towards planning your zero waste and waste diversion goals and initiatives, check out Zero Waste & Waste Diversion: A Guide to a Greener and Healthier Future.
Ascertain stakeholders & partners who can assist
Take stock of your current process & define your goals
Conduct a waste audit — what can you recycle? What waste do you generate?
Identify what materials to collect (cardboard, plastics, metal, etc.)
Look into federal, state and municipal regulations — What are you required to do?
How will you gather waste, recyclables and compostables internally for collection?
Who is your collection contractor? Do you need to find another?
Design a customized program that works for your facility or campus's needs
Educate employees, staff, students, tenants, guests, and other occupants


The more complete your information is, the more efficient your program will be when you implement it.
The EPA has a great resource specifically for commercial buildings with best practices to engage and educate building occupants, staff and guests about your sustainability efforts and your diversion program.
Best Practices for Designing a Streamlined System
So, you've selected a Recycling Coordinator, taken stock of what your current process is, identified what items can be diverted and recycled, chosen a collection contractor, and now you're ready to pick out your actual receptacles.
Some things to keep in mind:
Do you need indoor & outdoor area receptacles?

How many buildings, floors and individuals do you need to accommodate?

Multi-collection bins versus individual bins

Do you need to customize your integrated collection bins based on types of recyclables, compostable or waste materials do you need to collect? (i.e., glass, paper, metal, etc.)

Smart technology enabled?

Decorative or basic receptacles?




One of the biggest hurdles to an effective waste diversion is properly labeling your receptacles so that people know exactly what can be recycled and which bin to put items in. Make it easy for people by using standardized labeling.
Recycle Across America is a non-profit organization, who has partnered with several manufacturers of waste and recycling receptacles who've committed to using these standardized labels, in order to prevent "hopeful recycling" which contaminates the recycling stream.
Also, don't forget to consider how you'll be collecting your waste and recyclables internally.
What labor is required and how often?

Does everything fit on a cleaning cart?

Do you need a tilt truck to transport your various materials to larger trash bins for collection?

What does the 'flow of waste' collection look like?

Does it make sense to have a centralized collection staging area?

For outside spaces, does it make sense to invest in a smart solar compactor system?


There's no sense in creating a system that is difficult or impossible to implement.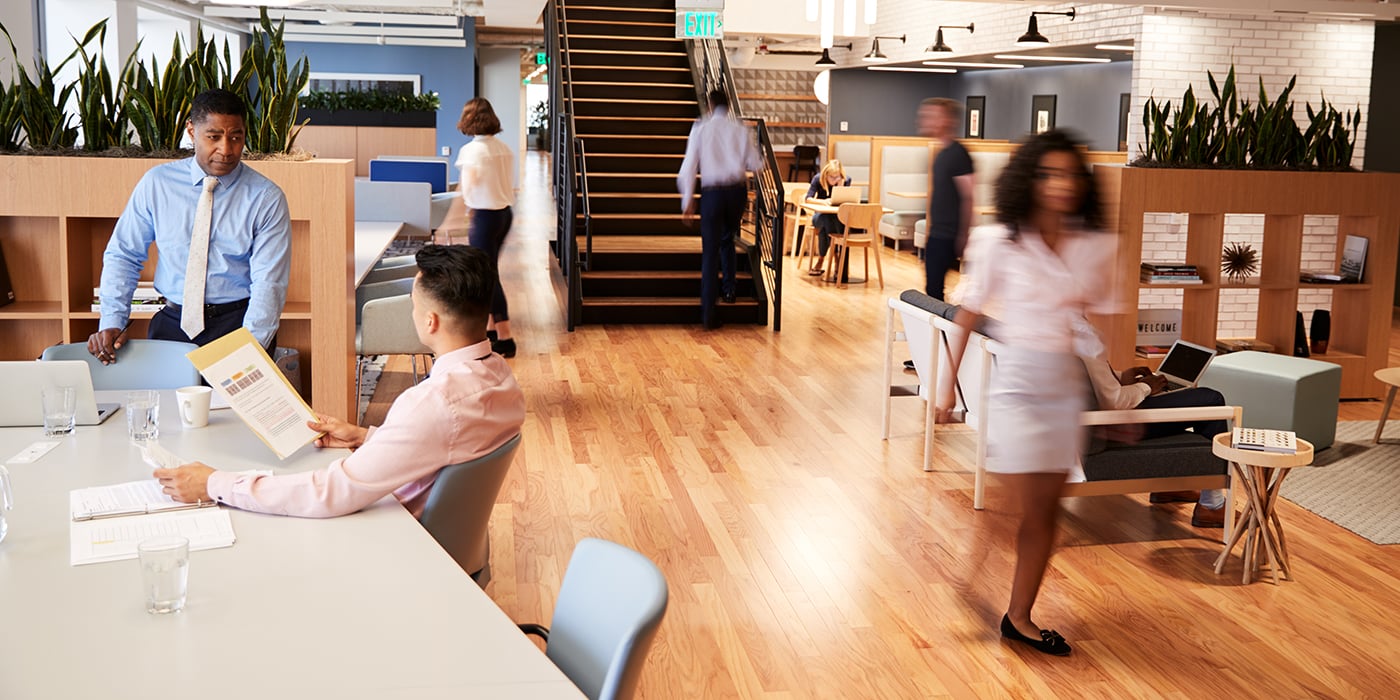 Stepping It Up!
If you already have a waste diversion and recycling program in place, take the time to reevaluate every so often. If your needs have changed, especially if more trash has been generated due to single-use PPE, utensils, etc. make adjustments to the number of receptacles you have, the type of receptacles you have, and where they are located.
Food service establishments, and other businesses and venues which deal with food waste, may want to look into specialized composting equipment that turns food scraps into compost within days which helps control the amount of organic waste going to landfills. These commercial composters will help businesses comply with regulations, such as California's AB 827 establishing a goal of 75% of organic waste to be diverted from landfills by 2025, when they're not able to donate food elsewhere.
And of course, one of the ultimate sustainability goals for facility managers, is the deployment of a zero waste program. There are many benefits for businesses who strive towards zero waste, and many universities, sporting venues and other organizations have had a lot of success.
In 2016, the Los Angeles Memorial Coliseum diverted "over 400,000 pounds of waste from over 1.2 million stadium guests" as part of a zero waste challenge.
They worked with WAXIE and other partners to create a program that worked for their specific needs and goals, including a triple-sort (fans using the right bins, on-site secondary sortation and a third at their collection agency's facility). At the time they were the largest NFL stadium and second largest college stadium to meet this zero waste goal!
Whatever your goals are, a waste diversion and recycling program is a key component in several healthy and sustainable building certification standards, including projects that are pursuing LEED® certification, AASHE STARS® rating, CIMS-GB certification or WELL™ certification.
The next step in this series is Entryways and their impact on indoor air quality.
We stand ready to partner with you in developing a customized cleaning program and to welcome building occupants back to facilities which will be cleaner, healthier, greener, and safer. Contact your WAXIE Account Consultant today to schedule a green site survey, a WAXIE RE6 Building Re-Entry 6 consultation or a training session.


---

Briana Smith is WAXIE's Social Media & Product Branding Specialist and spends quite a bit of time skimming the news for what's new in cleaning, sustainability and technology while managing all of WAXIE's social channels. She especially loves posting about #teamwaxie activities & conversing with customers on Instagram. Briana has a Bachelor's Degree in Communication Design from California State University, Chico.