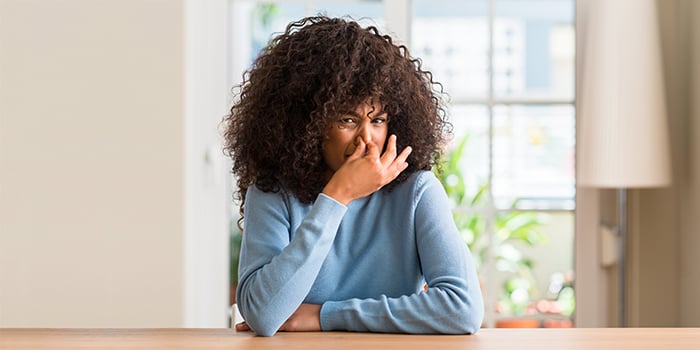 Guest Blog By: Fresh Wave IAQ | October 16, 2019
Calculating the Cost (And Solving the Problem) of Smelly Rooms
Whether it's a hospital or hotel, resort or senior living community, no one wants to stay in a smelly room. Tobacco smoke, food, even bodily fluids (vomit or urine) can leave behind traces of the previous visitor and create a reputation for uncleanliness at an establishment.
Hospitality and healthcare facilities can't afford to offer a room with lingering odors. In hotel rooms, specifically, two-thirds of travelers have complained, asked for a different room, requested a discount or refund, or cancelled their reservations if confronted with room odors, according to a Hampton Hotels survey. After a visit, one bad review can mean a loss of untold future customers.
In addition to discounts, refunds, or lost business, the odor removal process can make a big impact to the bottom line. Some odor-eliminating techniques (like masking fragrances) do not completely remove odors, risking future complaints or "one star" reviews. Others (like ozone generators) are expensive and unsafe—requiring a room to be closed off while being treated—meaning it cannot generate revenue.
Costs of Room Odors
Customer discounts, refunds, reassignments
Loss of business from poor reviews
Replacement of odorous goods like furniture, linens, carpets, or curtains
Expensive odor treatment equipment and products
Treated rooms cannot be occupied, by staff or paying customers
How do you make problem rooms odor-free, quickly and cost-effectively, so they can stay open for business? Hotels and healthcare facilities across North America trust the partnership of WAXIE, suppliers of plant-based odor elimination products and innovative vapor phase technology.
Effective Odor Removal: The Smoke Room Test
When asked the worst smell they could experience, 60% of hotel visitors answered the lingering scent of cigarette smoke. Often, hotels and healthcare facilities throw away "soft goods" like bedding, mattresses, curtains, furniture, and carpet because set-in odors cannot be removed. Or worse, rooms must be closed off until odor issues can be addressed effectively.
The WAXIE Solution Station 640 Smoke Away uses a tailored blend of natural plant oils to bond to and eliminate smoke odor molecules. Smoke Away neutralizes odors while they are still in the air and after they have penetrated fabrics, carpeting, and other surfaces. This cost-effective, natural solution has proven to completely remove nuisance smoke odors from hotel rooms in as little as 20 minutes meaning they can be used by new guests sooner.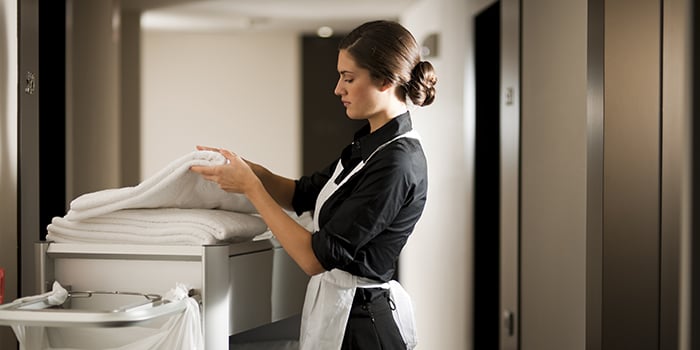 Safe Odor Removal: The Same Room Test
Equipment like ozone generators are often used to treat hotel and hospital rooms for odors. Although effective, the dangerous chemicals involved mean a room must be closed off during use. Treatment times can take hours or even days, based on odor concentrations.
The innovative, transportable WAXIE Dry Vapor Smoke & Odor Eliminator equipment disperses 640 Smoke Away in large spaces while staff prepares a room for the next visitor, making it a more efficient alternative to dangerous ozone machines.
Because of the natural ingredients in Smoke Away, hotel staff can work in the same room as a room undergoing treatment at the same time. Likewise, guests don't have to wait for a room to become safe again and won't notice any lingering chemical smells.
Cost of Odors Calculator
Number of Rooms with Odors
x Days/Nights Unavailable for Guests/Residents
x Per Day/Night Rate
= Lost Revenue Due to Odors
Case Study: Treasure Island Hotel & Casino
Located in the heart of Las Vegas' Sunset Strip, Treasure Island Hotel & Casino (TI) is a 3,000-guest room destination for travelers seeking contemporary style and a high-energy atmosphere. While TI offers limited guest rooms and suites designated for smoking, there are travelers who smoke in a non-smoking room, which occasionally also includes cannabis use.
To tackle these specific odor challenges, TI tested the proven science and natural ingredients included in 640 Smoke Away. Using dry vapor technology, the solution quickly and effectively eliminated the harshest cannabis and tobacco smells. After each test in various guest rooms, the Executive Housekeeper stated that the foul odors were non-existent in every instance.
Ten housekeeping staff members were asked to rate the level of smoke odor in test spaces on a scale of 0-10, 10 being most severe. Before the test, the average odor rating was 9.6 in each space. After using Smoke Away for about 30 minutes in each space, every staff member rated the new odor levels at zero.
READ MORE: