How can one efficiently and effectively eliminate everyday severe odor challenges, including tobacco smoke and cannabis odors that cause revenue losses while protecting and providing a clean and safe environment?
The solution is the WAXIE SOLSTA 640 Smoke Away Natural Odor Eliminator.
WAXIE SOLSTA 640 Smoke Away is a proprietary blend of naturally occurring plant extracts, non-ionic food-grade surfactants and purified water.



In the development of this formula, the goal was not only to eliminate severe odors of all kinds, but more specifically to eliminate severe tobacco and cannabis odors. Over 4,000 known chemical compounds in tobacco and cannabis smoke were investigated and ingredients selected that most effectively eradicate these specific odors.
Simply put, it works through Absorption rather than Adsorption. Or in other words, it is not the binding of molecules to a surface but rather the molecules enter into a bulk phase and are affected by the solubility of the molecule. So rather than masking odors, 640 Smoke Away absorbs and destroys odors on a molecular level, making it highly effective in eliminating problematic odors in the air, as well as those that have penetrated fabrics, carpeting and other porous surfaces.
---






---
Ideal for:
Hotels and Hospitality – Executive Housekeepers, Housekeeping Staff
Healthcare Facilities – EVS & Nursing Staff – Wound Care
Education – Janitorial Staff
Building Services – Janitorial Staff
Auto Rental & Detailing – Fleet Maintenance Staff
Suggested Applications:

The

WAXIE Solution Station 640 Smoke Away Natural Odor Eliminator chemical diluted solution contains no harmful VOC's, alcohol or fragrances, and is safe to use in any commercial environment. It is engineered with a unique and simple formula based on a proprietary blend of natural plant oils, food-grade surfactant and water. At a 1:​16 (8 ounces per gallon) dilution ratio, this product is both safe and economical to use on a daily basis to maintain an odor free environment. There are three WAXIE dilution control dispensers available for precise and accurate diluting of this product. WAXIE SOLSTA NEXGEN, FDC and PDC dispensers. This closed loop system ensures end user cost per useable gallon, making it an extremely cost-effective solution.

Triggers sprayers, pump-up sprayers, foggers, misters, mop buckets, carpet extractors, washing machines, and for maximum coverage and efficiency, use in conjunction with the WAXIE Dry Vapor Smoke & Odor Eliminator &

Dry Vapor System DVS25

.



Key Features & Benefits of the WAXIE Dry Vapor Machine
---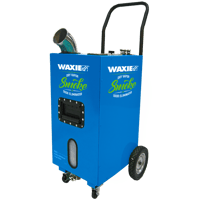 WAXIE Dry Vapor Smoke & Odor Eliminator
Item number 579100
---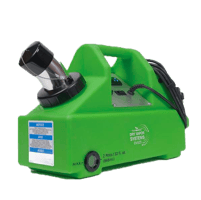 OMI Dry Vapor System DVS25
Item number 577950



---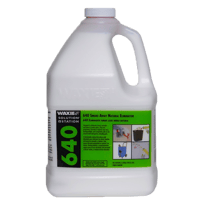 WAXIE Solution Station 640 Smoke Away Natural Odor Eliminator
Item number 160028
---
Click here to download the WAXIE SOLSTA 640 SMOKE AWAY NATURAL ODOR ELIMINATOR product specification sheet.
If you want to maximize your profits and protect your assets, please call your local WAXIE branch at 800-995-4466 for a free hands on demonstration of this amazing system.
Case Studies
Major Las Vegas casino tackles a very smoky odor challenge
Los Angeles Union Station tackles foul restroom odors with Fresh Wave IAQ