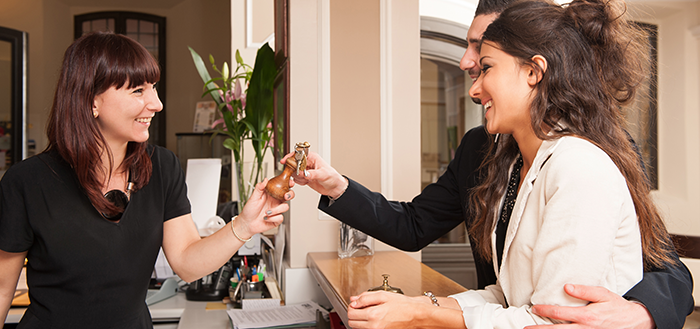 By: Briana Smith & Fred Capriotti | November 20, 2014
Here's What You Can Do to Make the Right One
With the advent of social media and the evolution of online review forums & platforms like TripAdvisor, Yelp, Google+, etc. first impressions of hotel rooms are vital. Guests are often quick & very vocal about any problems that they experience during their stay.
Oftentimes staff in housekeeping, at the front desk or a manager isn't even aware that there was an issue until after the fact when negative reviews are posted. Managers are often willing to address any guest concerns that may arise, but it's difficult to do if they are not made aware of the problem in the first place.
So what can you do?
Always put your best foot forward.

Have a Cleaning Program Specific for Your Needs
Every hotel, resort, time share, restaurant, spa, etc. has its unique mixture of challenges & opportunities, therefore your cleaning program should be customized to fit your operations. Take each area into consideration: lobby, guest rooms, kitchens, gym, spa, banquet & meeting rooms, etc. as each area has different cleaning needs.
Guest rooms are one of the most critical areas of a hotel as guests spend most of their time in their room. If you fail to clean here properly, basically the first impression has failed. Guests expect the sheets & towels to be perfectly white, not to mention free of any stray hairs. Sometimes your cleaning program affects more than one department, for instance housekeeping & laundry. Both departments work together in order to meet the expectations for linen cleanliness.
WAXIE partners with Ecolab in providing solutions for various hospitality on-site laundry (and warewashing) needs including how to make sure that your linens are clean, soft and deodorized; we can also assist in solving other laundry concerns - controlling pH, reducing static electricity, wrinkling and eliminating any dull or dingy buildup.
Remember, the process is just as important as the products used. For instance, you never want to start cleaning a guest commode and then use the same cloth or microfiber towel to clean the sink and counter. Work with your staff as you develop your cleaning program, they may have suggestions that may help overall efficiency.
WAXIE can help you establish or re-evaluate your cleaning program.
Training & Educating Your Staff is Key
Once you have a cleaning program mapped out, it's time to train your staff. Hands-on training is particularly good, especially if you are implementing new processes, techniques and equipment as it allows people to ask questions easier while practicing a procedure. Training also provides the opportunity to make sure that your staff understands your cleaning program and is following it properly.
But training is more than just going over the new procedures, it's educating your staff as to why certain methods are important. For instance, all commonly touched areas (light switches, remotes, etc.) should be cleaned thoroughly and sanitized after each occupant due to many viruses and bacteria can survive on surfaces for several days. If a disinfectant is being used to sanitize a surface, than one must be cognizant of the product's dwell time. Dwell time is the amount of time that a product must be in contact with a surface in order to effectively sanitize or disinfect.
Cover essential skills, such as: ergonomic cleaning techniques, preventing cross-contamination while cleaning, how to properly disinfect surfaces, easy preventative maintenance for vacuums, etc.
Have a check-list for each cleaning area that your staff can refer to that will help reinforce training.
WAXIE can help you train your staff on cleaning procedures. Not only can we train on-site, but our Online Training Program also makes refresher training possible whenever needed. We want to partner with you so that your hotel, resort, casino, etc. is the cleanest, healthiest, greenest & safest that it can be.
Find Out What Your Guests Value
Guests expect their rooms to be clean, sanitized & odor free, but more and more often many guests are also expecting that hotels are implementing sustainable practices into their operations. Conservation & sustainability are part of a growing global movement and have been reinforced by conditions such as the drought in the Western United States.
Hotels can show visible signs of their sustainability efforts in several ways. One way is a note giving guests the option to forego daily washing of their towels & sheets, which saves both water & energy.
Putting a green cleaning program in place is another aspect that can be done to further one's sustainability goals. A green cleaning program is more than just cleaning chemicals. A well thought out program takes many elements into consideration (entryway matting systems, paper & trash liners, cleaning tools & equipment, recycling systems, etc.) so that it works throughout your entire building, not just in one small area. While one may want to make changes in stages, it's better to have an overall plan to start with so that one can measure one's progress.
For instance, if you're trying to improve indoor air quality, you may want to do things such as vacuuming with a CRI Seal of Approval vacuum cleaner that has a HEPA filter, as well as use cleaning products with low VOCs.
When you do need to use a cleaning product, check to see if it has a third-party certification like Green Seal, UL/ECOLOGO, EPA Design for the Environment, Carpet & Rug Seal of Approval, etc. Products with these certifications have gone through testing to verify that they meet the standards for being formulated with ingredients that have been demonstrated to have less of an impact on human health and the environment.
WAXIE's GPS® (Green Partner Support) Program can help hospitality facilities achieve their sustainability goals. We're more than just a janitorial supply company. We partner with you to improve your cleaning procedures to not only be more efficient, but to make sure that your needs are met.
Continuous Learning
Training & education is just as important to us as it is to you. Recently WAXIE Ontario hosted an internal Hospitality Product & Vendor Training event for our sales team, so that they'd be well informed in any new products or technologies available. The training covered many aspects unique to the hospitality industry ranging from in-room amenities, bed bug prevention, back-of-the-house solutions for facilities maintenance and grounds, restaurant & kitchen needs (warewashing, cleaning products for foodservice, equipment & tools), laundry services, etc.
It's always a good idea to have refresher sessions every now & then, especially when new equipment, cleaning products and procedures are added. Even veteran staff members can benefit from review sessions – not only are training procedures reinforced, but maybe they'll have suggestions for improvement.


---

Briana Smith is WAXIE's Social Media & Product Branding Specialist and spends quite a bit of time skimming the news for what's new in cleaning, sustainability and technology while managing all of WAXIE's social channels. She especially loves posting about #teamwaxie activities & conversing with customers on Instagram. Briana has a Bachelor's Degree in Communication Design from California State University, Chico.
Fred Capriotti is a Sales Manager for WAXIE Ontario & WAXIE Palm Springs with over 30 years of industry experience. As he is often in the Palm Springs & California high desert regions, Fred has specialized in providing customized cleaning & maintenance solutions for healthcare facilities, school campuses, and hotels & resorts.

---
RESOURCES:
Forbes Magazine: Americans' Biggest Complaints About Hotels
How To Effectively Complain To a Hotel's Front Desk
Lodging Magazine – Video: Going Green and the Guest Experience