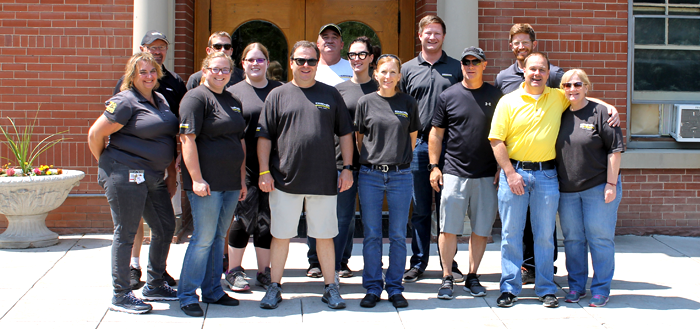 WAXIE Denver & Kärcher deep cleaning crew volunteers at Mount Saint Vincent in Denver, CO
By Deven Eastridge
At WAXIE, we believe that giving to others in our community creates a lasting impact. That's why in August 2018 WAXIE Denver partnered with Kärcher to lend an extra hand to the cleaning & maintenance staff at Mount Saint Vincent. MSV is a pre-K through 8th grade school that also provides advanced mental health & trauma care services in the Denver region.
Before the start of school year our combined team pitched in to deep clean and spruce up a few restrooms, classrooms, hallways, windows and multi-use areas so that students & staff would be starting out the school year fresh.

Kärcher brought several pieces of equipment for taking on floor care cleaning tasks, such as vacuuming, carpet extracting, and scrubbing the sheet vinyl, as well as a sweeper with dust control & a pressure washer for outside tidying. Windows were cleaned using Unger's outdoor and indoor window systems, which made reaching some of those high out-of-reach spots manageable.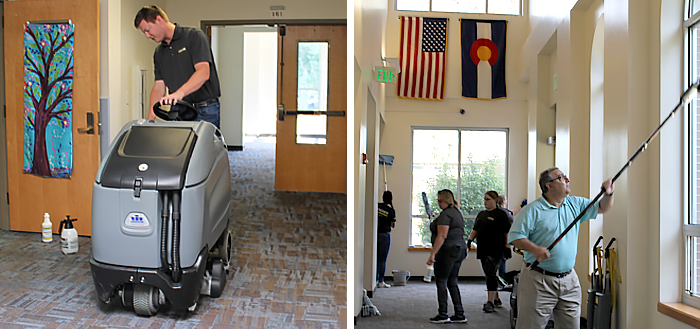 (Left) Deep cleaning the carpets; (right) using microfiber tools to clean walls, while others window clean with the Unger Stingray Indoor Cleaning Kit
The WAXIE/Kärcher team knows that health and cleanliness impacts everyone on staff, but when it comes to learning environments it has a tremendous effect on a teacher's ability to teach and a student's ability to learn. When we finished the clean up the staff at Mount Saint Vincent was extremely appreciative and expressed that with our help they were able to make 2018 the cleanest back-to-school ever!
Big shout out to our friends Dave & Jim with TRC Marketing who also volunteered their time and brought the Unger window cleaning equipment. Thanks for spending the day with us cleaning. We had a blast.
Deven Eastridge is a Senior Account Consultant who has been with WAXIE for over 11 years with more than 36 years of experience within the Jan/San industry. She began her tenure at WAXIE in 2007 in the customer service department and then quickly moving into an outside consulting position. Deven has utilized her experience and knowledge to help her many customers maintain clean & healthy environments which has earned her the honor of WAXIE Denver's Account Consultant of the Year, as well as achieving President's Club recognition on more than one occasion. Deven's passion to give to others aligns with WAXIE's values and passion in helping the communities in which we live.