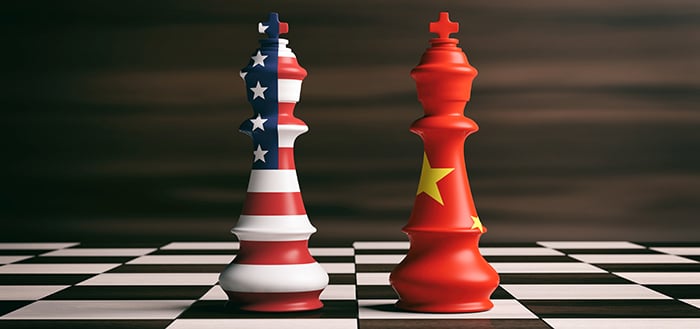 By: Keith Schneringer | December 18, 2018
Status of the ongoing trade war with the U.S. & China as of December 18, 2018
There has been a trade fight brewing between the globe's two heavyweight economies for a while now, and the impacts are beginning to be felt by those in the cleaning and maintenance industry.
The two heavyweight combatants? The United States of America and China.
The issue? Perceived trade imbalances.
The weapon of choice? Tariffs.
What's a Tariff?
A tariff is a tax one country places on imports from another country. This tax is also sometimes referred to as a duty or a trade barrier.
According to Investor's Business Daily, "the purpose of a tariff is to protect domestic production and jobs." Tariffs have been used for many years by many countries, and although they do provide a degree of protection for the domestic manufacturing interests of the country who has imposed them by making imported goods artificially higher in price, economists argue that "other domestic sectors and customers ultimately pay for tariffs. The U.S. has applied tariffs on imports for centuries, but the global trend has been toward lower tariff rates, lower trade barriers and expanding global trade."
As a matter of fact, almost half the imported goods in the U.S. in 2016 no longer received a tariff, and entered the country duty-free. According to the World Bank, in 2016 the overall average tariff rate for imports into the U.S. was 1.6% across all products. By way of comparison, the European Union had the same average percentage tariff rate as the U.S. for imports, while Japan was slightly lower at 1.35%, and China's tariff rate was higher at 3.5%.
So why implement more tariffs for imported goods into the U.S. now?
Why Are Tariffs Being Applied to Goods from Foreign Countries, including China?
Historically, the U.S. has promoted free trade and competition as core components of a growing global economy – and the commitment to these ideas is seen as a leading contributor to the ongoing competitiveness of the U.S. economy, according to an article from the Brookings Institute.
But the U.S. has not always promoted free trade in all cases – as described in this article from Business Insider, the U.S. has been involved in a number of trade wars over the years, with the recent tariffs on Chinese imports seen as the most recent example.
When measured by nominal gross domestic product (GDP), the United States of America has had the world's largest economy since 1871, and although the country still retains that position today, China has used its position as the "world's factory" (as described in a previous WAXIE post) to become the world's second biggest economy. And as the world's biggest economy, the U.S. has become China's biggest customer.
Over time, an imbalance has been created – with the relatively low price goods produced in China leading to an ongoing trade imbalance, since the U.S. imports far more goods from China than China imports from the U.S.
The U.S. is attempting to use these tariffs to even out the existing trade imbalance between the two countries. There have been trade imbalances in the past, and some corollaries are being drawn between what is going on today with China and the negotiations which took place in 1985 to help ease the trade imbalance between the U.S. and Japan.
According to an article in the Asia Times, the steps taken in 1985 to address the trade imbalance between the U.S. and Japan (with the resulting Plaza Accord agreement to devalue the U.S. dollar in relation to the Japanese yen, among other actions) is seen as an example of how the U.S. has effectively used trade war tactics in the past to help to maintain its hegemonic status. The tariffs on imported goods in 2018 are positioned in this article as another example of the U.S. efforts to maintain its economic dominance.
What Products Are Being Impacted By Tariffs?
Global competition has led to lower prices for consumers, but there are those in the U.S. who believe that China has used unfair trade practices to place products made in their country into the U.S. market at the expense of the U.S. manufacturing sector. As highlighted in communication from the White House in May 2018, some of these unfair trade practices include:
Product dumping
Discriminatory non-tariff barriers
Forced technology transfers
Industrial subsidies
Banned imports of United States agricultural products
Intellectual property theft

As a result of these perceived imbalances, in 2018, U.S. President Donald Trump has begun to use tariffs in an effort to reshape the flow of trade, and as a way to show support to the domestic manufacturing sector in the U.S.
To that end, the Office of the United States Trade Representative has released a series of product lists (also referred to as "tranches") over the course of the last several months which identify products which have been selected to incur a tariff.
Not all of the goods identified to receive tariffs are being imported from China, but there has definitely been a focus on imports from that country in particular. The first list (or tranche) of goods, announced back on June 15, 2018, identified $50 billion of goods which received a 25% tariff. The stated explanation for levying these tariffs was to counter unfair business practices related to the forced transfer of American technology and intellectual property.
The second tranche was announced on August 7, 2018, and it identified another $16 billion worth of goods to receive a 25% tariff. Items impacted by these first two tranches include steel, metals, textiles, chemicals, seafood and agriculture, electronics and other consumer goods such as apparel, furniture and appliances.
While the main focus on imports have been from China, there have also been impacts on imports from other countries, including Canada. The BBC News provides some interesting background information on this topic with a series of charts provided by the U.S. Department of Commerce which help to illustrate these tariff activities and impacts.
The first chart displays the countries most targeted by tariff investigations, with China receiving the most attention. These investigations are triggered when it is suspected that foreign countries are potentially gaining an advantage over domestic manufacturers as a result of unfair trade practices.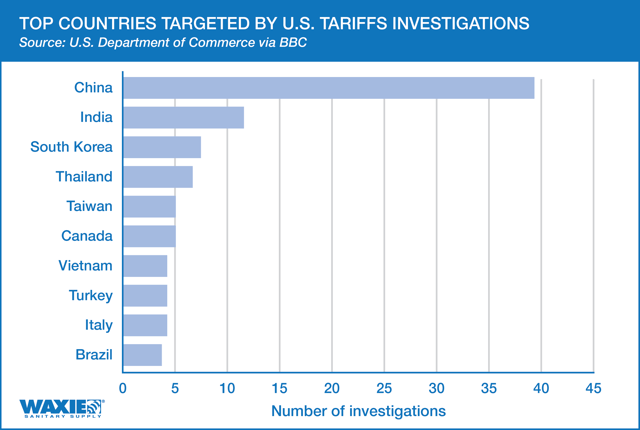 The second chart displays the total number of investigations by product type, with those related to carbon and steel wire leading the way, followed by large welded pipe and mechanical tubing.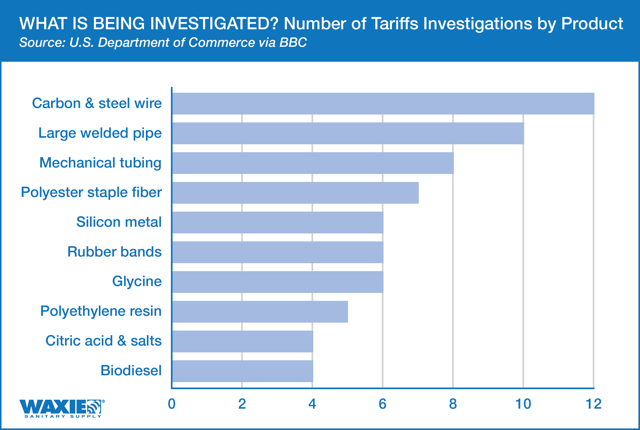 In addition, some tariffs are being applied without going through the formal investigative process, and it is estimated that the total value of these goods being imported is over $250 billion. As the total number of goods being assigned tariffs without going through the formal investigative process increases, the impact of tariffs on the cleaning industry also continues to increase.
How Do These Tariffs Impact the Cleaning Industry?
While the majority of products announced in the first two tranches did not have as direct an impact on the cleaning industry, on September 18, 2018 the third tranche of items was announced to receive a 10% tariff on September 24, with this rate increasing to a 25% tariff on January 1, 2019 – and items on this list, representing approximately $200 billion of goods imported into the U.S., have had a more pronounced and direct impact on products which are used in the cleaning industry.
Of note, the following product categories are included on this third tranche of products:
Sanitary paper products
Vacuum cleaners and parts
Sprayers (including trigger sprayers)
Components for brushes and brooms
Components for mop buckets and applicators
Components for janitor carts and refuse carts
Cleaning product formulations

When these product categories were initially announced over the summer, the ISSA, the trade organization representing the cleaning industry, spoke out against the tariffs in a letter to the USTR, stating that "the most recent round of proposed tariffs will do nothing to remedy China's unfair trade practices while imposing a substantial adverse economic burden on manufacturers of cleaning products and the national economy in general."
And while there has been a deal reached to postpone for an additional 90 days the January 1, 2019 implementation of the 25% tariff to allow for further discussions, the reality is that manufacturers in the cleaning industry have been announcing price increases which are effective immediately to coincide with the tariffs which have already been imposed.
These tariffs have received substantial coverage in the cleaning industry press, including articles in Cleanlink ("Tariff War Impacts Cleaning Industry", "Taxes on Chinese Imports Could Affect Cleaning Industry" and "Tariffs on Chinese Products Likely To Increase") and Cleaning and Maintenance Management ("Chinese Tariffs Hit Cleaning and Maintenance Industry in the Wallet").
Business Insider singled out the category of vacuum cleaners as being one of the hardest hit products by these tariffs – citing an estimated $1.81 billion in vacuum cleaners that were imported from China in 2017.
What's Next?
As a result of these tariffs, there have been price increases passed along by manufacturers to distributors such as WAXIE, and it appears that there are potentially more increases coming on the horizon. And while WAXIE will continue to do its best to keep these increases to a minimum, there are some items for which there is not a viable alternative other than to pass along the increase.
Please know that WAXIE continues to search for domestic production for products wherever possible, and we are proud to say that the vast majority of WAXIE products are made in the U.S.A.
However, the reality is that some products do not have a domestically produced option from which to source, and for other products made in China which do have a potential alternative made in the U.S or elsewhere, there are still many which will remain less expensive to source from China even with the price of the tariffs added.
WAXIE thanks its customers for their ongoing partnership, and the trust you have placed in us to be your trusted source for cleaning supplies and consultation. We recognize that these price fluctuations impact your operations, and will continue strive to offer the most cost effective solutions available while keeping you updated on how further changes to these tariffs will affect the global economy and the cleaning industry.


---

Keith Schneringer is WAXIE's Director of Channel Marketing + Sustainability. He is a LEED AP O+M and CIMS-GB ISSA Certification Expert who has been a consultant on a variety of LEED and CIMS-GB projects, and has presented to audiences at USGBC, BOMA, IFMA and CHESC events (among others). He enjoys learning and sharing information on topics related to sustainability and green cleaning and can be found on Twitter @kschneringer.