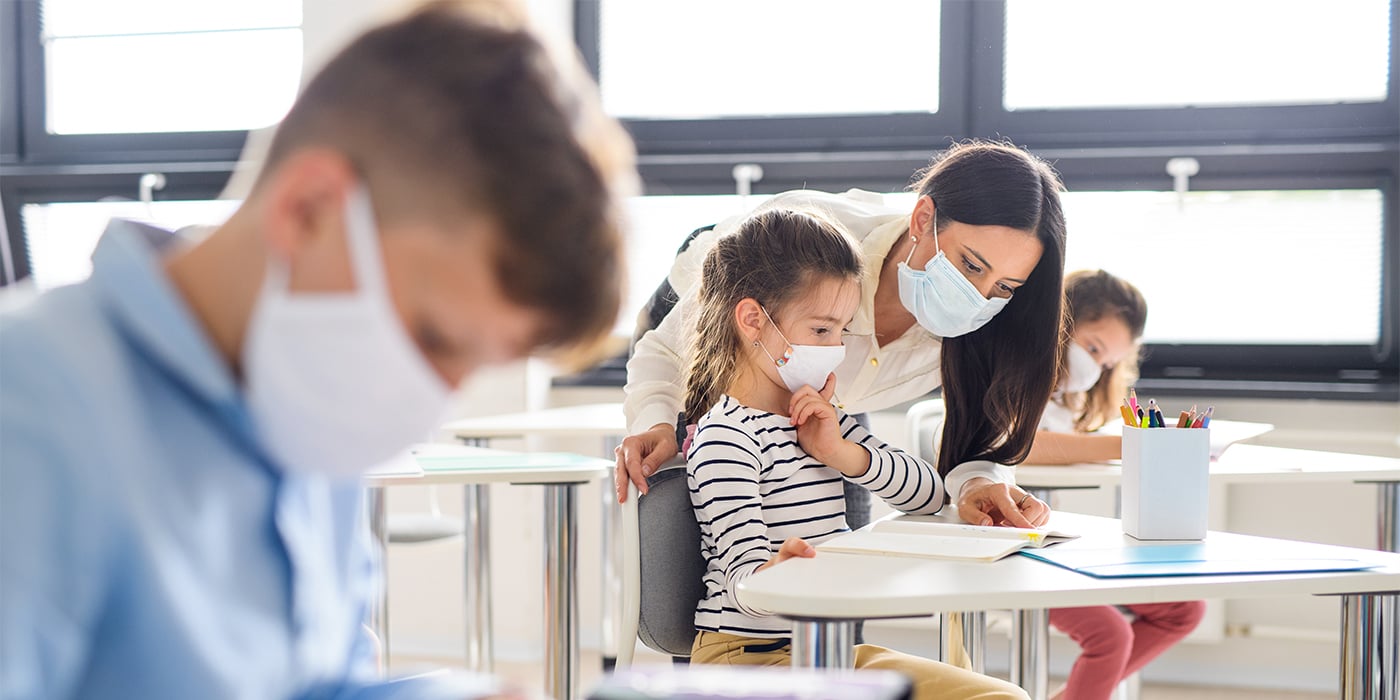 By: Caitlin Dimalanta | November 19, 2020
As California schools begin to safely reopen in-person amidst the COVID-19 pandemic, the process of cleaning and the ability to remain compliant with the Healthy Schools Act (HSA) are more important than ever. Enacted in 2000, the HSA put in place right-to-know requirements such as notification, posting, and recordkeeping for pesticides used at California public schools and public child day care facilities. Killing the virus on high touch surfaces while ensuring the protection of students from harmful chemicals is paramount.
Click here to read more on the requirements of the HSA.

School Re-Entry & Lowering the Risk of COVID-19 Spread
Different areas within a school campus contain more high touch points than others. Knowing the appropriate cleaning, disinfecting and sanitizing processes required for a school is a key component for fostering a safe environment. Understanding the differences between each process and the effects each yield is pertinent for a thoroughly cleaned surface.
Regular cleaning agents (liquids, powders, sprays, or granules) simply remove dirt, dust, debris and odors from surfaces. Although this is an important first step in improving the health of an environment, it is not enough to stop the spread of disease. They are not effective at killing bacteria or viruses.

A sanitizer reduces (but doesn't necessarily kill) bacteria, viruses and fungi on a surface to a level considered safe by public health codes.

A disinfectant, on the other hand, kills nearly 100 percent of the disease-causing bacteria, viruses and fungi listed on its label.
Creating an efficient cleaning schedule paired with training on the correct application of effective products reduces the risk of spreading the virus on frequently used surfaces.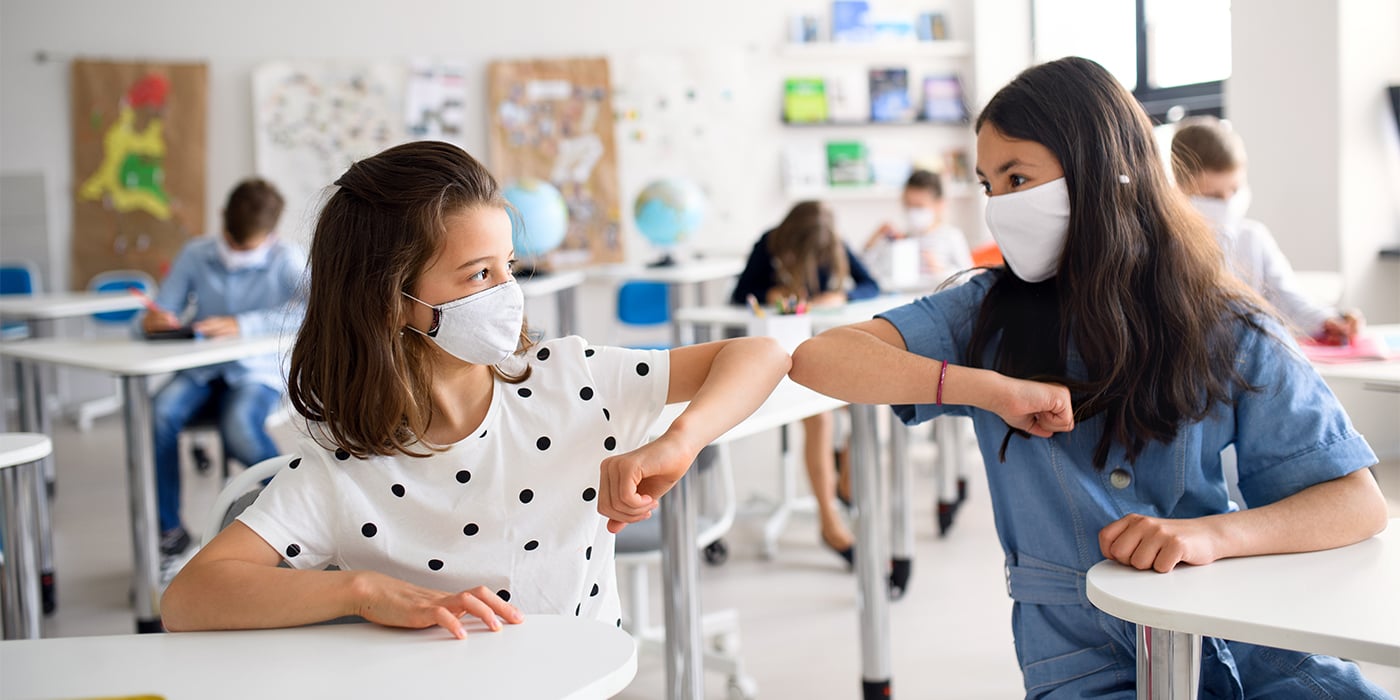 CleanLink gives the following tips on the important factors that contribute to an effective chemical and cleaning training program to manage the spread of COVID-19:
Include standard operating procedures for all buildings and shifts

Outline training on processes, chemicals and use, equipment, SDSs, and safety

Understand the proper use of various cleaning, sanitizing and disinfecting solution written on the product labels

To avoid fines, potential injury or a fatal situation ensure that you are using OSHA and HSA compliant chemicals
The CDC has a toolkit on reducing the spread of COVID-19 in schools using proper cleaning processes and EPA approved products.
Which Disinfectants are Safe to Use in Schools?
There are multiple products that are used to kill viruses and bacteria on surfaces. There are some that include harmful ingredients which can lead to negative health effects including increasing the risk of asthma. Using these types of chemicals in a school environment makes it an unsafe place to learn for students and faculty.
A successful and proven safe solution are Hydrogen Peroxide based products. The CDC explains that "hydrogen peroxide works by producing destructive hydroxyl free radicals that can attack membrane lipids, DNA, and other essential cell components."
Additionally, using a third-party certified green cleaner to prep and clean the surface before disinfecting with a hydrogen peroxide product can better ensure the health and safety of your school.
WAXIE is Here to Help Combat COVID-19 & Remain HSA Compliant
WAXIE HP Disinfectants satisfy OSHA guidelines and support California's Healthy Schools Act compliance. While some leading disinfectants use high-risk ingredients to kill germs, WAXIE HP Disinfectants were specially formulated to keep harsh chemicals away from your students and staff.
Benefits of WAXIE HP Disinfectant Cleaners:
One-minute SARS-CoV-2 kill claim on hard, nonporous surfaces

Kills flu and SARS-CoV-2 viruses

One-step cleaner & disinfectant

Hydrogen peroxide is less harmful of a disinfectant than a quat, bleach, peracetic acid, etc subsequently reducing the risk of asthma and other health effectives related to disinfectants

No rinsing required

Works as a deodorizer as well

Fragrance free
By providing a clear understanding of proper disinfectant usage in schools, safer product chemistry, and complete cleaning instructions, every child can have the healthy school site they deserve.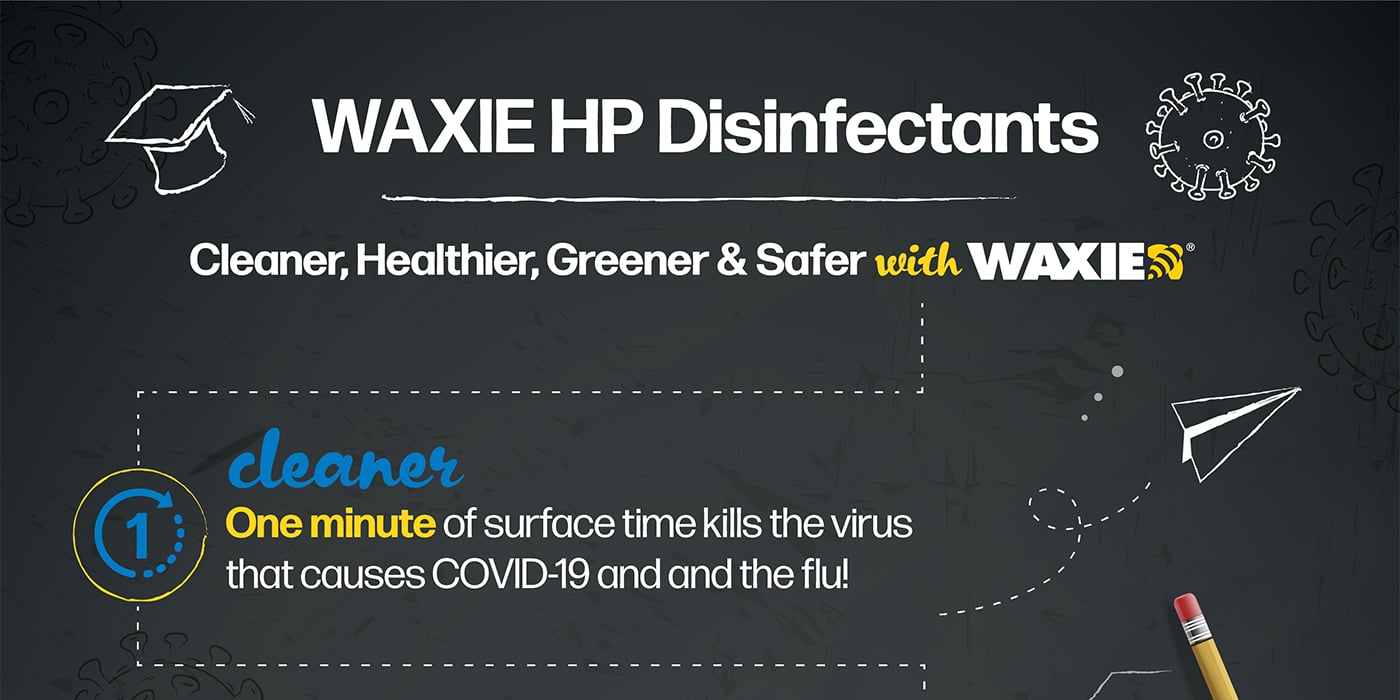 Infographic: WAXIE HP Disinfectant, WAXIE for Schools (click to view entire graphic)
WAXIE is committed to provide cleaner, healthier, greener and safer solutions for your school. Contact your WAXIE Account Consultant today for more information on safe products that meet your needs.
---
Caitlin Dimalanta is WAXIE's eCommerce Specialist. She enjoys researching and implementing various SEO (search engine optimization) strategies to enhance WAXIE's eCommerce platform Web@Work. Caitlin has a Bachelor's Degree in Marketing from San Diego State University.