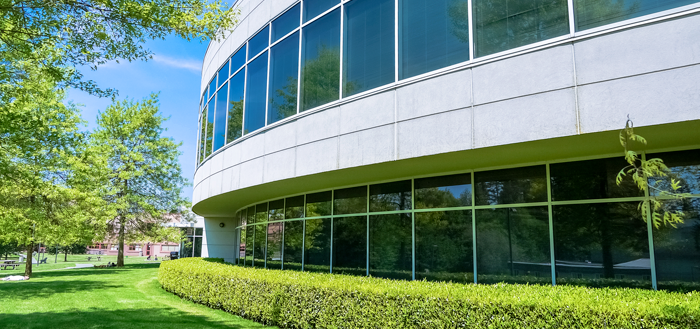 By: Briana Smith | April 7, 2017
Now that spring is officially here, and most of the nasty winter weather is behind us, it's time to tackle some of those tasks that come with the changing of the seasons.
Oftentimes, the brutal winter rains and snowfall leave buildings quite beat up (as evidenced by the accumulation of ice melt and dirt that get tracked across floors and thrashed entrance floor matting). Afterwards the advent of spring brings more pollen into the air, not to mention the build-up of any dust that staff wasn't able to get to during the winter, causing heightened indoor air allergy issues.
Here are a few things that should be part of your facility's spring cleaning to-do list:
1. Check the Condition of Your Entrance Matting Systems

Depending on how severe the weather has been, your entrance matting may be looking a little worse for wear right now. Once the threat of blizzards and rainstorms have past, take the time to inspect all of your matting, but pay particular attention to your entrance matting systems.

Now is the perfect time to replace torn up matting as the worst of the bad weather has past, and you can prevent further damage to your floors by replacing matting that no longer has the ability to do its job properly.

Faulty, overly abused mats can also become tripping hazards instead of the preventative measure that they are meant to be. Good matting lasts for several years and prevents 80% of the dirt & sand being tracked in via the soles of shoes, thus keeping debris from being ground into your flooring, so take the time to replace them when needed.

PRO ADVICE: Mats that are custom ordered with your business logo, in special sizes and/or colors mats can take several weeks to come in. Plan ahead and order in the spring so that you are already prepared when autumn rolls around.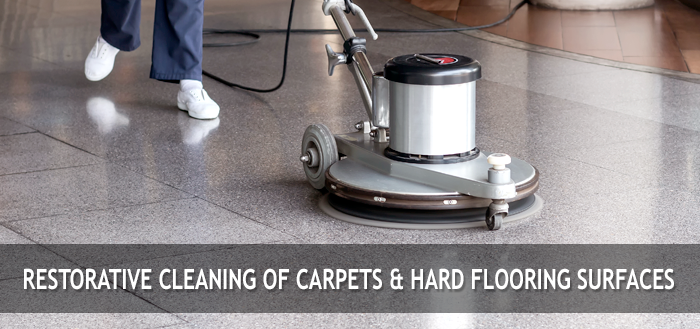 2. Restorative Cleaning of Carpets and Hard Flooring Surfaces

Spring and summer are the best times of year to give your floors a little extra TLC. Schools can take advantage of Spring Break, and Summer Break later on, to refinish gymnasium floors as students are not on campus. Other hard flooring surfaces get roughed in winter, and may need stripping, finishing, and polishing.

When vacuuming and interim extraction cleaning procedures are no longer cutting it, plan to deep extract your carpets. You'll want to get rid of all of the debris and sand that gets tracked in, which can cause quite a bit of damage to your floors, and restorative cleaning is much cheaper than having to replace your flooring.

Check out your restroom & kitchen, if you have one, floors too! Grout can be a breeding ground for bacteria. Deep clean your tile & grout and then apply a protective sealant that makes maintaining it a breeze.

There have been some great innovations in the last couple of years that make this restorative cleaning process much easier and less time consuming. If you keep up with regular PDIR (Preventative, Daily, Interim & Restorative) cleaning techniques than you won't have to go through the restorative process quite as often, which saves you time and money.

PRO ADVICE: Check out products that are designed to tackle specific PDIR procedures. WAXIE's Chemical Specialists recommend: For Carpets – the WAXIE-Green encapsulation product line, WAXIE-Green FiberCare Carpet Soil Extraction, and Traffic Lane Carpet Pre-Spray for carpets. For Resilient Floor Maintenance – Balance Neutral-pH, Hard-Surface Cleaner & Odor Counteractant and 243 WAXIE-Green Neutral Cleaner. For Tile & Grout – 330 WAXIE-Green Fresh Mist Liquid Microbes, and the WAXIE Grouted Care system.

For buildings with multiple types of flooring surfaces, check out equipment that can handle different flooring, such as machines that make use of orbital technology like the Kärcher Taz, Square Scrub®'s Doodle® Scrub, or one of Advance's orbital scrubbers. These machines can handle everything from tile & grout, to carpeting, to stone floors.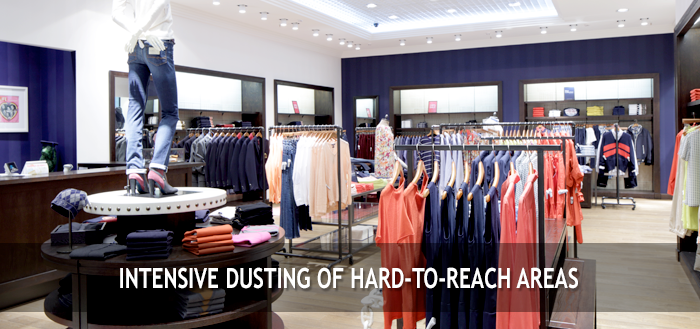 3. Intensive Dusting of Hard-To-Reach Areas

It's amazing how much dust collects and how quickly these dust bunnies multiply! Get a jump on improving your building's indoor air quality by giving a good cleaning to often neglected surfaces. We're talking about recessed lighting, fans, window ledges, air ducts/registers, etc.

Some of our favorite tools for addressing these problem areas with the minimal release of dust particles into the air are microfiber clothes, Unger's Stingray and window cleaning tools that specifically designed to reach and clean hard-to-reach windows, NSS M-1 PIG (perfect for overhead ceilings, walls & pipes), and 3M's Easy Trap Duster.

PRO ADVICE: Many people suffer from allergies year-around & it may be beneficial to schedule the cleaning of these areas more frequently. Also, look into using hypo-allergenic soaps that contain no dyes or perfumes.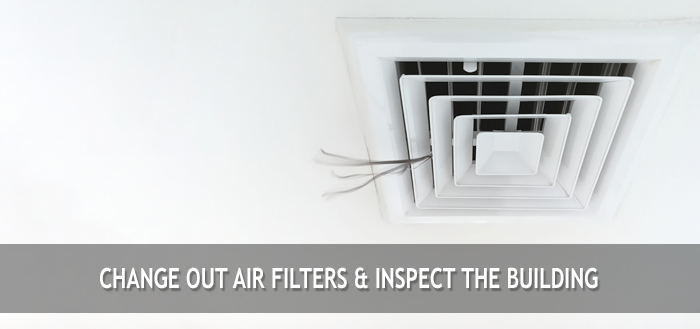 4. Change Out Air Filters & Inspect The Building (Inside & Outside)

This task really should be done quarterly, but it's particularly important to do this in the springtime, as a lot of pollen is floating in the air. And it's not just HVAC filters – switch out the HEPA filters in your vacuums as well.

While you're at it, spend the time to walk around your building to see if there are any other issues that have arisen that need to be taken care of. Are there any outside leaks that need fixing? Are there any potholes in your parking lot that could cause problems? Did a faucet stop functioning in one of the restrooms?

And don't forget your landscaping! Traditionally spring is when trees, bushes, scrubs, and other plants are pruned and trimmed back. If you're in a typically dry area, perhaps now is the time to install some xeriscaping.

PRO ADVICE: Create a spreadsheet of all of the cleaning & maintenance tasks that you need to perform, and prioritize your projects. Figure out if some items need to be taken care of immediately and which ones can they be put off a little while longer. If you live in a hot climate, like Phoenix, early spring is your chance to get outdoor maintenance projects fixed before the summer heat is in full force.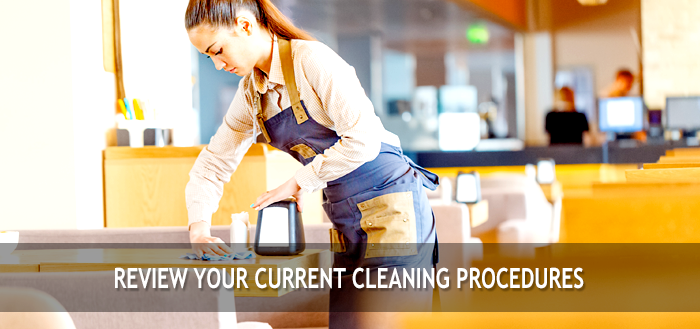 5. Review Your Current Cleaning Procedures

Check-in with your custodial staff. Ask them if they've noticed any building issues that may need to be addressed. Your staff are probably the first to know if something is broken or isn't working as it should. Are there any outstanding issues that still need to be resolved?

If you have implemented a new cleaning program or a waste diversion & recycling program, review it together to determine if it's working for your needs or if it needs modification. Are you considering purchasing new products, tools or equipment? Ask your staff for their opinion. They may have insights to add about things that you may want to take into consideration.

Troubleshoot any issues that have been happening. Are the odors in the restrooms not going away? Maybe it's being caused by a different issue than you originally assumed. Get your WAXIE Account Consultant involved! We can help you develop a solution specific to your needs.

PRO ADVICE: Schedule quarterly training sessions with your custodial staff on various cleaning procedures to ensure that everyone is on the same page with how things should be done. This is beneficial for both newer staff and seasoned veterans to share knowledge.
Do you have any other cleaning tasks that fall under your spring cleaning calendar? We'd love to hear them in the comment section below.


Briana Smith is WAXIE's Social Media & Product Branding Specialist and spends quite a bit of time skimming the news for what's new in cleaning, sustainability and technology while managing all of WAXIE's social channels. She especially loves posting about #teamwaxie activities & conversing with customers on Instagram. Briana has a Bachelor's Degree in Communication Design from California State University, Chico.


READ MORE: