By: Briana Smith, Social Media & Product Branding Specialist, WAXIE Sanitary Supply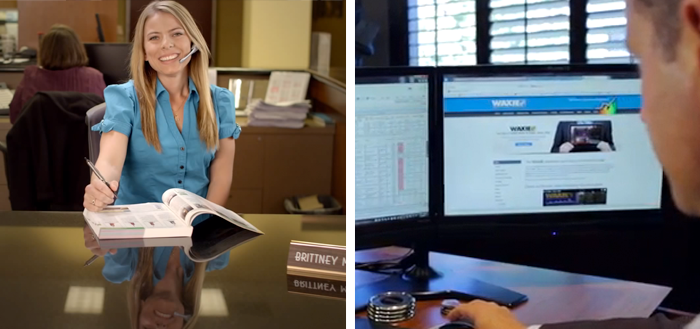 Building partnerships with our customers, vendors and suppliers is important to WAXIE. A partner you can depend on is worth their weight in gold. They can make a job or a project go a lot easier, smoother and more efficient. When a problem arises, a great partner will be right there helping to figure out the best solution. That is the type of partner that both Descartes & Oracle have been for WAXIE as we strive to continuously improve logistics for both our internal and external systems.
As our Chairman & CEO Charles Wax always says, "Investing in our people and our systems has always been a hallmark in our business strategy and paramount in providing us the opportunity to serve our customers."

Optimizing Our Operations Using Descartes Software Technology
Descartes is a logistics expert in routing & transportation management. They provide a software program that is a blend of fleet optimization and meeting customer time windows when route planning. WAXIE knows that our customers rely on us to deliver their cleaning supply needs when they need them and investing in Descartes software has helped us meet those needs swiftly and efficiently.
Descartes values customer service just as much as WAXIE does. They spent a couple of months working with us to discover how we currently managed our delivery routing, as well as our operations process: receiving products from vendors, customer order placement and order fulfillment. Then they helped get us up and running within a couple of months. It was an easy transition that enabled us to increase our operational efficiencies while improving the customer's experience with WAXIE.
There are numerous benefits to Descartes software for us, but the aspect that we love the most is that we are able to make route planning & on demand availability very customer specific. We can add in information if a customer has certain site limitations or a particular time frame for receiving deliveries. We can also manage and review route planning allowing us to serve more customers in the same period of time with less fuel consumption by streamlining delivery routes. Descartes has helped us seamlessly manage delivery routing across all 20 of our Inventory Centers strategically located in nine Western states service 12 states so that our customers get their products quickly.
Important Information Now at Our Employees Fingertips with Oracle HCM Cloud
The employees at WAXIE are our most valuable resource and we want to provide them with the same level of service that we bring to our customers. Recently a new Partnership with Oracle has allowed our Human Resources department to spend more time assisting our employees with their needs and less on processing paperwork.
Previously our system for processing employee requests was pretty basic with a trail of paperwork that changed hands frequently and required the input of information manually. This left room for mistakes, not to mention that it was very labor & time intensive. Plus we had multiple systems that did not integrate with each other at all.
Partnering with Oracle and transitioning our performance management process to the Cloud has allowed us to stay better connected to our employees and streamlines the entire HR process from change of addresses to performance appraisals. Employees no longer have to request info and wait for it to be given to them, but can go directly to a personalized dashboard in the system. This allows an employee to access their information at any time, which is especially useful for employees who are on the go a lot like outside sales representatives and managers.
Oracle spent time with us to understand our current process and added customizations to fit our specific needs. Just like WAXIE, they stand by their product and are committed to making WAXIE as successful as we can be which mirrors our philosophy towards our own customers.
Innovative Solutions for the Long-Term
WAXIE offers streamlined logistics, as well as ongoing training and support, making sure that our customers get their products & services delivered on time and on budget. A partner is someone that you can depend on, and we know that both Descartes & Oracle can help us figure out challenges that may occur in the future. WAXIE is dedicated to investing and implementing new technology & innovations both internally and externally in order to provide the best service possible to both our customers and employees.