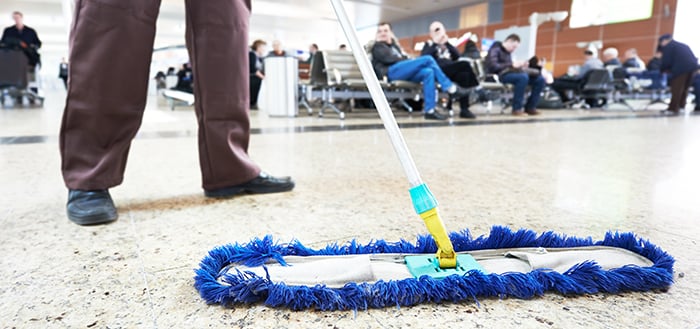 By: WAXIE Editorial Staff | July 17, 2019
On Dust Mops…
Dust mopping is the second line of defense for protecting your investment (after entrance matting) in hard floors and hard floor care programs. When performed regularly and thoroughly with the right tools, dust mopping saves time and money. It helps maintain high gloss while extending the life of your floor program, since proper dust mopping will remove the fine abrasive soils that grind and wear on your floor finish.

Factors involved in choosing the proper dust mop are:
• Type of Dust Mop
• Size of Dust Mop

Type of Dust Mop
There are two basic types of dust mops used today: launderable and disposable.
The launderable dust mop is designed for heavy use with repeated cleaning or laundering and treatment. These mops are made with either 4-ply cotton or synthetic yarn and come with a "keyhole" backing with a single tie. If laundry facilities and proper care are available, launderable dust mops are a better long-term value.
Disposable dust mops are economical and generally used when laundering the mop is not possible or for post-construction cleanup. The disposable mops come pre-treated or untreated, and precut or in a 40' roll.

Size of Dust Mop
To ensure the maximum productivity with a dust mop, the size of the mop must be matched to the size of the area to be cleaned. Tight, obstructed areas can be cleaned with a wedge mop. WAXIE stocks 18", 24", 36", 48", and 72" mops for regular daily use in classrooms or offices to hallways and stairways. For large, unobstructed spaces like gyms, all-purpose rooms or store aisles, WAXIE also offers 60" and 96" dust mopping systems.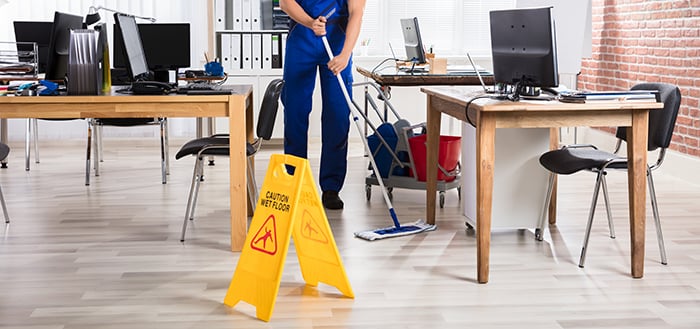 Treating the Dust Mop
Treating your cotton dust mop is an important step. An untreated, cotton dust mop will only remove approximately 50% of the grinding grit on your floor.
Synthetic dust mops cannot be treated as the yarn is designed not to absorb the treatment. However, both the launderable and disposable mops can be treated. When treating launderable dust mops with bulk dust mop treatment, pour 1-ounce of treatment for every 6" of mop onto the backing. Roll the mop up and store for 8–12 hours. This will allow the treatment to wick into each strand of the mop.
Temporary treatment with an aerosol or trigger sprayer should be done at the end of each use rather than at the beginning. Time must be allowed for the treatment to soak into the yarn.

Never over-treat a dust mop! Over-treatment can lead to slip hazards on the floor and makes mops difficult to clean. Both water-based and oil-based dust mop treatments are available. Check with your WAXIE Account Consultant to determine which is the best for your circumstances.
Proper Dust Mop Care
If a dust mop is properly cared for, it can clean-up to a million square feet before it needs to be replaced or laundered!
At some point during use, the dust mop will be full of dirt and will need to be emptied. Simply find an out-of-the-way spot and shake the handle up and down briskly. This is sufficient to empty the mop. This step may need to be done more than once in a daily usage.
Once you're done with the mop, it needs to be cleaned. Place the mop in a trash liner bag or large container and brush the soil out with a stiff-bristle brush. The mop can also be vacuumed clean, which will provide even longer life for the mop.
If necessary, now is the time to retreat the mop with an aerosol or trigger sprayer. The dust mop should be stored with the head off the floor and the treated side away from the wall.