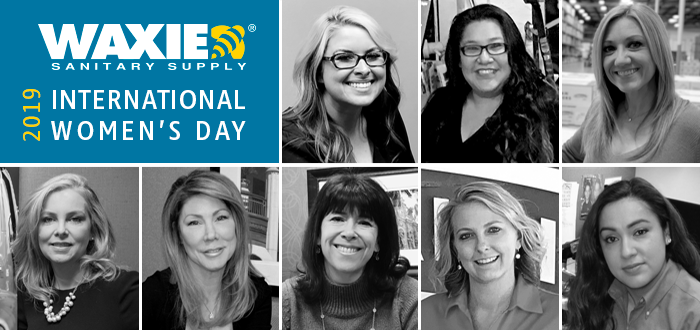 Some of the amazing women who work at WAXIE Sanitary Supply: Clockwise from the top – Tiffany Pierce, Delia Vida, Ann Williams, Christine Martinez, Rosey Kerchal, Kristi Parnell, Alice Sawaya & Laura Hibbard.
March 8, 2019
On this International Women's Day, we wanted to recognize all of the amazing ladies who work hard to keep their environments safe & healthy — healthcare custodial environmental services (EVS) staff preventing HAIs, restaurant staff keeping us safe from foodborne illnesses, housekeepers tidying up hotel guest rooms, and custodians in schools & offices — these women are making it happen.
We also wanted to honor some of the women at WAXIE who play a pivotal role in providing solutions, support & encouragement for all our customers and fellow co-workers. We are so lucky to have such exceptional people working for us across all of our branches and appreciate the work that they do. WAXIE wouldn't be the 'Experts In Clean' without everyone's contributions from Delia picking orders on the warehouse night crew to Kristi utilizing new technology to improve payroll & benefits for all employees. The wonderful women at WAXIE are getting stuff done!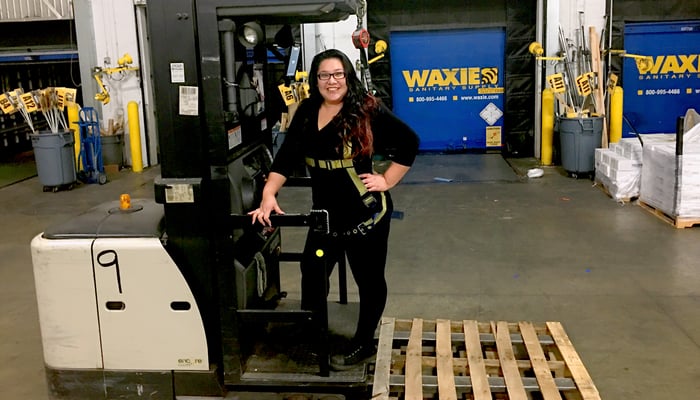 Delia Vida – Warehouse Worker (Night Crew) at WAXIE Northern CA
What is your role at WAXIE? I am a night warehouse worker at WAXIE. I've been here for 7 months. I pull orders, build pallets and load trucks according to stops and routes. I'm also part of our team that makes sure the warehouse is clean & ready for our day crew.


What do you like about working at WAXIE? I love working here at WAXIE because as a single parent it gives me the security I need and allows me to work around my kids' schedules. WAXIE is such a great company to work for. I love that they appreciate their employees as much as their customers.


What part of your job are you most proud of? Every day is an achievement! We get our orders ready for the drivers to deliver, in turn making satisfied customers. I enjoy the people I work with & I'm proud to keep up with the guys. We keep each other motivated.


What are you passionate about? I've always loved to help others. I love volunteering as much as I can, and I love getting others involved. There's so many things to learn about people or organizations that I can share with others.


What is something that most people don't know about you? I'm very crafty & love event planning! Pinterest & Etsy are my favorite places for inspiration. I like gathering people for events or experiences, whether it be at places or trying new things.



Ann Williams – Senior Account Consultant at WAXIE Salt Lake City
What is your role at WAXIE? For the past 7 years I have had to opportunity to work out in the field in the Arizona and Intermountain Division as a Senior Account Consultant.


What do you like about working at WAXIE? I absolutely love working at WAXIE. WAXIE is a perfect example of the work family. I get to spend my day not only working with amazing people inside of the WAXIE organization, who want to see me succeed, but it also lets me be out in the community working with our WAXIE customers and local businesses helping them solve challenges in each of their facilities.


What part of your job are you most proud of? I am a strong believer in pushing until the end, giving it all you have, so I never look back and feel like I could have tried harder. This past December I ended up in the hospital for a week after complications from surgery. With three weeks left of the year I wasn't going to give up. I buckled down and dug deep with everything I had to get to my goals up until Dec 28th at 4pm. I didn't quite make my goal but I knew I had done everything I could for myself and our branch. In January I was award 1st Runner up for the Intermountain with new business AGM.


What are you passionate about? I am passionate about my job with WAXIE and my customers, helping them operate their facilities to the best of their abilities from budgets, logistics, sustainability to productivity. To me this is not just a job. My career with WAXIE is a place where I can feel like I am help people every day, but it is also the place where I can feel the most like me.


What is something that most people don't know about you? I am an adrenaline junkie and like to do things that push me to be better. I have run several marathons, ragnars, ultra ragnars, competed in mountain biking and adventure racing, and currently I am a power lifter in the 56 kg weight class and hold state records in bench, squat and deadlift for the 40-44 class. I am working to qualify for the World Championships held in Las Vegas in November.



Tiffany Pierce – Operations Manager for WAXIE Denver & the WAXIE MARKETplace at Colorado Springs
What is your role at WAXIE? I am the Operations Manager for the Colorado branches of WAXIE, in my role I oversee our exceptional customer service, warehouse, driving and service center personnel to support our sales team. Each day striving to not only meet our customers' expectations of WAXIE but to exceed it with every interaction.


What do you like about working at WAXIE? WAXIE is an amazing company to work for because of the unique culture of caring that is felt from the ownership, executive team, all the way through each branch towards all employees. There are also endless opportunities within WAXIE for professional development. We have a leadership team that supports and champions their employees to help them reach their full potential.


What part of your job are you most proud of? I am most proud of the employees that I have had the honor to mentor and coach through my 12 years at WAXIE. I have enjoyed helping our employees to grow in their careers. Working to guide the local leadership within the branch, watching the progression as they become Leads and Managers, and now watching as they guide their employees toward career growth. This is what gives me my greatest sense of accomplishment in my position at WAXIE.


What are you passionate about? I am passionate about helping others find solutions to the issues of life, both within my professional and personal life. I like to be the person that take care of "it" whatever that "it" happens to be.


What is something that most people don't know about you? I am an only child and I am also the second oldest of 7 children…so I had the best of both worlds growing up. All the attention and presents from one parent and the chaos of a large family with the other parent. I think this helps me to adapt to different situations in life with a bit more ease than some may.



Laura Hibbard – Sales Manager at WAXIE San Diego
What is your role at WAXIE? As a Sales Manager for the WAXIE San Diego branch, I lead a team of nine professional account consultants that focus on multiple business segments including healthcare, hospitality, education, government, and building service contractors. I have the pleasure of interacting with our valued customers, collaborating with our vendor partners, and strategizing with my team members on developing business plans and solutions to best serve our customers.


What do you like about working at WAXIE? There are many wonderful things about working at WAXIE, most importantly is WAXIE's engaging culture that provides a positive environment for growth, creativity, and teamwork.


What part of your job are you most proud of? I am most proud of the impact I can make on others through mentoring, coaching, and helping them achieve new levels of success.


What are you passionate about? I am honored, grateful, and humbled to be included among my fellow outstanding women of the WAXIE organization. I am passionate about being a genuine and authentic leader that empowers others to dream big and reach their goals. Every day is an opportunity to do something great and be present in the moment.


What is something that most people don't know about you? I am a huge fan of motivational business audiobooks and podcasts. While making my morning and afternoon commute, I enjoy listening to the inspirational messages of my favorite authors and lifestyle entrepreneurs, like Lewis Howes' The School of Greatness, Tim Ferriss' The Tim Ferriss Show, Tony Robbins' The Tony Robbins Podcast and Rachel Hollis' Rise Podcast.



Alice Sawaya –

Vice President & General Manager of WAXIE Santa Ana
What is your role at WAXIE? My role as Vice President/General Manager at WAXIE Sanitary Supply is to ensure the 75 family members who work within the Santa Ana branch feel valued, respected and inspired to exceed the expectation of our internal and external customers. To ensure every employee has a safe, sustainable and healthy environment to perform his or her duties. To protect the assets of the company as if they are my own and make the best possible decisions to increase our profitability year over year.


What do you like about working at WAXIE? WAXIE is the American dream. If you work hard, do more than is expected and continually learn and grow the opportunities are endless. I love playing a role in our employee's development. Coaching and mentoring individuals to do more than they ever thought possible. Watching them grow into sales professionals and/or managers and leaders within the organization is its own reward!

WAXIE gives back and invests in their people in a number of ways, through our Training and Development Department and investing is formal education through our tuition reimbursement program. If it were not for WAXIE, I would not have finished my BS degree in Marketing, for this I will be forever be grateful and just one of the many reasons why I love working at WAXIE.


What part of your job are you most proud of? I am extremely proud of the individuals I have had the pleasure of working alongside over my 29 year career. These individuals are passionate and committed to making the communities we serve healthier and more sustainable. I am also proud of being the first female General Manager in the company. I hope that through my actions I will inspire others to strive to obtain a leadership role at this level. The ability to have an impact on so many lives is an extraordinary opportunity and one I do not take lightly. The last 13 years as a General Manager has been the highlight of my career.


What are you passionate about? Helping people reach their full potential, so they may live a more enriched life. Whether that be making enough money to send their children to college, buying their first home or taking care of family members who are unable to take care of themselves. Whatever the goal, helping people achieve them is the best feeling in the world!


What is something that most people don't know about you? I love animals, at one point I had 14 cats, 3 dogs, 2 hamsters, 1 rabbit, 1 gold fish, and an octopus… yes an octopus…a baby of course!



Rosey Kerchal –

Senior Account Consultant at WAXIE Arizona
What is your role at WAXIE?

As a Senior Account Consultant I manage a large portfolio of customers and work closely with them to understand their needs and challenges so that I can provide them with customized product solutions for their facilities. I am also one of two Bigbelly Specialists at the Arizona branch and I work with the other Account Consultants and their customers on Bigbelly opportunities.




What do you like about working at WAXIE?

I like working for WAXIE for a number of reasons – I enjoy the fact that my job brings me a new challenge almost every day. I get to help my customers solve problems, earn their trust, and build long lasting working relationships. I also get to work with many amazing people in the Arizona branch and feel proud to call them my friends and family.




What part of your job are you most proud of?

I'm most proud of the career path I have taken at WAXIE – I started as a Sales Administrator, followed by a few years in Customer Service, and then a few years as a Contract Administrator before becoming an Account Consultant. When I came to WAXIE I was very young, I was struggling with various personal issues, and I placed very little value in myself. Throughout my career at WAXIE I have had the support of many wonderful people who have encouraged me to learn and grown, both personally and professionally, and I credit them for who I am today.




What are you passionate about?

I am passionate about learning and educating – whether it's a new product or procedure or selling strategy, I enjoy learning about new things that I can bring to my customers.




What is something that most people don't know about you? This also ties into my previous bullet point about learning and educating – in my spare time I love to work on my fitness, especially by doing Zumba. I love Zumba so much that I became certified as an instructor a little over a year ago and I teach my own Zumba class once a week (sometimes more if other instructors need classes covered). I enjoy getting new music and learning new choreography and bringing it to my class – I actually just took a secondary class over the weekend to help improve my cueing skills and to learn how to be more connected with my students.



Christine Martinez –

Warehouse Manager at WAXIE Northern CA
What is your role at WAXIE? I am the Warehouse Manager for WAXIE'S branch up in Livermore, CA. I manage the day to day operations of the Warehouse and our delivery fleet. I currently have about 45 employees across 3 different shifts and work closely with each of them to make sure all of us as a team hit our goals, as it pertains to our metrics and expectations.


What do you like about working at WAXIE? I like working at WAXIE because of the family environment we get to be a part of everyday makes work enjoyable. WAXIE cares about their employees and makes sure to let them know. It is an amazing feeling to know that not only can you do what you love to do but that you can also truly admire and respect your leadership team and managers each day that you walk through the door.


What part of your job are you most proud of? Being the first ever female Warehouse Manager for WAXIE. I take pride that I work for a place that was willing to allow me to accomplish this. I hope that this serves as an example to all women that we really can do anything we put our minds to.


What are you passionate about? I am most passionate about being able to also be the mom to my amazing 5 year old son Carlos. He is my only child, and outside of WAXIE I am usually chasing him around and focusing on helping him be the best that he can be.


What is something that most people don't know about you? I am a bit of a nerd. I enjoy spending my free time reading as many books as I can, and watching documentaries when my son is not making his father and I watch Jurassic Park! Current favorites are: Books – Pride & Prejudice by Jane Austin (classic) and Beautiful and Damned Stories by Robert M. Drake (modern); Documentaries – The War by Ken Burns & Lynn Novick.



Kristi Parnell –

Vice President of Human Resources
What is your role at WAXIE?

I've been the Vice President of Human Resources at WAXIE Sanitary Supply since 2005. I currently oversee the recruitment and employment of personnel, the development and implementation of compensation and benefit design, employment law compliance, employee relations, employee training and development. I am a key partner in the executive staff team by providing strategic direction as it relates to company goals and expansion both organically and through acquisitions.




What do you like about working at WAXIE?

Without question I like working here because of the people. I can do HR in any organization, but I choose to do it here because the people are engaging, funny, bright and they care about one another, but most importantly there is mutual respect throughout our company and a desire to be the best in our industry no matter what role they play or job they do. It is what keeps me coming back day after day, year after year.




What part of your job are you most proud of? For me, it is not one specific thing or any one project, but the evolution and growth of our workforce, which I have seen nearly triple in my tenure and the ability for our HR team to keep up with that growth.

We have had to continue to be ahead of "what is next" in workforce demands and people. We have done this by implementing the best Human Capital Management and Payroll software to keep our employees connected to their pay and benefits at all times and by using a premier Applicant Tracking System to assist in the demands of a competitive recruiting market and to the best Learning Management Systems to continue to educate and develop our employees using online capabilities.

We have to be constantly changing. We also centralized our recruiting functions several years ago and that has allowed us to be proactive in searching out the best and brightest talent. Lastly, being ahead of the curve on a constantly changing health insurance market by being the first company in San Diego to host our own Private Health Exchange.


What are you passionate about?

In the current moment, my passion is my family and watching my son grow into a young adult as he heads into his final year in high school this fall and is beginning to prepare for college. Being a full-time working Mom there are challenges every day in trying to do both jobs (Mom & HR) to the best of my ability, so my passion for years has been to keep that balance and make sure I don't lose sight of what is important.




What is something that most people don't know about you? I'm a published cook! Several years ago Bon Appetit magazine published two of my original recipes (Baked Halibut with Orzo, Spinach, and Cherry Tomatoes | Herb Crusted Salmon on Greens). Cooking is my favorite hobby so I was thrilled when they reached out to me to say that they loved my recipes and would be publishing them in their next issue!