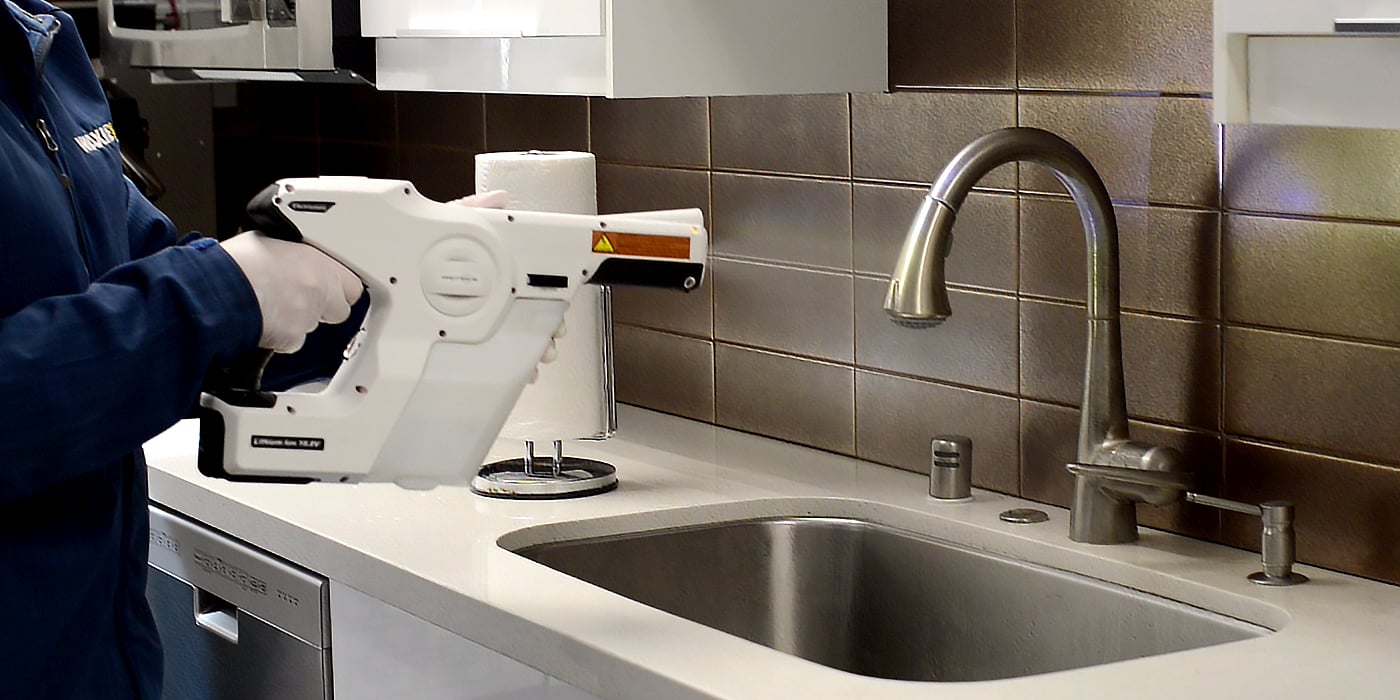 By: WAXIE Editorial Staff | July 30, 2020
When considering how to most effectively clean surfaces, workspaces, and all of the areas where a deep and thorough cleaning and disinfecting is of concern, traditional methods such as dusting and spray and wipe cleaning just may not be enough. Wet surface cleaning doesn't clean hard to reach areas where harmful bacteria may reside. Unless cleaning cloths are changed out and cleaned on a regular basis they do little more than spread the surface soil around. Dry dusting can spread dirt and particulates back into the air to settle onto other surfaces with contaminates.
For areas that require a deep and thorough cleaning designed to eliminate and kill all bacteria and germs from surfaces, electrostatic disinfection is an effective method of applying disinfectants, cleaners and sanitizers to the entire surface needing to be sanitized and cleaned.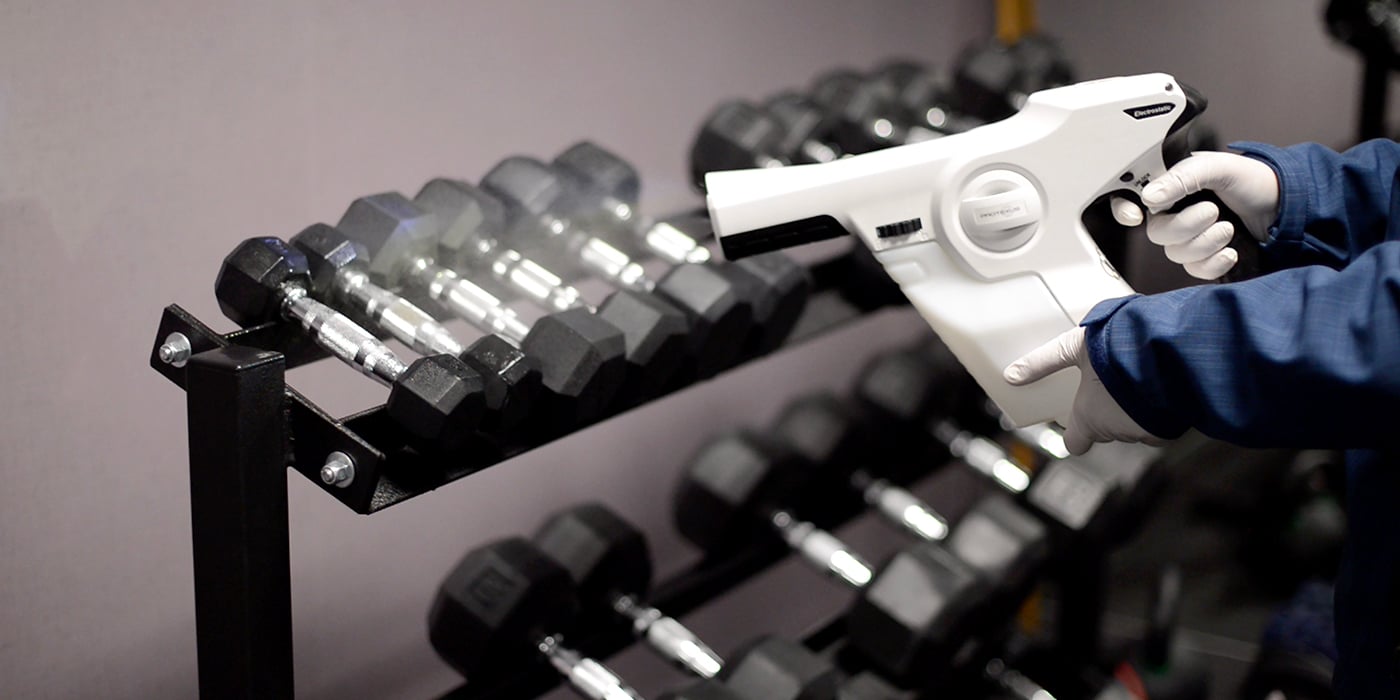 What is Electrostatic Disinfection?
Electrostatic disinfection is the process by which an electrically charged micron particle sized disinfectant chemical mist is sprayed onto surfaces and objects to thoroughly clean and disinfect all sides and areas of the surface.
Electrostatic sprayers utilize disinfectants, cleaners and sanitizers that positively charge the cleaning chemical which when sprayed thoroughly envelop and adheres to all sides of the surface to be cleaned. Electrostatic disinfection sprayers are far superior to traditional applicators such as spray bottles, commercial applicators, foggers and pump up sprayers.
For hard to reach areas or cleaning touch points, cleaning staff need to just point the wand or "gun" of the electrostatic sprayer to the object or surface to be cleaned, release the mist and the electrically charged cleaning mist will totally coat and envelop all surface areas to totally clean and disinfect.
Electrostatic disinfection application reduces the amount of time it takes staff to clean and greatly improves the control and spread of viruses, bacteria and germs. Depending upon which manufacturer's disinfectant or sanitizer is used a generally high bacteria kill claims of 99%+ can be made in mere minutes. Electrostatic disinfection provides one-step disinfecting, eliminates odors, sanitizes hard and soft surfaces and inhibits the growth of mold and mildew.
Electrostatic disinfection applicators vary in size from a hand-held "gun," a backpack electrostatic sprayer to portable machines on casters that are easily moved from room to room within a facility.
Some electrostatic disinfection applicators require the use of a proprietary chemical with their machines.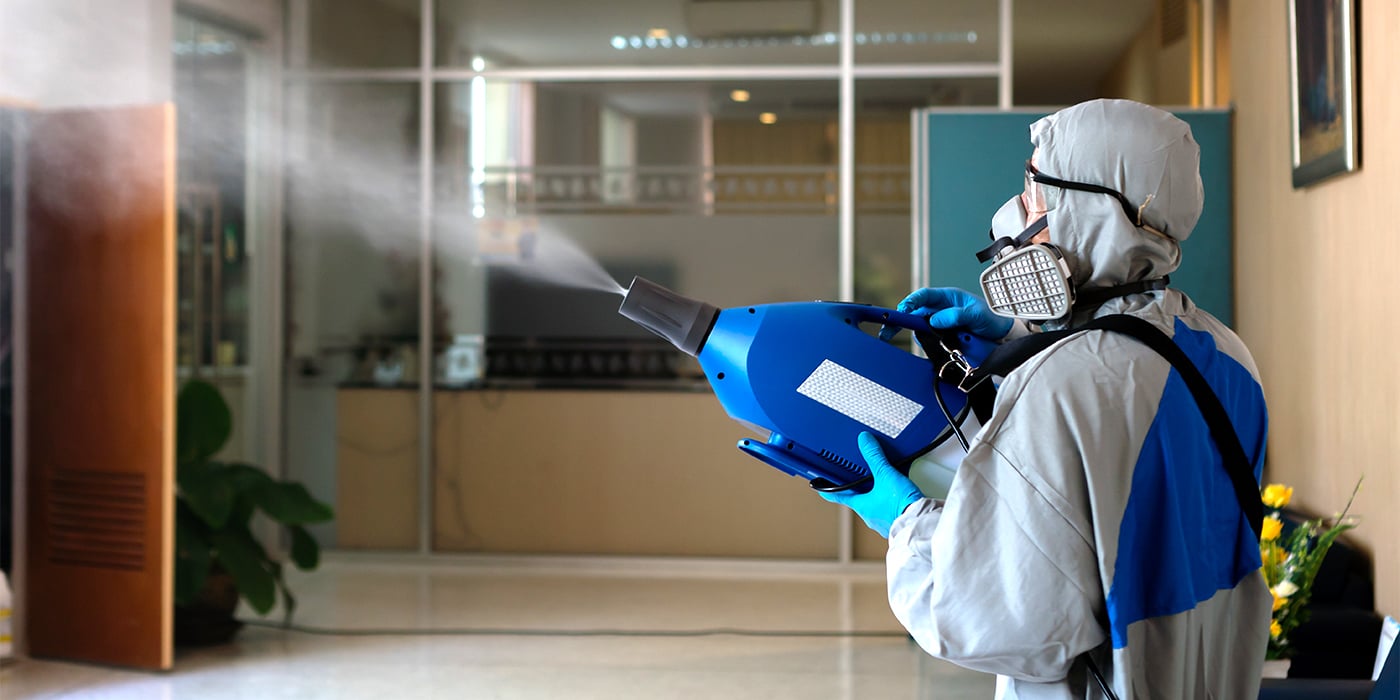 Non-Electrostatic Disinfection Applicators
For those situations that do not require an electrostatic disinfection machine but an even misting distribution of disinfectants, sanitizers or cleaners, there are several types available. Larger 20-gal capacity machines, such as the I.C.E. iW90D.A.T. Dispersion Application Tool, are great for applying disinfectants over a large area. With a 2 hour and 46 minute run time it can apply disinfectants, sanitizers or cleaners up to 300,000 surface square feet per tankful. These machines are great for use in schools for applying the misting disinfectant in classrooms on all touch points, desk tops, chairs, floors, walls etc. They are perfect for gymnasium locker rooms, weight rooms, bleachers etc. Everywhere there is a concern for killing germs, bacteria, viruses, mold and mildew.
Common applications where the disinfectants can be sprayed are: office buildings, schools, workout facilities, restaurants, government buildings, municipalities, public transportation and hospitals.

Using a portable handheld airless sprayer, like the Titan FlexSpray by Nilfisk, makes applying disinfectants, sanitizers or cleaners easier than ever. Just fill up the quart container with your disinfectant of choice and you're ready to go. The Titan FlexSpray lays down an even coat of disinfectant mist on the surface of the object needing to be cleaned at a delivery rate of .20 GPM. For higher production rates with a one-gun sprayer the Titan Impact 410 by Advance has a delivery rate of .47 GPM to .60 GPM.
Non-electrostatic sprayers that do not require the use of a proprietary chemical can use either an alcohol based disinfectant with ethanol or Isopropanol or a water based disinfectant that may include one or more of the following: Aldehyde, Phenolic, Quaternary Ammonium Compounds, Sodium Hypochlorite (Bleach), Peroxyacetic Acid or Hydrogen Peroxide.
Some non-electrostatic disinfection applicators require the use of a proprietary chemical with their machines.