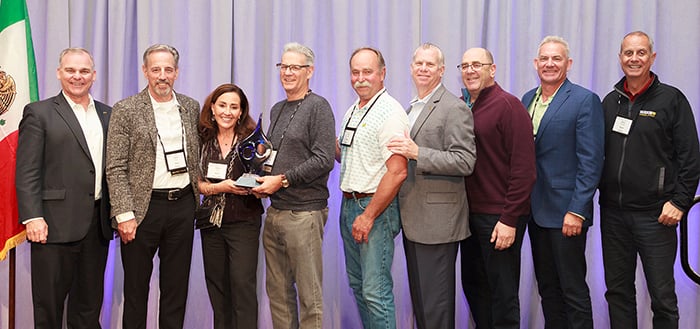 Pictured from left: Alan Tomblin, CEO and President, NETWORK; David Wax, EVP, WAXIE Sanitary Supply and Chairman of NETWORK; Sharon Wax; Charles Wax, Chairman and CEO, WAXIE Sanitary Supply; Rick Hazard, VP of Marketing, WAXIE Sanitary Supply; Warren Noble, VP of Supplier Relations, NETWORK; Jeff Roberts, President and COO, WAXIE Sanitary Supply; Jim Fischer, VP of Business Development, WAXIE Sanitary Supply; Steve Thomas, VP of Corporate Accounts, WAXIE Sanitary Supply.
Long Time Member to Serve as Chairman of the Board
FOR IMMEDIATE RELEASE
NEWS PROVIDED BY: WAXIE Sanitary Supply, written by Jeff Roberts
April 10, 2019
San Diego – David Wax, Executive Vice President of WAXIE Sanitary Supply, has been elected by the Board of Directors as the Chairman of NETWORK® for a two-year term.
David has held numerous positions within NETWORK over the past 25 years, including Vice Chairman, and has been active in various committees. Mr. Wax will lead the NETWORK Board of Directors and the NETWORK membership, aligning with strategic suppliers and key customers globally.
David started his full-time career with WAXIE in 1977, progressing in roles through customer service, purchasing, sales, and sales management. When WAXIE acquired a Salt Lake City distributor of sanitary maintenance supplies in 1984, David relocated to Utah to serve as General Manager. In 1988, he accepted the role of Division Manager for the company's Los Angeles operations. He moved back to San Diego in 1994 to oversee marketing and then later took on the leadership role for the company's corporate accounts initiative. In 2012 David became the Executive Vice President of WAXIE's California branches.
"All of us within NETWORK, look forward to working closely with David and capitalizing on his experience, creativity, and ideas as he leads our Board of Directors," said Alan Tomblin, President and CEO of NETWORK. "Our supplier community and our NETWORK customers can count on David for his continued support and commitment to growth and service excellence," he concluded.
"I am honored to accept the position as Chairman and look forward to the opportunity to serve our membership and our customers. NETWORK is a dynamic organization and I am proud to play a part in our continued success," said David Wax.