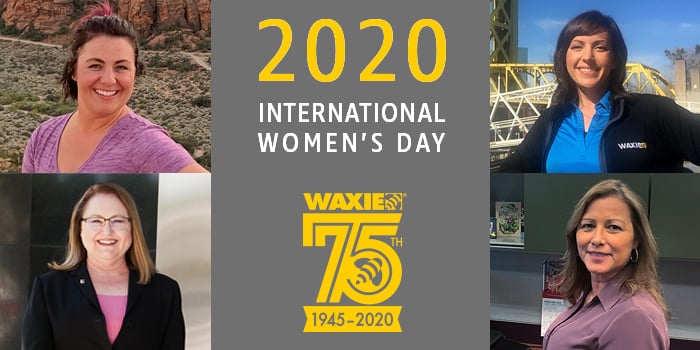 Some of the amazing women who work at WAXIE Sanitary Supply: Clockwise from the top – Lettie Parker-Mendoza, Cherisse Mekeel, Barbara Corral and Alisa Konsulian.
March 4, 2020
International Women's Day is this Sunday, March 8th. In honor of that, we'd like to shine a light on four of our amazing staff members who we often rely on for help & guidance.
The Jan/San industry can be a tough one – especially for front-line cleaning & maintenance staff. With long hours and a physically demanding workload, there are so many woman who are working tirelessly to make a difference! Not just in keeping places clean & healthy, but in promoting professional growth & development. This includes being involved in ISSA's Hygieia Network, which actively provides resources, support & mentorship for the advancement of women throughout all levels of the cleaning industry.
At WAXIE, women play crucial roles in many positions, from Maintenance Staff to Drivers to Account Consultants, and we consider ourselves lucky to have so many amazing women working for us! Let's celebrate.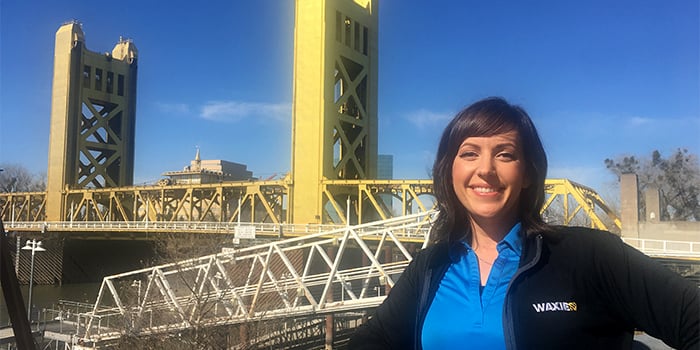 Cherisse Mekeel – Warehouse Manager at WAXIE Sacramento
What is your role at WAXIE? I am the Warehouse Manager in the newest WAXIE location located in West Sacramento, CA. In my role I enjoy working closely with the team and with other departments to improve our processes and get our products to our customers quickly while maintaining the highest level of service.


What do you like about working at WAXIE? There are so many reasons! The support and encouragement that WAXIE offers their employees is something I had not experienced before. The people throughout this organization offer genuine support and encouragement to one another whenever needed. It truly feels like a family atmosphere at work each day.


What part of your job are you most proud of? I am most proud of our team making it through the acquisition/transition.* Adapting to unfamiliar processes and policies quickly wasn't easy. It is something we should all be very proud of! Each and every person persevered through difficult times, we overcame challenges as a team, and most importantly we made it!! So far, it has been the most rewarding experience of my career.


What are you most passionate about? I am most passionate about helping others. I believe it is the key to happiness. You never know what people are going through, even a little act of kindness could make someone's day!


What is something that most people don't know about you? I love listening to 90's music and drinking my bulletproof coffee every morning. If you haven't tried the coffee, I highly recommend it!! Hello ENERGY!
* WAXIE acquired Sac-Val Janitorial Supply, a distributor in Sacramento, CA and the San Francisco Bay Area in September 2018.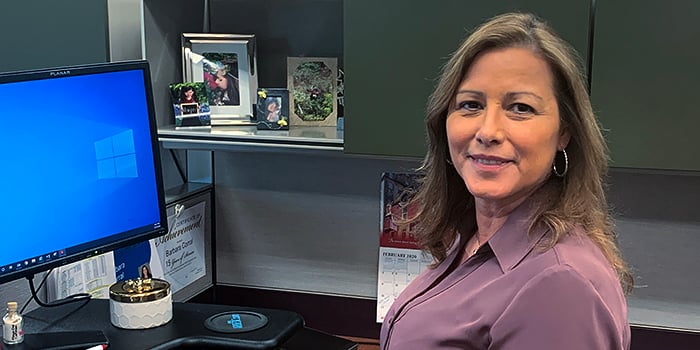 Barbara Corral – Team Service Manager at WAXIE Arizona
What is your role at WAXIE? I am one of three Team Service Managers at WAXIE's Mesa, Arizona location and have been with WAXIE for the past 16 years. My team consists of a group of outside Sales Consultants and a Customer Service Representative. Together we take care of our customers' needs and offer solutions to any challenges they may have. I support my team by handling all the internal projects and daily business so they may be freed up to be out in the field calling on existing accounts while also being able to call and open new accounts. I also play a role in helping to coach, mentor and help with the development of our Customer Service Team.


What do you like about working at WAXIE? There are many reasons why I like working at WAXIE. One of them is that I love the fast pace and the feeling of accomplishment I have at the end of each day. I know when I walk into work every morning, I am not going to have the same day as I did the day before. Every day presents a new challenge. That is what makes it so exciting. I also like the fact that I work with an amazing group of people here in the Mesa. They really take pride in their work and really want to see each other succeed. Everyone just jumps in to help when a project needs to get completed or a customer needs to be taken care of.


What part of your job are you most proud of? I am most proud of the relationships I have made with our customers, vendors and my co-workers. It makes me very proud of the impact that I have been able to make in helping people and the appreciation they show me back for all my hard work. I am also very proud of the role that I have played in helping our team's growth year after year. I look forward to keeping it going.


What are you most passionate about? There is not any one thing that I am passionate about. I am passionate about whatever is happening at that moment and about any upcoming events in either my life or my family's life. I love to take an idea and build on it to improve the outcome. I will always give whatever it is my full attention and I am always ready to jump in and help whenever and where ever I can.


What is something that most people don't know about you? Even though I enjoy spending time with my family and friends, I try to see as much of the world as I can two weeks at a time every year. What most people do not know about me is that I am a true homebody. I love spending time at home. Whether it is just spending time working in the yard or if it is a large home project. I am not afraid to pick-up a hammer, wrench, paint brush, etc. I enjoy it very much. And when I am not working on projects around the house, I like to binge watch TV with my dog, Cody. He is the only one in our household that likes to watch the same things as I do!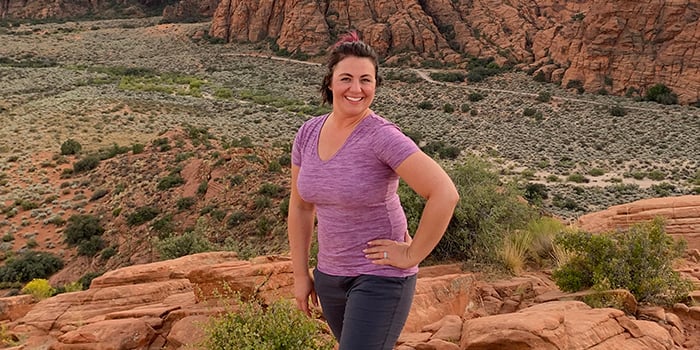 Lettie Parker-Mendoza – Lead Sales Administrator/IT Liaison at WAXIE Salt Lake City
What is your role at WAXIE? If there's something going on you'll probably find my fingerprints. And if you have a tech problem I'll help you solve it. I'm not a catch all, but have been known to do it all. Just call me Wonder Woman! I make things go smooth and seem easy. I'm the glue. I'm a people person and work hard to have quality internal and external relationships.


What do you like about working at WAXIE? I have a good variety of responsibilities and there's usually always something going on. I enjoy being productive and pride myself in a job well done. I appreciate the good working relationships I've had and have. I found my one true love (aka. husband) at WAXIE.


What part of your job are you most proud of? My first vendor trade show/customer appreciation day when I had never done one before (and had very little training on what or how to do it). In the words of a couple vendors, "This is the best trade show I've been to and I've been to a lot!" The rest is history! I like making it look easy from behind-the-scenes every time.


What are you most passionate about? I'm passionate about people, adventures, health (mental, emotional, physical & spiritual), and the outdoors.


What is something that most people don't know about you? I'm the only daughter and grew up with three brothers, but I'm the biggest sports fan out of everyone. I was a football and soccer season ticket holder for many years, and this will be my first year in about 15 that I'm not a season ticket holder of some kind. Now I have 7 nieces and only 1 nephew and don't know what to do with all the girls!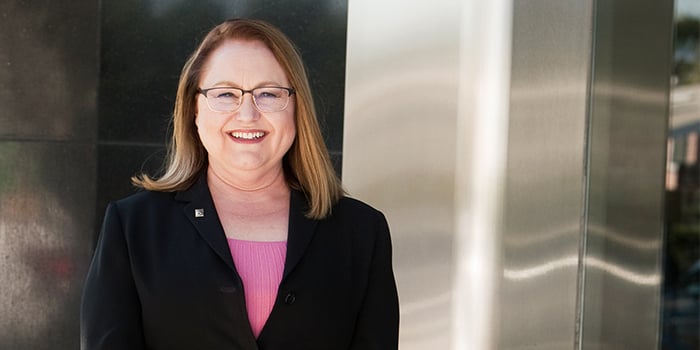 Alisa Konsulian – Sales Manager at WAXIE Santa Ana
What is your role at WAXIE? This is my 27th year with WAXIE and I have held several positions within three branches of WAXIE (Los Angeles, Ontario & Santa Ana). Currently, I am a Sales Manager at WAXIE Santa Ana, working with eight Account Consultants. My main role is to support my team and help them with achieving their sales goals.


What do you like about working at WAXIE? WAXIE is a family owned and operated and a family culture is practiced daily by everyone. WAXIE provides so many opportunities for all. I am originally from Russia and WAXIE helped me with achieving my American Dream. For me it means having

the opportunity to prosper through hard work, without discrimination, and to make money to buy a house and help the next generation

. Thank you Wax Family!


What part of your job are you most proud of? All my accomplishments were achieved with help from others. Company leaders believed in me and gave me opportunities for growth. Through their coaching and support, I was able to achieve many goals. David Wax was the first person who gave me the opportunity to become an Account Consultant, as he hired me without outside sales experience. My prior experience was with Continental Manufacturing as a Customer Service Manager. I am forever grateful to David.


What are you most passionate about? My family is one of the most important focuses in my life. I have been closely involved with my niece and my nephews lives since they were born, as well as with the children of my close friends. I love children and it is a pure joy to watch them grow and see life through their eyes. As the kids have grown up, I don't see them as often, so currently I am obsessed with my miniature schnauzer, Max. He is adorable!


What is something that most people don't know about you? I enjoy classical music, ballet and opera, and I love going to those type of concerts. I also used to scuba dive and traveled to many tropical places with my favorite being Fiji. The most relaxing thing that I

LOVE

to do is to have a spa day. It is the ultimate relaxation!