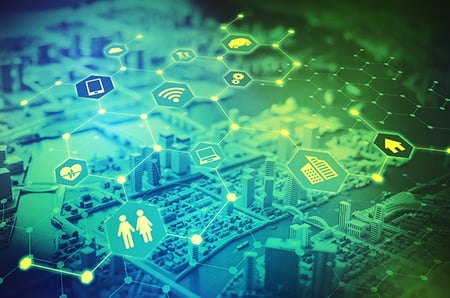 If you've heard of a "Smart Home," or ever worn a health and fitness tracker, you know what the "Internet of Things" is. But understanding how the Internet of Things (IoT) might apply to the cleaning industry may take a little more imagination. Fortunately, WAXIE has been hard at work with its vendors to provide IoT solution that help our customers keep their facilities cleaner, greener, healthier and safer.
Read on to learn more about how WAXIE and its vendors are using IoT to provide innovative solutions to common cleaning problems.
1. Waste and Recycling Collection
Overflowing trash cans are disgusting. They present a health risk and an eyesore. Just one trash can over capacity could ruin an otherwise fantastic customer experience. But without real-time information, it's difficult to solve this problem in a cost-efficient manner.
IoT, however, provides cleaning professionals with a new weapon. First is the collection history information, which you can also think of as a performance report. By analyzing this information, cleaning professionals gain insights into when and where trash cans are likely to require more frequent collection. You may find, for example, that your collection schedule needs to be scaled up during one time of year, and scaled back during another.
The second piece of information—fullness status—is more like a failsafe. By knowing which receptacle is full, you'll know when to collect so you can avoid trash can health hazards and eyesores.
Combine these powerful insights with the ability to harness solar energy to power efficient trash compaction, and overflowing trash cans will be no more.
2. Commercial Power Floor Cleaners
Automated floor cleaners have made great strides in recent years. And with IoT applications, the progress continues to march on.
By connecting your floor cleaner to your phone and/or computer, you can automate floor cleaning tasks, perform remote diagnostics and repairs, and monitor cleaner routes. This helps you avoid costly downtime with preventative maintenance. And it helps make your floor cleaning as efficient as possible by enabling you to monitor and adjust cleaning routes.

3. Smart Restrooms
The same sort of intelligent planning and maintenance provided by IoT for waste and recycling collection is being applied to restrooms. This is done in the form of restroom management systems that communicates real-time information about the restroom.
In addition to dispenser status and usage reports, you'll be alerted to situations that require immediate attention like trash overflows or low supplies. One of the bests parts, however, is the performance reports which indicate historical usage data. With that data, you can understand specific restroom needs and implement solutions that save labor and provide a cleaner environment for users.
4. Equipment Management
Equipment management trackers empower cleaning professionals to monitor and maintain their entire fleet in one, easy-to-use interface.
Equipment management systems employ a similar concept as the smart restroom and waste collection systems, but they're applicable for various cleaning equipment. In this way, the entire fleet of cleaning devices can be managed and monitored.
The applications are a few—among many—ways IoT and WAXIE areis providing a familiar result for the cleaning industry: streamlined logistics with customized cleaning solutions
.