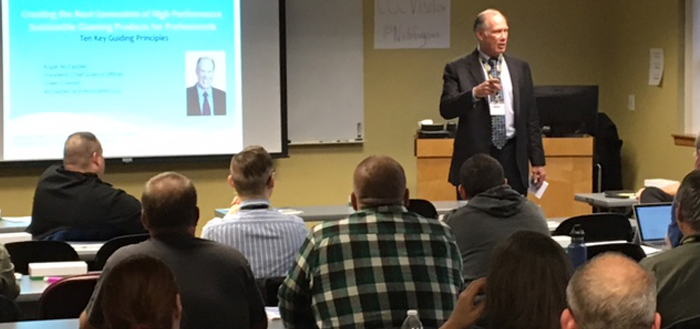 By: Rick Jones
On January 18th WAXIE had the opportunity to introduce ourselves and our capabilities into the Salem and Eugene areas of Oregon.
With the recent closing of a local distributor, and the addition to WAXIE's sales force in this market, we hosted a seminar for over 40 local facilities at Chemeketa Community College. The goal of the seminar was to introduce WAXIE, share our Mission Statement, and listen to our potential customer's needs! We really appreciated everyone who made it considering the bad weather & rough travel conditions.
We had five presentations and guest speakers to share and facilitate discussions on five important topics – our GPS® Green Partner Support™ program, green cleaning technology, online eLearning capabilities, public sector purchasing requirements and options, and the evolution of sustainable chemistry.
Keith Schneringer introduced WAXIE's philosophy on sustainability with our our GPS® Green Partner Support™ program. GPS looks at multiple aspects of building cleaning and maintenance from the cleaning products themselves, as well as recycling systems and conservation efforts – everything needed to support our customers green initiatives.
Keith also discussed our dilution control system and the green chemistry involved in our system. Dilution control systems ensure the correct product to water ratio is used every single time, which saves money and is less wasteful. Currently 15 of our 31 Solution Station products are third-party certified through Green Seal, UL Environment's ECOLOGO® program, EPA Safer Choice program or the Carpet & Rug Institute's CRI Seal of Approval program.
The next presentation was given by Renee Sanchez who went over WAXIE's Web@Work and eLearning platforms. Web@Work is our online ordering portal, where customer can access all the tools needed to order and manage their account. They can make shopping lists, download SDS documents, analyze usage information, and more. Our attendees were very interested in our online ordering capabilities, especially our spend management and approval capabilities.
Our eLearning platform allows users the ability to train 24/7 online in subjects like deep cleaning restroom procedures, hard floor care gloss restoration, cafeteria cleaning, classroom cleaning, etc. Each training course includes pop quizzes and a certificate of completion, not to mention the availability to take them in English & Spanish.
The fourth presentation was by Mike Muscara who talked about WAXIE's growth in the public sector and our mission of transparency to our customers! He also shared the numerous GPO's we participate in and how these cooperative contracts are a great benefit to a facility.
Keynote speaker Roger McFadden gave the last presentation of the day on the Evolution & Future of Sustainable Chemistry. Roger is the scientist who created the successful Sustainable Earth chemical product line.
He spoke of the how he began his career meeting with customers and discovering their needs and then formulating a product to meet them. He also spoke about how customers need to be vocal about their needs, and that they can be a change agent to make sure that companies listen to the end-user.
Roger also expressed the importance of protecting the workers and the planet for our children's children!
Afterwards, Roger shared with the attendees how he felt that WAXIE has a great deal to offer the customers who purchased from the now closed local competitor. He stated that WAXIE has the right vision, people and logistics to assist customers on their sustainable goals.
As always, we'd like to thank our vendor partners in the community and Team WAXIE employees who helped to make this such a memorable event.
If you're interested in learning more about WAXIE's Commitment to Sustainability or how to begin a sustainability program at your facility, click here.
READ MORE: