By: Blake Vanderwiel, WAXIE Sanitary Supply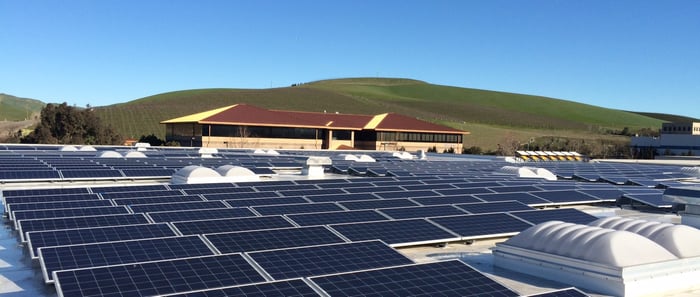 WAXIE Sanitary Supply is committed to not only helping our customers keep their facilities cleaner, healthier, greener and safer, but by incorporating new innovative technologies we are making sure that our own workplace environment meets those goals as well. Like our customers, we think that conserving energy & resources is important. WAXIE is continuously looking for ways to reduce and conserve energy usage, including implementing a "LED lighting retrofit" plan at several facilities, and adding more CNG (compressed natural gas) delivery trucks as part of a pilot program to offset our carbon footprint.
WAXIE began investing in sustainable energy with our first solar panel project at our Santa Ana division in November of 2012. Since the first two projects, at the Santa Ana and San Diego divisions, went exceptionally well WAXIE added two more solar energy projects at our Northern California, and Ontario California locations.
By the Numbers… A Snapshot of the Solar Energy Projects
WAXIE Santa Ana: 952 solar panels installed, 80% electricity usage offset
WAXIE San Diego: 1,260 solar panels installed, 80% electricity usage offset
WAXIE Northern California: 922 solar panels installed, 71% electricity usage offset
WAXIE Ontario: 900 solar panels installed, 85% electricity usage offset
Total Solar Panels Installed: 4,034
Average Electricity Usage Offset: %79

A Partner to Rely On
WAXIE's partnered with Palomar Solar, another locally family owned business in San Diego, who has done 3 of the 4 solar installation projects, and who have included a "performance guarantee" that if a certain amount of production wasn't met, that they would then pay the difference! The largest of the four solar panel projects was the San Diego division with 1,200 total panels installed, which was also Palomar Solar's largest installation to date. All four installations went smoothly and all four locations have seen significant 80% energy bill offsets.
As an added bonus Palomar Solar created a great flying drone
video
of the projects:
WAXIE is the leader in the Jan-San industry and will do our best to continue leading by example in our continuous efforts to conduct business as efficiently as possible implementing new technology. We feel it is important to continue investing in new technology that helps move us forward in business for the future! We are committed to our philosophy of
"Serving the Customer is the Focus of Everything We Do."
We have helped many of our customer's building facilities become LEED certified by not only implementing green products, but training our customers on the best practices in green cleaning in order to be as efficient as possible. WAXIE Knows Clean. WAXIE Knows Green. WAXIE Knows Service.
READ MORE
Investing in Renewable Energy WAXIE Goes Solar
BigBelly Solar Intelligent Waste and Recycling Collection System Overview
Commitment to Sustainability