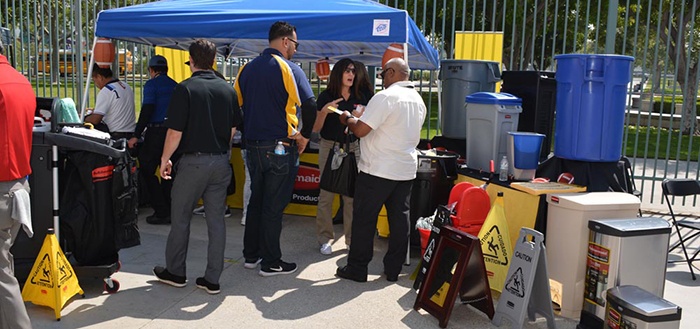 By: Christina Betancourt & Bob Gattis
On Thursday, May 12, 2016, WAXIE Ontario hosted a Customer Appreciation Day at the historic Los Angeles Memorial Coliseum and Sports Arena.
The Coliseum is the current home to the University of Southern California Trojans football team. It will also be the upcoming temporary home to the Los Angeles Rams for the 2016, 2017 & 2018 NFL seasons. Previously, the Coliseum has hosted the 1932 Summer Olympics Games and the 1984 Summer Olympics Games.
With a high temperature of 73 degrees, it was a beautiful day! The turnout was amazing with approximately 600 customers in attendance during the event hours of 10:00 AM to 2:00 PM.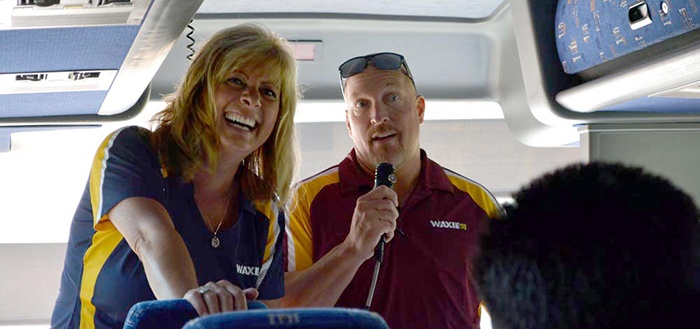 WAXIE chartered two buses to make it easier for customers to be able to attend. One bus from Ontario, CA hosted by Tim M. and Sherry O. and one from Palm Springs, CA hosted by Jeff O. On the chartered buses, each of the hosts engaged those on board by playing WAXIE trivia games, BINGO & 20 questions.
As the customers arrived, they were signed in by our talented Sales Administrators and other volunteers. They were then given their name tags, raffle tickets for various prizes and their lunch voucher. We had customers in attendance from as far as Indio and Bakersfield.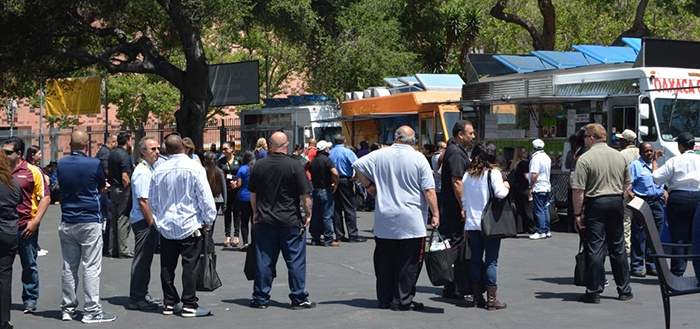 Our customers had a great time with many of them taking advantage of the "Photo Booth" using the scoreboard as the backdrop. For lunch, attendees had four very good food trucks serving burgers, Mexican food, grilled cheese and sliders, while WAXIE President & COO, Jeff Roberts, gave a great speech to those in the lunch area thanking everyone for coming out and for choosing to do business with WAXIE.
Everyone stayed hydrated throughout the day with drink stations located at each end of the show. They also were able to stay cool by standing in front of the Port-A-Cool Hurricane that was set up on the main breeze-way.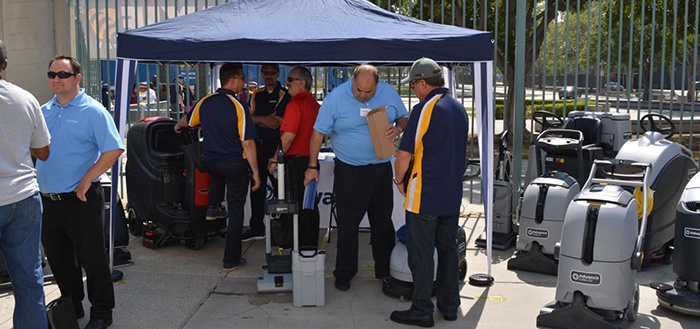 The major focus and activity throughout the day was on equipment automation and new technology. Customers could spend time with all of our vendors and check out products in-person with live demonstrations and samples.
Georgia-Pacific won the Spirit Booth award for best booth at the event!
Other vendors in attendance were: 3M, American Paper Converting, Americo, Andersen Mats, Bigbelly, Bobrick, Carlisle, Clorox, Crown Ludlow, Dial, Diversey, Ecolab, Ettore, Excell, Expanded Technologies, Geerpres, GOJO, Heritage Bag, Hospeco, Host, Impact Products, Kimberly-Clark Professional, Mats Inc., Nilfisk-Advance, NSS, OMI Industries, Orchids, Port-A-Cool, Premier Mop, ProTeam Vacuums, Rubbermaid Commercial Products, SCA, Spartan Chemical, SquareScrub, TMI, Unger, Urimat, Windsor/Kärcher, World Dryer, Zep and WAXIE Brand.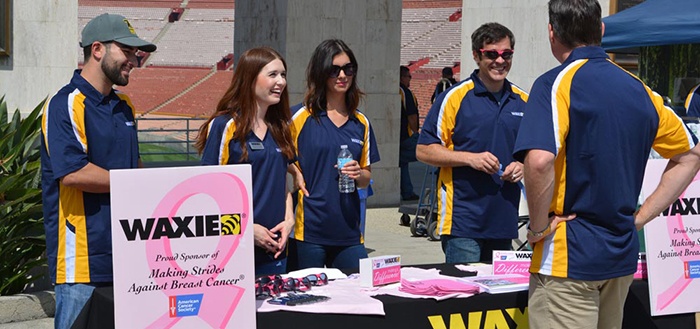 Our WAXIE Human Resources team (including Sean C., Patricia R., Elise D. and the new recruiter David V.) manned our American Cancer Society's Making Strides Against Breast Cancer organization booth where they helped to raise funds and awareness for the upcoming Making Strides Walks that Team WAXIE is participating in this autumn by hosting a 50/50 raffle. The winner of the raffle was a customer from the LA County Sheriff's Department. We were very appreciative of all the support we received and raised $200 for Making Strides.
Other prize giveaways at the event included gift cards, Beats by Dre earbuds, a GoPro camera, a DVD player, an Amazon Fire Stick and two flat screen TV's. One of the flat screens winners was a very excited customer from UCLA!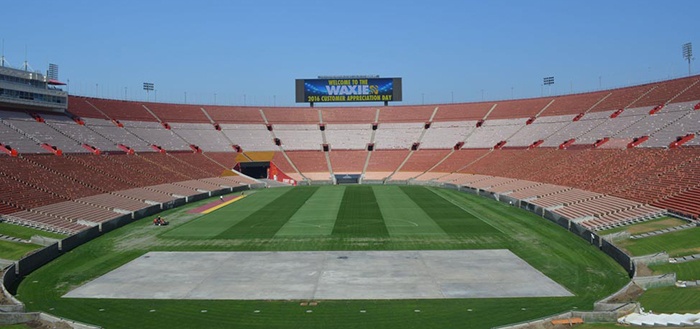 Customers were also able to take tours of the Coliseum, which included visiting the press box where they could see where the media and coaches sit during the games. They also toured the locker rooms, and got a chance to walk out of the tunnel and onto the field like the players do on game day.
Overall it was a great event and while many people contributed, and we'd like to recognize and thank Lead Sales Administrator Natalie A. who played a big part in coordinating this event with a lot of help from Theresa C., one of our Sales Managers. They both did a fantastic job!
We're all looking forward to next year's event!