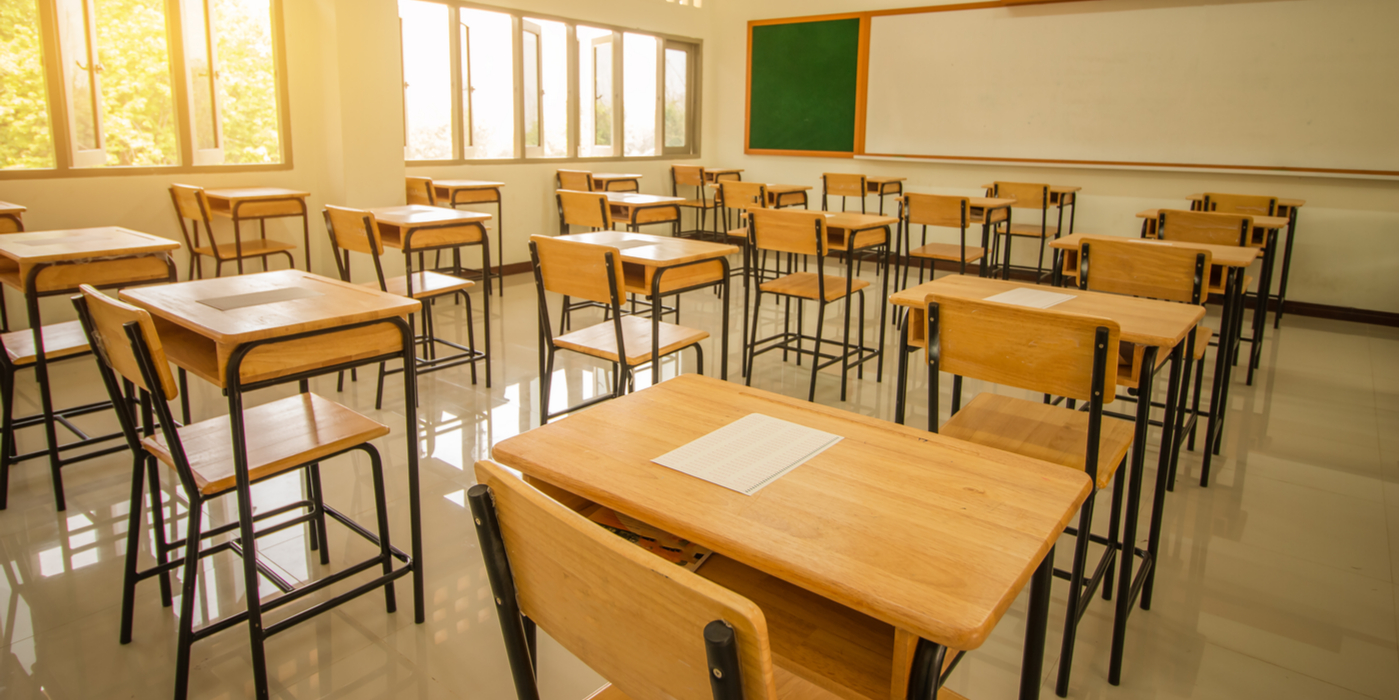 By: Caitlin Dimalanta | May 31, 2022
Almost 100% of students in the U.S. have returned to schools across the nation for in-person learning. There are upwards of 50,000,000 students enrolled in pre-K-12 in our public school systems. When schools first re-opened for the 2020-2021 school year, it was estimated to cost approximately $2,000,000 per school district to safely reopen, taking into account the need for increased facility maintenance and transportation costs.
With these additional recurring expenses, congressional funding created COVID relief plans for pre-K-12 schools. Among these plans there are three huge resources that support pre-K-12 school funding: the CARES Act provides $13.2 billion, the Coronavirus Response and Relief Supplemental Appropriations Act (CRRSA) $54.3 billion and the American Rescue Plan (ARP) with $122 billion.
The allocation of these funds call for thorough strategizing to promote the health of students and foster a healthy learning environment. Schools have been utilizing the additional funding for tools that help improve overall cleanliness and efficiency within their facility maintenance plans. An impactful way to increase student health and decrease absenteeism is through improved indoor air quality (IAQ).
The Need For COVID Relief Funds
Since March 2020 COVID Relief Plans have been passed starting with the CARES Act, then CRSSA in December 2020 and finally with the ARP in March 2021. Each school district receives funding proportionate to the dollars received through Title I. The intended use of these funds ranges from distance learning equipment to curriculum/staffing needed to address/stabilize learning loss and to purchasing resources to clean and disinfect schools properly.
It has been difficult for schools to actually spend these funds due to the ever shifting nature of this pandemic and the legislation that comes with it. States are provided about $2.4 billion each in funds from the ARP with a deadline to spend them by September 2024. Short term solutions are more difficult to alleviate with these funds. School officials said "...because any new staff may have to be laid off when the money expires." Also, taking into consideration labor shortages and supply-chain issues deciding what to spend these funds on has been extremely difficult for school districts.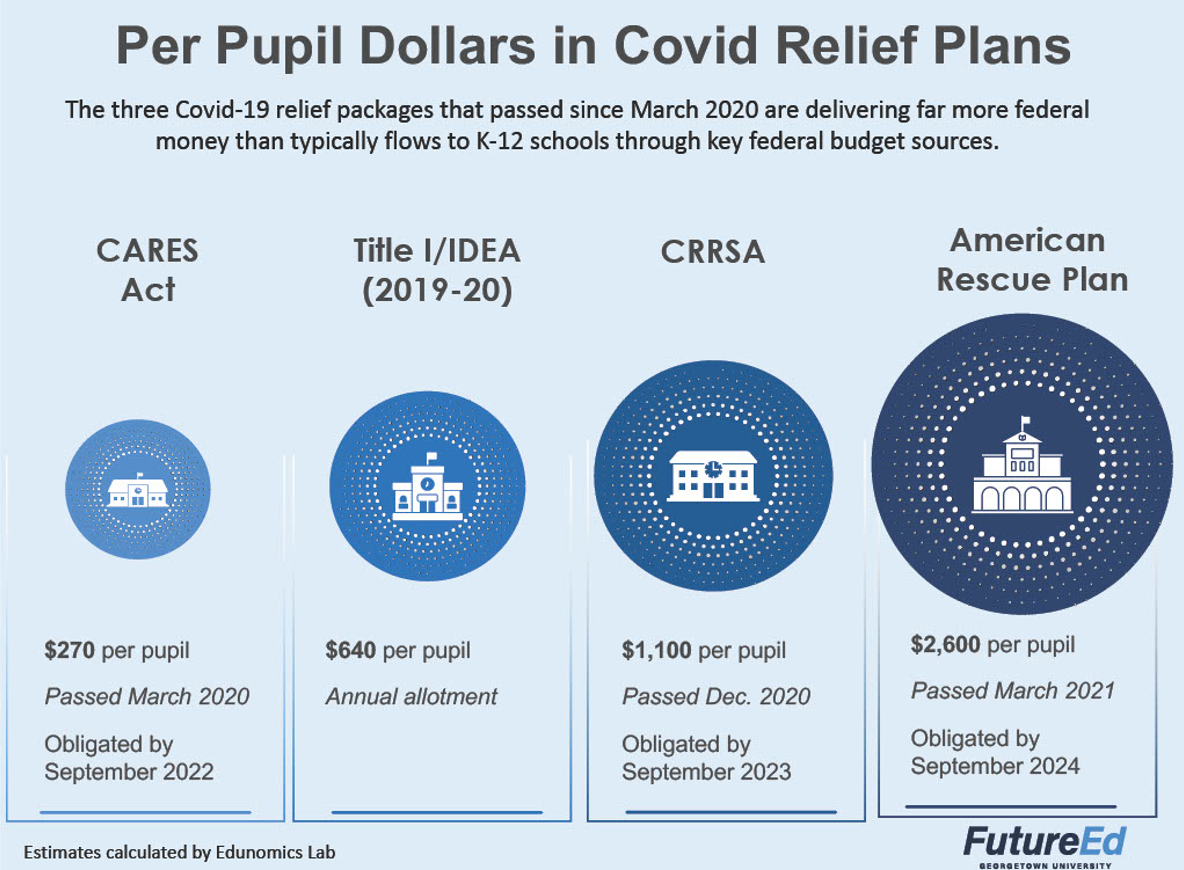 Image Courtesy of Future-Ed.org
Use It Before You Lose It: Strategic Spending Suggestions
School districts have utilized COVID relief funds to increase efficiency within facility maintenance through enhanced cleaning technology. The country's largest school district, New York City, has honed in on improving indoor air quality (IAQ) by installing upgrades to the school ventilation system with their funds.
The U.S. Department of Education provides multiple strategies on how you can spend your ARP funds. Improving IAQ is a game changer when it comes to providing an optimal learning environment. With most of the school day spent indoors, ensuring high IAQ is vital to the overall learning experience for students. Indoor spaces with low IAQ can leave lasting effects on the health of students. The short-term effects of low IAQ include: irritation of the eyes, nose, and throat, headaches, dizziness, and fatigue. The long-term effects pose the potential risk of respiratory diseases, heart disease and cancer.
Classrooms provide optimal conditions for harmful pollutants to fill the air with odors, bacteria, germs and airborne viruses. With these contaminants wafting through learning environments, schools are at risk of increased rates of absenteeism and decreased productivity. One of the most efficient ways to tackle this challenge is by incorporating a commercial grade air purifier.
Before selecting an air purifier that best fits your facility's needs, here are key factors to take into account:
Size of the Space – Choose an air purifier that can service the square footage of the space and also consider the

Air Changes per Hour

(ACH) of the unit. Units with high ACH filter out more air contaminants.
Filter Type – Make sure the air purifier you choose is able to filter out the intended particles/pollutants.
Sound Level – Certain air purifiers are more ideal for quiet environments such as classrooms, ensure you select a unit noise-level appropriate for the setting.
Wall-Mounted vs. Portable – Will the unit be a permanent fixture in the space or is portability important?


Now that you've identified the air purifier qualifications for your facility, it's time to select a dependable and high quality commercial grade air purifier. Not sure where to start? No worries, we've got you covered with the AeraMax Professional Units by Fellowes®. Each purifier is equipped with a comprehensive hospital-like four-stage filtration system that can capture 99.97% of all airborne contaminants. This product line offers units that are designed to provide cleaned, fresh air for a variety of spaces. Check out how AeraMax Professional can benefit your school campus today!
With the first spending deadline coming up in September, allocating funds in such short notice creates a new challenge. In addition to addressing your schools air quality needs, consider these supplemental approved uses for the COVID Relief Funds: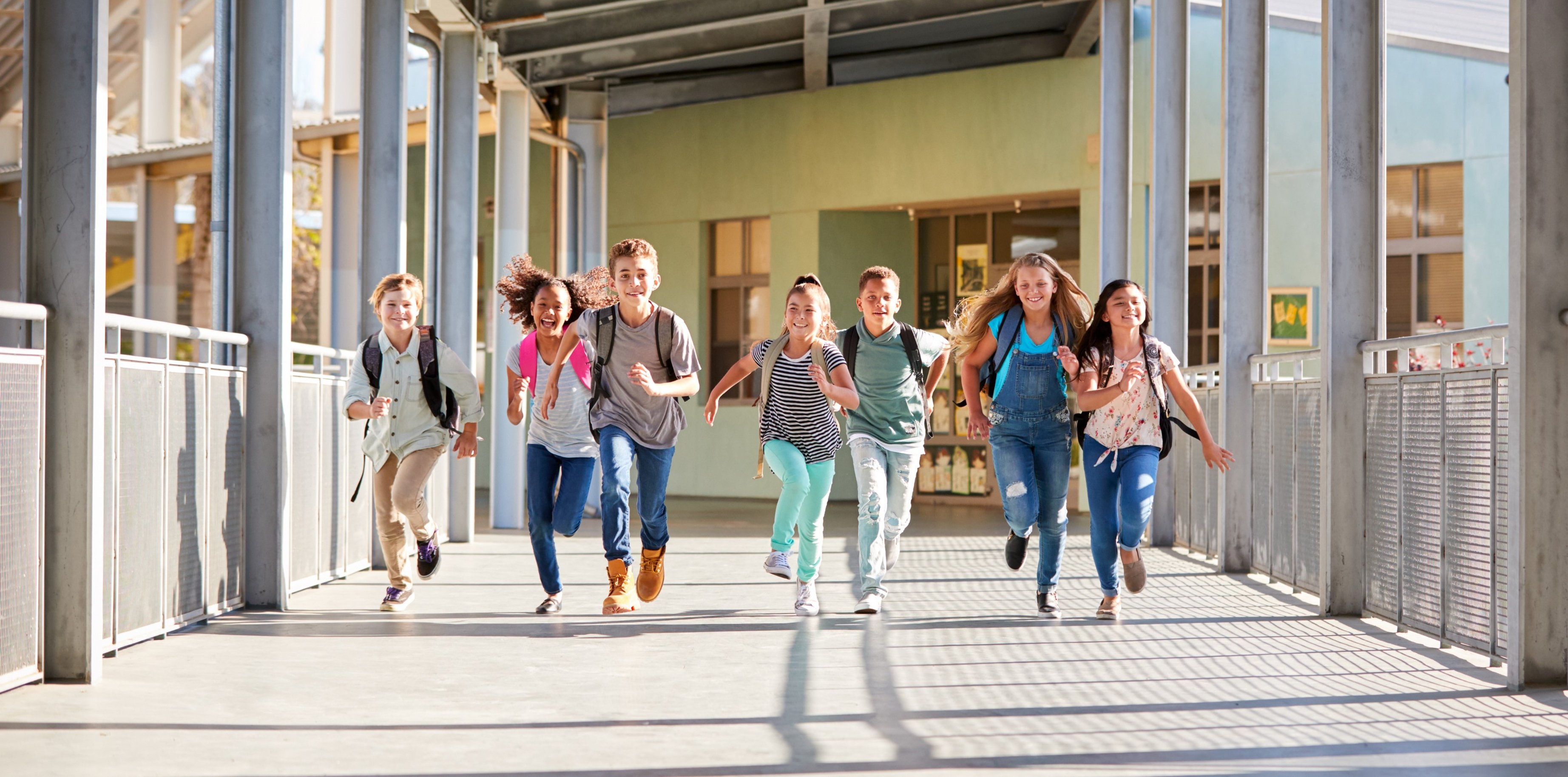 WAXIE is committed to helping our customers keep their facilities cleaner, healthier, greener, and safer. That means creating customized cleaning solutions to meet your specific needs, and then providing the ongoing training and support to help you achieve a cleaner and healthier building environment with improved indoor air quality. 
Please contact your WAXIE Account Consultant today to schedule a consultation. 
---
Caitlin Dimalanta is WAXIE's eCommerce Specialist. She enjoys researching and implementing various SEO (search engine optimization) strategies to enhance WAXIE's eCommerce platform Web@Work. Caitlin has a Bachelor's Degree in Marketing from San Diego State University.