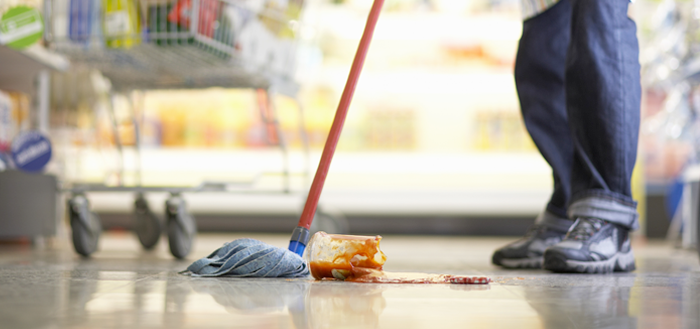 By: Mike Anderson
Linoleum & Marmoleum (a brand name type of linoleum made by Forbo Flooring Systems) flooring surfaces are very durable, but accidents can happen and they sometimes get scratched. Here are some procedures that will, in most cases, repair the floor to where you don't see the scratch.
Remember – always try the least invasive procedure first and only move on to the next procedure if the repair is not successful.
If the scratch is superficial, into the top layer only, rub the area with finish (such as WAXIE Pro Shine). This will blend the scratch with the surrounding area because Marmoleum, like wood, has color that goes through the material. The finish will disguise the scratch. This works best for a small area.
NOTE: You can use masking tape on the floor to isolate the area before getting started.


If this doesn't produce good results, try scrubbing the scratched area with neutral floor cleaner (such as WAXIE Pro Shine or WAXIE Pro Klenz) diluted per the instructions on the container, and a light pad to rough it up a little. Then apply finish. This can be repeated a few times if necessary before applying finish.
NOTE: Even though the color goes through the material, for patterned floors the deeper you go into flooring material the less uniform the color will be.


If scratches span a large area use a floor machine with a light to medium pad to strip the effected floor area. This abrasion will smooth out and dull the surface. Thoroughly rinse and neutralize the floor. It will still be hazy at this point. Then apply thin coats, 2-3, of floor finish to restore, even the finish, and remove the haze.
Mike Anderson is the Commercial Equipment Specialist and Consultant for WAXIE Ontario. He is IICRC certified for carpet and hard floors, and an expert in hard and soft floor care maintenance, restoration and solutions. You can find Mike on Twitter (@waxiemike) where he posts about his two favorite things – equipment & floor cleaning challenges!
READ MORE:
Cleaning Tips for Linoleum Floors
How Marmoleum Works
Floor Matting Systems – Protecting Your Investment at the Front Door
The Benefits of Scrubbing & Recoating Your Floors
The Original Vinyl Composition Tile (VCT) – Asphalt & Asbestos Flooring