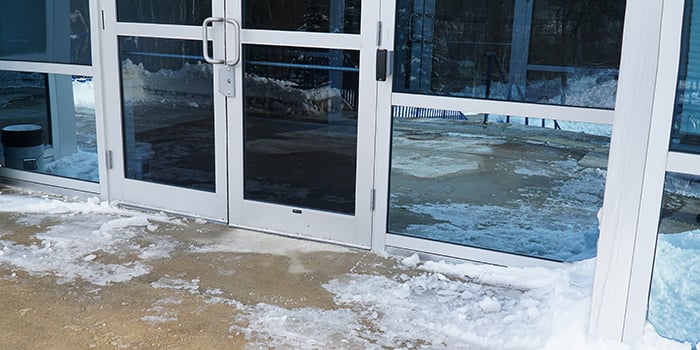 By: WAXIE Editorial Staff | February 28, 2013

Having a maintenance program in place for taking care of your carpets is important in all weather conditions, not just winter, but some seasons need more attention than others. During the winter months we see a lot more rain, snow, dirt and debris entering our buildings and carpets can take a beating. Having an effective plan for daily/interim/deep cleaning is half the battle, but proper staff training is just as important for keeping your carpets in good shape.
Hang a calendar in the janitor's closet, or have a log, to keep track of when non-routine tasks have been completed or use it to schedule seasonal extraction cleaning. Not only will you not have to remember the last time you deep cleaned, but multiple staff members will be in the same page. Better yet, consider using interim or deep cleaning tasks as training opportunities for teaching new staff or as a brush up reminder for experienced staff!

The 10 Commandments (OK, maybe we should call them recommendations) of Carpet Care During Winter Months
Originally published in U.S. Products - February 22, 2013 eNewsletter
1) Keep outside dirt outside. More then 80 percent of the soil and moisture on indoor carpet is tracked in as people walk into buildings. Keep building exteriors clean so that less dirt ends up inside.

2) Place and maintain walk-off mats. Mats, at least 12-15 feet long, should be placed at all building entries to absorb soil and moisture before it gets on indoor carpeting.

3) Vacuum more to clean less. Vacuum all high-traffic areas, entries, and main hallways more often. Vacuuming not only removes dry soil, but it also keeps it from becoming airborne and spreading, covering desks, cabinets and surfaces.

4) Use efficient vacuum cleaners. Commercial, high-efficiency vacuum cleaners in good working order are essential to good carpet care. Vacuums with HEPA air-filtration systems help keep the indoor air clean and the environment healthy.

5) Have a spot-removal program in place, weekly or monthly. Also, keep a plan in place to deal with the build-up of ice melt or salt in carpets. More frequent deep cleaning will be required if you are in a snowy climate.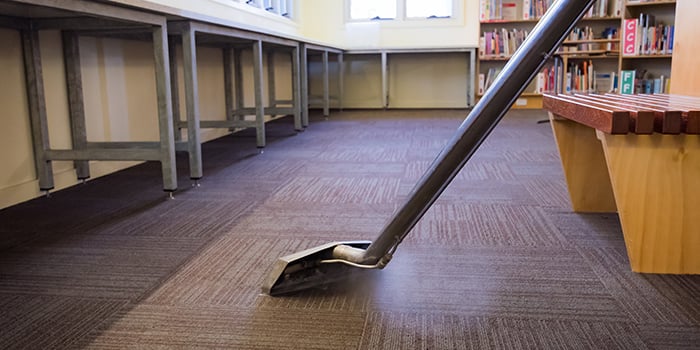 6) Focus on the lower floors first. Spend more time and effort cleaning and vacuuming lower floors. Soil removed on the lower floors has less chance of traveling throughout the building.

7) Carpet stairs and elevators. Stairs and elevators are among the first areas to collect tracked-in dirt. Carpeting these areas helps trap dirt, and frequent vacuuming will keep it from moving throughout the facility.

8) Deep clean with hot-water extraction. Hot-water extraction is generally recognized as the best way to revitalize and deep clean carpet. Heat is essential in all cleaning. To be most effective, the carpet cleaning solution should be at least 212 degrees Fahrenheit at the wand tip. As a general guideline, hot-water extraction should be carried out two to three times per year depending on traffic, area and use.

9) Pre-spray and then groom. Pre-spray visibly soiled and spotted areas on carpets and then agitate with a carpet groomer or rake. Allow 5 to 10 minutes of dwell time to loosen and emulsify soiled areas.

10) Involve the building's tenants. An effective carpet maintenance involves the building's occupants. The more actively involved building users are in the cleanliness and maintenance of their own facility the more likely the building's carpets will stay clean and the building healthy.
Source: www.usproducts.com
READ MORE:
The Importance of Matting in Your Facility
Ask Sadie: The Benefits of Matting Programs / Ten Terms Everyone Should Know About Mats
Forget the Car, Buy or Lease a Chariot by Windsor
Carpet Spotters
WAXIE-Green Encapsulation Carpet Care System