Another year has passed, but as we look forward to all that 2013 has to offer it's nice to remember the best of 2012. Here's a list of our top 10 favorite products of 2012. Do they match up with your favorites? In no particular order...
1. Microfiber Terry Towels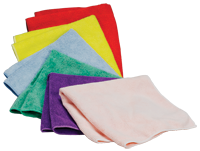 Prevent cross-contamination or color-code by department with 6 colors available for use with a variety of tasks. Microfiber performs best when dampened with water or cleaning solution, and they can be used dry. Constructed from 70% polyester and 30% polyamide synthetic fibers, each cloth will lift and trap lint, dust particles, dirt, grease, grime, waxes and oily residue. Cloths can be washed and reused hundreds of times and they hold up to 7 times their own weight in liquid. Do not use bleach or fabric softeners when laundering as they can diminish the effectiveness of the microfiber. Air dry or use low machine settings to protect polyester and polyamide fibers. 16"x16". Microfiber terry towels come a dozen per case.
Ordering Info: Blue - #770400; Green - #770401; Pink - #770402; Yellow - #770403; Purple - #770404; Red - #770505
Why we love them: They are colorful, easy-to-use & they work great!
Learn more: WAXIE-Green Microfiber Products
2. Watermiser Waterbroom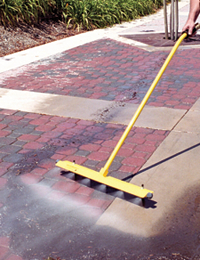 Simple to use, attaches to a garden hose. Uses up to 75% less water & labor with remarkable cleaning results and areas dry quicker without sending soaps and solvents into the groundwater or down the drains. Heavy-duty industrial manufactured using heavy gauge aircraft aluminum with solid brass jets and fittings. Features dual insulated hand grips and industrial hose quick connect for hot or cold water applications. Multiple spray heads decrease cleaning time.
Ordering info: 21" Waterbroom #292321; 31" Waterbroom - #292322; 36" Waterbroom - #292323; 46" Waterbroom - #292324

Why we love them: They do a great job of cleaning, use a remarkably small amount of water, and they embrace the scientific "Venturi effect".
Learn more: Water Conservation - Watermiser Waterbroom
3. BigBelly Solar Intelligent Waste & Recycling System
The BigBelly Solar Intelligent Waste & Recycling Collection System has been designed to harness the power of information technology and renewable energy to solve an expensive and messy problem: how to more efficiently manage the process of collecting solid waste and recycling. The solar panel extracts energy from the sun and transfers the power to a battery for storage. On-board controls software takes fullness input from a photo eye and triggers compactions automatically. When the compactor reaches predetermined fullness levels that indicate a pick up is required, external LED indicators are triggered. For units equipped with wireless monitoring, the fullness and required pickup status is visible and trackable from a remote computer.
Ordering info: BigBelly Single Station - #610813; BigBelly + SmartBelly Double Station (shown in image) #610814; BigBelly Compacting Duo- #610815; BigBelly + SmartBelly Triple Station - #610816; SmartBelly Single Station- #610817; SmartBelly Double Station - #610818; SmartBelly Triple Station - #610819
Why we love them: They are solar-powered, compact waste and recyclables like the Disney character Wall-E, and they send you messages to let you know how full they are. They are the Smart Grid for Waste and Recycling. They combine renewable energy, compaction in place and information technology to create an innovative collection system that eliminates 4 out of 5 collection trips, and lets you know when it's contents are ready to be picked up (saving labor and reducing emissions).
Learn more: BigBelly Solar Powered Trash Compactor
4. Doggie Waste Bags & Dispenser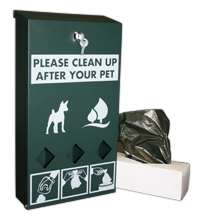 Doggie Waste Bags are designed to make picking up after your pet more tolerable. They are thicker than normal waste bags that provide less "feel to the touch," which can be uncomfortable and are dark enough to reduce an unattractive see-through appearance. These waste bags are non-biodegradable to ensure that the bacteria in the waste does not get into the ground and into the water system. The high capacity Doggie Waste Bag Dispenser is both attractive and informative. It holds five boxes of waste liners and dispenses three liners at a time, saving costly refilling labor and reducing the risk of running out.
Ordering info: Doggie Waste Bags - #701600; Doggie Waste Bag Dispenser - #701601

Why we love them: Convenient, useful, and serve an import purpose in getting rid of unpleasant & stinky nuisiance, as well as preventing parasites from getting into the water runoff system.
Learn more: WAXIE Doggie Waste Bags Brochure
5. Advance Adfinity REV X20R 20" Orbital Autoscrubber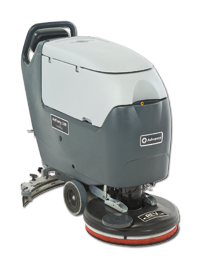 Features a dual random orbiting (2,250 orbits/minute and 30-RPM 2nd orbit) scrub head that has the ability to clean in four different and distinct cleaning modes. The REV's pad provides consistent contact across the cleaning path and features an orbital motion that spins at 2,250-RPM. These orbits attack the dirt from multiple directions, and hold the cleaning solution in the full length of the pad, compared to traditional rotary scrubbers that sling water away from a round pad. The REV can clean chemical free or with plain water. The REV has the ability to damp strip VCT or Terrazzo floors without using chemicals. The REV can clean with detergent utilizing the dashboard mounted detergent on/off button for variable dilutions (1:32 to 1:400) from low to "burst of power" chemical usage. The 10.5 gallon solution and recovery tanks provide up to 105 minutes of continuous cleaning and will reduced trips for dump and refill.
Ordering info: Advance Adfinity REV X20R 20" Orbital Autoscrubber - #570441
Why we love it: Several cleaning modes in just one machine, can adjust detergent dilutions from the dashboard, and is less messy than traditional autoscrubbers.
WAXIE Service Centers can also repair & rent out machines depending on your needs. For a complete list of services contact a WAXIE location near you.
Interested in leasing options? Calculate the cost of leasing equipment online with Providence Capital & get your application approved in as little as 2 hours.
6. HOS ORBOT SprayBorg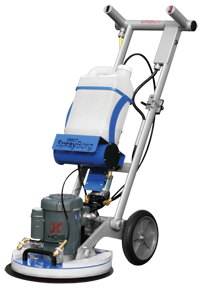 Engineered to Conquer Any Surface. The Orbot differs from traditional cleaning equipment in the way it is engineered. The Orbot generates thousands of small 3/8" orbits that spin at 1725 revolutions per minute. This orbital drive motion provides the most effective form of carpet and hard floor maintenance available. The Orbot is the most compact, versatile commercial and residential orbital floor machine. The Orbot has been engineered to offer sizes from 17" up to 23". In one single machine, the Orbot's cleaning path can transform from 17" up to 23" by simply changing out the driver to the required size. This unique driver system also mounts to an assortment of pads and brushes to clean, scrub, sand, strip and polish any carpet and hard floor. The HOS system was designed in mind to support a healthy, "green" environment. HOS' unique low-moisture system uses 10 times less the amount of water opposed to other water extraction methods. Carpets will simply be clean, vibrant in color, and dry within minutes. Hard floors can be stripped, polished, and honed chemical free due to HOS' unique orbital drive technology. The system will eliminate the most common problems caused by other cleaning methods that lead to mold growth, mildew, volatile organic compounds (VOC), insufficient drying times, recurring stains, toxic chemical use, and safety hazards.
Ordering info: HOS ORBOT SprayBorg - #575800
Why we love it: Very compact, can be used on a variety of surfaces (wood, tile & grout, stone, carpet, vinyl, concrete, epoxy, and more), and has a bunch of available accessories that can be used with it.
Learn More: HOS ORBOT SprayBorg Flyer
7. Nitrile Powder Free Gloves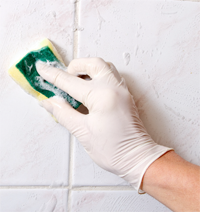 Nitrile Powder Free General Purpose Gloves: Powder-free, disposable, general-purpose white nitrile gloves with a rolled cuff. Ambidextrous, highly chemical and puncture resistant glove with superior tear strength, textured grip and dexterity, & is FDA compliant. Applications: Food preparation, general light-duty cleaning, painting, manufacturing and parts assembly, & precision parts handling; any non-medical applications needing dexterity and sensitivity.
Nitrile Disposible Powder Free Exam Gloves: Powder-free, disposable, medical grade white nitrile gloves with a rolled cuff. Ambidextrous glove has a textured grip and is FDA compliant. Applications: Medical and dental, lab work, handling blood and bodily fluids, and foodservice.
Ordering info: Nitrile Powder Free General Purpose Gloves White - Small #790150/Medium #790151/Large #790152/X-Large #790153; Nitrile Disposible Powder Free Exam Gloves White - Small #790370/Medium #790371/Large #790372/X-Large #790373
Why we love them: Easy-to-put on, latex free so you don't have to worry about an allergic reaction, can be used for multiple purposes.
Learn more: ProGuard Nitrile Gloves Flyer
8. WAXIE Power Blitz All-Purpose Power Cleaner

Super powerful, laborsaving, ready-to-use, spray-and-wipe cleaner. Leaves no residue and has a mint fragrance which is not overpowering like some cleaners. Removes grease, ink, crayon, pencil, lipstick, black heel marks, smoke film, greasy food soils and other tough stains on most washable surfaces. This advanced formula emulsifies grease and dirt and suspends them for quick removal by just wiping it away!
Ordering info: WAXIE Power Blitz All-Purpose Power Cleaner (32 oz.) - #410040; Trigger Sprayer - #890040
Why we love it: It's just amazing! Gets rid of any stickiness on stove tops & anywhere grease splatters. Just spray it on, let it sit untouched for a few seconds & the grime wipes right away.
9. WAXIE Liquid Microbes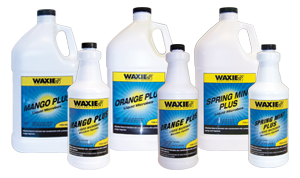 WAXIE Liquid Microbes, available in three fragrances (Mango Plus, Orange Plus and Spring Mint Plus), contains a general purpose consortium of beneficial microbes concentrated to 220 billion units per gallon. Recommended for use in: general purpose odor removal, cleaning of restrooms, kitchens, offices, carpets, etc., and other applications.
Ordering info: Mango Plus Quart - #160730; Mango Plus Gallon - #160734; Orange Plus Quart #161990; Orange Plus Gallon - #161994; Spring Mint Plus Quart - #162070; Spring Mint Plus Gallon - #162071.
Why we love them: They work great, come in multiple fragrances & they are less harmful on the environment.
10. WAXIE Grouted Tile Maintenance System

Grouted surfaces, such as tiled floors can be breeding grounds for mold, bacteria and ultimately odors if not properly cleaned. Without a proper maintenance program, this build-up can collect in grout lines. Grout is very porous so in addition to general soil buildup, bacteria causing soils such as urine in restrooms, animal fats and proteins in kitchens and body oils in showers are able to penetrate the surface and become embedded. This not only makes future cleaning and odor control more challenging, but can permanently discolor the grout and create a poor perception of clean in the facility.
Ordering info: Grout Rescue - #324044; Grout Guard - #931184; Grout & Tile Seal - #931194; Grout & Tile Maintainer - #324054
Why we love this system: It cleans, it protects & it maintains. Enough said.
Learn more: Grouted Tile Maintenance System