Q: Hi Sadie- It's that time of year again when we're all gearing up to enjoy time off with friends & family. What are some preventative holiday safety measures I can take so I can enjoy all the fun festivities this season brings? Thanks! -Roberta
A: Hi Roberta, I think that we're all excited about this time of year, but safety is definitely important so that we can enjoy the season to its fullest! There are many safety precautions that you can easily put in place and are simple to keep up that will cause your holidays to be stress-free both at work and at home.
AT WORK

If you are decorating your cubicle or workplace…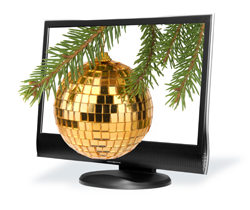 Never leave your holiday lights unattended. Set a reminder in your email calendar to go off a half hour before you leave for all the days you have your lights on.
Be carful about overloading your electrical outlets; watch out for overheating, which may cause a short or a fire. Make sure that the cords don't present a tripping hazard.
Don't block hallways or exits with crepe paper or decorations that will hinder people exiting the building in an emergency.
AT HOME

"An estimated 240 home fires involving Christmas trees and another 150 home fires involving holiday lights and other decorative lighting occur each year." - U.S. Fire Administration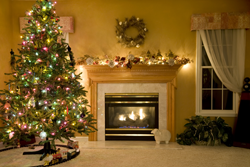 The winter holidays are a joyous time of year, but play it fun & safe with these tips (below) from the U.S. Fire Administration Site (http://www.usfa.fema.gov/citizens/home_fire_prev/holiday-seasonal/holiday.shtm).
Christmas tree selection, care & disposal
Fireplace safety
Holidaylight maintenance & safety
Holidaydecoration safety, including wrapping paper
Candle care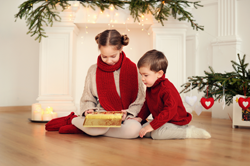 IMPORTANT: Don't forget to include your kids in your safety plans! Make them part of the holiday safety team. Teach them what to look out for. Show them why something might be dangerous. Let them help you come up with solutions for potential safety hazards, like cords that may pose a tripping hazard. Not only will it make them aware of what's safe and unsafe, but they'll be the first ones to tell you when there is a problem!
If your kids are too young, think about what your child might get into. Place ornaments higher up on the tree. Avoid decorations like tinsel or flocking the tree that might be toxic if a child accidently decides to 'taste' something. Choose the appropriate toys for their age and read the labels on packaging. Discard plastic bags or wrapping that may cause suffocation. You can find more holiday safety tips for kids at http://pediatrics.about.com/cs/safetyfirstaid/a/holiday_safety.htm
PET SAFETY

When thinking about holiday safety, don't forget to think about your pets. Are you aware of what plants are toxic to your pets? Do you know what decorations are fun for you, but are dangerous to your cat or dog? The ASPCA lists a few tips to pet owners specific to the holidays: http://www.aspca.org/pet-care/pet-care-tips/holiday-safety-tips.aspx
A Few Tips for Pets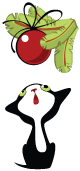 Buy safe toys for your animals' stocking stuffers
Don't leave candles unattended
If you have a tree, close off access to the tree water so that pets don't drink it,

especially

if you're using an additive to try and keep the tree fresh, not to mention potential traces of fertilizer
Anchor your tree down to prevent tipping over from both overzealous kids or climbing pets
Inspect your tree decorations often, ornaments can be fascinating to pets and no one wants to deal with cleaning up broken ornaments or an emergency vet visit due to a swallowed ornament hook!
Have a room that your pet can retreat to as a safe zone during a party to get away from loud noises or unfamiliar people

Dangerous Items Include
Plants: Holly, mistletoe, lilies, poinsettias, etc.
For a more complete list go to http://www.aspca.org/pet-care/poison-control/plants/
Foods: Chocolate, grapes, anything in the allium family (onions, garlic, etc.), anything sweetened with xylitol (an artificial sweetener), etc.
For a more complete list go to http://www.humanesociety.org/animals/resources/tips/foods_poisonous_to_pets.html
Decorations: Tinsel (pets can swallow tinsel & it'll get stuck in their digestive track), electric wires or cords (pets like to bite them), candles, ribbons & bows on presents, holiday ornaments, plastic shopping bags, etc.
Do you have any holiday safety tips? Leave a comment below.

References