By: Briana Smith, Melissa Fortin & Kathy McKinzie
Employees at WAXIE Arizona are giving back to the community by donating time and resources to assist the United Food Bank, Helen's Hope Chest, Paz de Cristo Outreach Center and the DSNetwork.

In May, we collected 68 containers of jelly/jam and 73 containers of peanut butter for the Peanut Butter and Jelly Food Drive benefiting the United Food Bank. The United Food Bank provides more than 40,000 meals to hungry people in Arizona every day. And did you know that 1 jar of peanut butter and 1 jar of jelly provides 10 meals to those in need?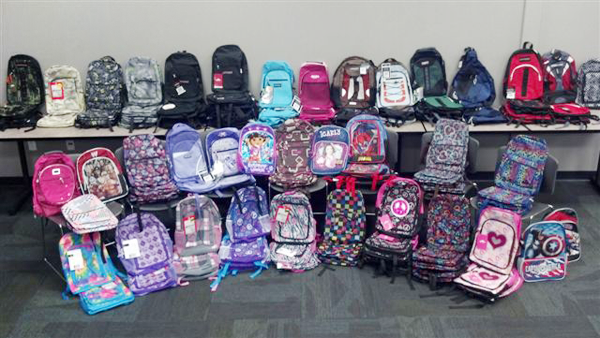 Then in July, we sponsored a backpack fundraiser in support of Helen's Hope Chest. Helen's Hope Chest helps provide foster children with basic needs such as clothing, school supplies, books and toys. We raised a total of $646 and through some creative shopping; we were able to purchase 145 backpacks.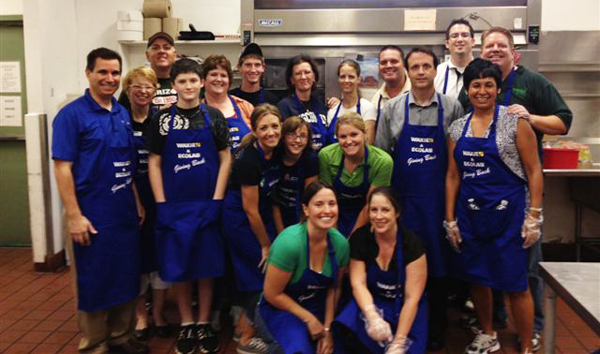 Volunteers from WAXIE Sanitary Supply & Ecolab at the Paz de Cristo meal service on August 9, 2012.
On the second Thursday of August, September and October 20 volunteers from both WAXIE Arizona & Ecolab, and their families, prepared, served and cleaned up for meal services at Paz de Cristo Outreach Center. Each meal service provides between 180 and 260 meals per night. Paz de Cristo is an organization that provides community outreach through a nightly meal service and emergency food boxes in addition to providing some clothing, hygiene items and a limited amount of diapers and formula.
Also in support of Paz de Cristo, the Empty Bowls Project, which raises money for various charities, had an event that was attended by WAXIE employees. Local artisans donate bowls to the project where a simple soup with bread is offered at a luncheon. Guests make a cash donation in exchange for the soup and leave with a bowl as a reminder of all the people in the world with empty bowls.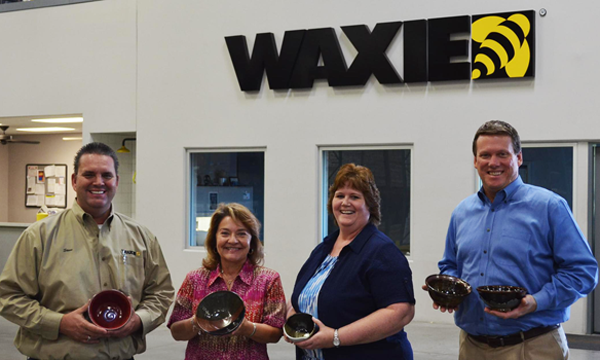 From left to right: Steve Rhea (Warehouse Manager), Kathy McKinzie (Sales Administrator), Melissa Fortin (HR Administrator) & Gene Kearns (Operations Manager) who participated in the Empty Bowls luncheon on October 24, 2012.
On October 27, 2012 WAXIE had a team of walkers and supporters at the annual Step UP for Down Syndrome Walk with the DSNetwork organization showing our support for the acceptance and inclusion of individuals with Down Syndrome. The walk was held in conjunction with the Arizona State University Homecoming Parade.
The WAXIE Walkers raised a total of $2,350 for the DSNetwork. Our team, in combination with the fundraising efforts of Laura Chapnek, raised a total of $4,470. This made us the #2 team for fund raising in 2012! The event overall has raised $46,696 in contributions.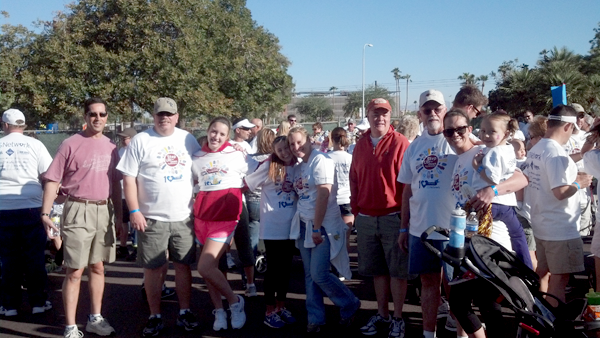 WAXIE Walkers at the 2012 Step UP for Down Syndrome Walk in Tempe, AZ at Arizona State University.
In November of 2012 we are sponsoring another food drive to help stock the shelves at the United Food Bank during the busy holiday season. We encourage our customers to participate by donating money, dropping off non-perishable items to their local food bank or to collect non-perishable food (no glass containers) and bring them to either our Mesa or Tucson facilities, where we will have collection bins in the lobby, by November 30, 2012 and we will include them in our donation.
Most needed items include: cereal, soup, canned meat (tuna, chicken, etc.) or meat alternatives, peanut butter, beans, canned vegetables, milk (canned or dried), canned tomato products (including juice & sauces), as well as rice & pasta.
Click for 2012 Holiday Food Drive Flyer PDF
It's been a busy but fulfilling year of giving back to the community and we look forward to continuing our efforts into 2013. Without the generous support and dedication of the WAXIE employees and their families, none of this would be possible. Thank you to everyone for your very generous support.
For more information:
United Food Bank: http://unitedfoodbank.org/
Helen's Hope Chest: http://www.mesaunitedway.org/helens-hope-chest-1
Empty Bowls: http://www.emptybowls.com/
Paz de Cristo Outreach Center: http://www.pazdecristo.org/
DS Network: http://www.dsnetworkaz.org/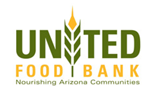 About United Food Bank: United Food Bank provides access to nutritious food through community partnerships, food distribution and education in the East Valley and Eastern Arizona. Their programs include Emergency Food Boxes, Helping Hands, Food for Thought, Kids Café, Help Yourself, Backpack Program & local network distribution to 140+ community organizations that provide meals and snacks to those in need.
About Helen's Hope Chest: Mesa United Way started collecting new and used clothing for children in foster care after state budget cuts drastically reduced the clothing allowance down to about $12 per month in 2009. Helen's Hope Chest helps foster children with their basic needs such as clothing, school supplies, books and toys. It is named in honor of the spirit of a woman who was a foster child for many years but was never adopted.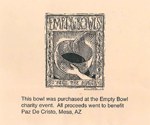 About Empty Bowls: Empty Bowls is an international grassroots effort to fight hunger and was created by The Imagine Render Group. The basic premise is simple: Potters and other craftspeople, educators and others work with the community to create handcrafted bowls. Guests are invited to a simple meal of soup and bread. In exchange for a cash donation, guests are asked to keep a bowl as a reminder of all the empty bowls in the world. The money raised is donated to an organization working to end hunger and food insecurity.

About Paz de Cristo Outreach Center in Mesa, AZ: At Paz de Cristo, feeding the hungry every day of the year requires money and vast amounts of food! We depend on the combined financial support of individuals, faith-based groups, community-based organizations, corporations and foundations that allows us to serve over 250 evening meals daily and to provide over 1300 food boxes a month.

About DSNetwork: Our mission at DSNetwork is to educate, support and advocate for those in our community impacted by Down syndrome. DSNetwork will achieve this goal through an open, supportive and collaborative network that will connect individuals and families with needed resources and information.