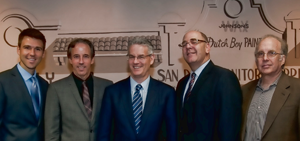 Grant Holm, David Wax, Charles Wax, Jeff Roberts & Sheldon Derezin
FOR IMMEDIATE RELEASE
San Diego, CA - WAXIE Sanitary Supply is pleased to announce and welcome Grant Holm as the company's Chief Financial Officer.
Effective August 13, 2012, Grant will take over the role of CFO and will be responsible for directing and implementing systems, policies and procedures related to WAXIE's fiscal operations. He will oversee all accounting and tax functions and elements that pertain to financial gathering and reporting, and he will interface with the senior management team to determine analytic and reporting needs directly related to the financials. "We are excited to have Grant join our team," remarked Charles Wax, Chairman and CEO of WAXIE Sanitary Supply. "Grant is only the 5th person in our 67-year history to hold the position of CFO."
Sheldon Derezin, WAXIE's outgoing CFO will remain as an advisor for the company and will oversee Grant's transition into his new role. "Sheldon has served the company well and we will miss his daily contributions," says Charles.
Grant comes to WAXIE with over 12 years of accounting, financial analysis and management experience. He is a graduate of Indiana University with a degree in Accounting, Finance and International Studies.