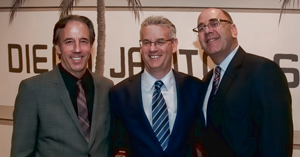 FOR IMMEDIATE RELEASE

San Diego, CA - WAXIE Sanitary Supply is pleased to announce several leadership changes in the organization.
Effective September 1, 2012, Charles Wax will become Chairman of the Board and Chief Executive Officer while promoting Jeff Roberts to President and Chief Operating Officer. In addition, David Wax, Executive Vice President, will assume responsibility of WAXIE's California divisions.
"I am proud to promote both Jeff and David into their new leadership roles," says Charles Wax. "Our goal is to continue to be the industry leader and having the right leadership is important. The success of our company is measured by the success of our people and this is a good example of the kind of success one can have at WAXIE."
Jeff and David have served their entire careers at WAXIE, beginning in 1976 and 1979 respectively and both have learned the business from the ground up. "I am honored to be the President of such a wonderful company and thrilled at the opportunity to lead WAXIE," remarked Jeff.
"Serving our customers, our employees and communities has always been our approach," says David. "I look forward to continuing that legacy in my new role."