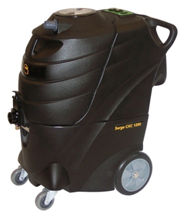 The NSS Surge CXC 1200 11-Gallon Dual Surface Cleaner provides the deep cleaning power of a truck mount extraction system at significantly less cost with the versatility of a portable unit that can be easily transported to your different job sites.
Tile and Grout Cleaning
The Surge CXC 1200 becomes a powerful tile and grout cleaning machine when used with the hard surface rotary tool. Two streams of 1200 PSI water turn the spray bar at 1400 RPM, providing consistent cleaning, even in the grout lines. The 1200 PSI streams quickly clean away the toughest soils from hard floors while the powerful vacuum shroud on the hard surface rotary tool suctions the dirty water back into the recovery tank. Two 0.75-in garden hose fittings allow for auto-fill and auto-dump of both the solution and recovery tanks.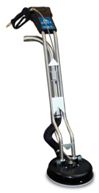 Restorative Carpet Cleaning
With the pressure regulator turned to 500 PSI and the carpet wand attached, the Surge CXC 1200 becomes a very powerful cold water restorative carpet extractor. Powerful dual vacuum motors provide 140" of waterlift. Productivity is increased and trips to the sink to fill or drain the machine are eliminated by the addition of two 0.75-in garden hose fittings that allow for auto-fill and auto-dump of the solution water.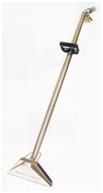 Performance and Features
The rotomolded polyethylene body resists dents and corrosion, translating to years of dependable service
A 500 – 1200 PSI Positive Displacement pump for quick cleaning of hard floors and deep cold restorative cleaning of carpets
A circuit locator indicates when the two cords are plugged into different circuits, preventing overloading of the building circuits.
At 75 dB A the NSS Surge has the power of an expensive truck mount extractor without the inhe3rent noise levels.
Clean hard floors or carpeting at 500 sq ft/hour.