How to Choose the Right Wet Mop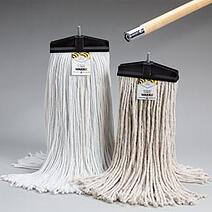 Choosing the right wet mop is important to overall mopping efficiency. The determining factors should be size, content and construction.

SIZE
A wet mop should be sized both to the person who will be mopping and to the wringer with which it will be used. The operator's physical size and strength should properly match the mop size to prevent worker fatigue and low productivity.

CONTENT
Wet mops are available in a variety of fibers and each type of fiber is designed for a specific purpose.

Cotton Fibers: Are the best value for every day use. Their low initial cost and excellent absorption characteristics make cotton mops ideal for routine or general-purpose mopping.
Rayon Fibers: Have fast absorption, are mildew resistant, lintless and dry fast. They are designed to pick up 6 to 7 times their weight yet have no retention capabilities. Because of the high-absorption, low-retention factor, rayon makes an excellent mop for floor finish application.
Blended Fibers: Are designed to obtain the best qualities of various fibers. Cotton – to absorb and hold water for effective floor drying. Rayon – for maximum water pickup. Polyester – For maximum strength and longer life. Blended mops provide better performance and longer life while withstanding heavy use and laundering.
CONSTRUCTION
Construction is equally important as size and content when choosing the proper wet mop. Some mops feature conventional cut-end construction; functional and affordable, they are ideal for almost any application from general-purpose mopping to applying floor finish.

Another type of mop is made with a continuous strand of yarn, looped at the ends and stitched together with a tailband to hold yarn strands together in a side-by-side uniform pattern. The looped ends reduce linting and shredding even under heavy laundry conditions. The tailband allows increased mopping efficiency by allowing maximum mop coverage on the floor's surface without gaps or missing spots.

A third type of mop each feature their own unique style of headband which is designed, when used with special handles, to allow the mop head to be disconnected from the handle in a fast, efficient manner.

MICROFIBER MOPS
Microfiber mops are another popular option that are like traditional style wet mops, but include the benefits of microfiber. They can be used with regular mopping equipment and are absorbent, lint free, and can be machine laundered hundreds of times. They also come in multiple colors, which you can use to color-code with cleaning chemicals to reduce the risk of cross-contamination by identifying use in different departments and surface areas.

WAXIE offers many microfiber options, including Microfiber Mopping Systems, to make it easier for you to clean your facility.


Click on the following to browse our catalog for:
- Mops and Handles
- Mopping Equipment
- Microfiber