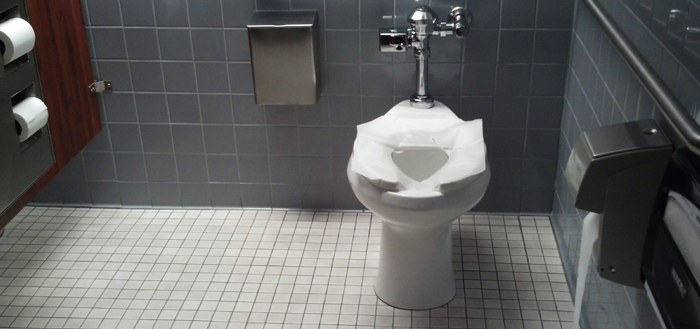 By: Briana Smith | May 15, 2014
Using a public toilet is not typically on the list of my favorite things to do. In fact, most of the time I will attempt to "hold it" for as long as possible to avoid having to use one. Sometimes though I don't have an option, and I have to actually brave it. Most of the time this happens when I'm out & about in an area that I haven't been to before, so I haven't scouted out the restrooms beforehand. Half the time I'm pleasantly surprised and discover that the restroom is perfectly fine with plenty of supplies, but the other half…
Regardless of the condition of the restroom, the second thing I do, after checking for a stall with toilet tissue (always #1 in importance), I reach for a paper seat cover, if they are available. I'm not sure why, but it always makes me feel slightly less grossed out, even though I've read that "most" toilets have less germs & bacteria on them then our mobile phones & handbags. Deb Group has a fantastic article on "Your Mobile Phone Is Dirtier Than You Think". Which reminds me…I'm reaching for my disinfectant wipes now!
I'm sure that it's only for peace of mind, but there's something to be said for having some sort of barrier and many toilet seat covers have a coated side. After all, I put a sweater or a blanket down (whatever is handy) I sit on the grass in a park so that my clothes don't get dirty and that works.
I have come across other solutions for sanitizing public toilet seats. The first one on the list are those automatic plastic toilet seat covers that rotate into a hidden compartment after each use, which I've seen at Chicago's O'Hare Airport & Frankfurt International Airport in Germany. These are interesting. It's a closed-loop system for single-use with the plastic dispensing from one side and rolling up on the other side once it's been used, sort of like manually rewinding an old music cassette tape. The plastic seat cover automatically moves when one waves a hand over a sensor.


Yet, these are controversial as well. Last year NPR reported in the article "Those 'Hygienic' Toilet Seats At O'Hare May Not Be So Clean" by Mark Memmott that the plastic can unintentionally wick liquid up from toilet bowl rims onto the seats. As a new covering is provided for each user this may not actually be that much of an issue, but I have to admit, it feels like sitting on a plastic bag, which is just weird.
While I was on vacation this past winter, I came across a couple of other toilet seat sanitizing ideas that I hadn't experienced before. The first was a manual toilet seat sanitizing system. This system was easy-to-use – just pull a couple of squares of toilet tissue from the roll, fold them over, hold them under the dispenser that sprays sanitizer onto the tissue and wipe down the toilet seat. The sanitizer dispenser even had easy-to-follow pictograms showing the process, which included a second set of pictograms showing that you could also use the sanitizer to wipe down the stall handle as you were leaving. Rather clever multi-use applications.
The second new toilet seat sanitizer system I discovered left me less than impressed. A good concept, but the execution was a bit more cumbersome, especially for women as bathroom stalls do not always have handbag/coat hooks, which means we have to precariously hold them so that they don't touch the floor. Men on the other hand may actually prefer this method as it involves a toilet seat that lifts automatically.


When you walk into the bathroom stall the toilet seat is already raised up against the water tank, so you actually have to touch it (I used toilet tissue) to lower it. Already off to a not-so-great start in my opinion. Then you actually have to hold the seat down so that it doesn't pop back up before you can sit on it and for dealing with other business. Let's not forget to mention what happens if you're not quite prepared to sit yet. And let's not forget the handbag scenario! This definitely has the makings of an awesomely awkward comedic scene in a movie or television program.
Once you're finished, the seat automatically lifts up and a device sprays the seat with a sanitizer. Unfortunately my observation was that it ended up only spraying a small portion of the sanitizer on the seat right before it reached the water tank. Basically the sanitizer didn't even come close to hitting the entire surface area, which made this particular system rather ineffective in my book. Plus the hassle involved in actually attempting to sit on the toilet seat, as well as keeping it down, made this my least favorite method of toilet seat sanitizing.
So what is the best method? Regardless of whether or not you use a paper seat cover or some other sort of sanitizing technology, the best thing for protecting yourself from germs & bacteria you may come in contact with in a public restroom is to properly wash your hands after using the toilet! Use enough soap and thoroughly rub your hands for the full 20 seconds before rinsing with water. If needed, go a step further and use hand sanitizer. I keep a small bottle on-hand specifically for those times when soap and water aren't available.
What is your opinion? Do you feel better if toilet seat covers are available in restrooms? Have you seen any interesting toilet seat sanitizing inventions? Let me know in the comments.


---

Briana Smith is WAXIE's Social Media & Product Branding Specialist and spends quite a bit of time skimming the news for what's new in cleaning, sustainability and technology while managing all ofWAXIE's social channels. She especially loves posting about #teamwaxie activities & conversing with customers on Instagram. Briana has a Bachelor's Degree in Communication Design from California State University, Chico.


---

READ MORE:
FAQs About the Differences Between Disinfecting & Sanitizing
Hand Hygiene Is As Easy As 1-2-3
myCleanLink - How do you feel about automatic hygienic toilet seat covers? I felt weird.
Paper Towels vs. Hand Dryers
Would You Pay $1 to Use a Clean Public Restroom?